Mu's Residence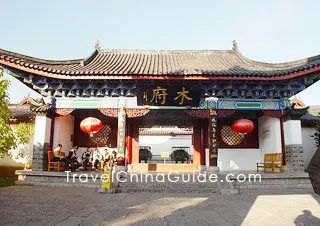 Lijiang Mu's Family
Mu's Residence is situated in the southwest of the
Lijiang Old Town
. It is the Tusi Mu's Yamen of the Naxi Ethnic Group in Yunnan. Tusi Mu was the ruler of Naxi during the Yuan (1271-1368), Ming (1368-1644), and Qing (1644-1911). During their reigning, this residence was the center of politics, power and wealth in ancient Naxi. Although it is simply a residence, it holds the majestic essence of a palace. In the heyday of the Tusi Mu, it covered an area of over 100 mu (about 16 acres) and consisted of almost one hundred buildings. It could be said that Mu's Residence was a miniature
Forbidden City
. Unfortunately during warfare in the Qing Dynasty most of the residence was destroyed. The present day Mu's Residence was rebuilt from 1996-1999. The reconstruction is based on the original site and captures the magnificent image of what life was like at this great palace.
Mu's Residence today covers an area of 46 mu (about 8 acres) and spans a length of 369 meters (about 404 yards). Mu's Residence sits against the Shizi Mountain (Lion Mountain) and faces east in the direction of sunrise. The Mu's Residence is made up of two areas: the office area and the living area. Upon entering the gate, one can see Yishi Hall (Meeting Hall) at the end of a vast square. This is the beginning of the office area. Yishi Hall is the place where Tusi conducted official business. This magnificent building is surrounded by dignified white marble balustrades. Three wood steles written with 'chengxinbaoguo' (meaning 'devoted to the country') by three Emperors in Ming are hung on the hall. Behind the Yishi Hall, there is the Wanjuan Pavilion, 'wanjuan' meaning numerous books. The pavilion houses thousands of sutras and many paintings and calligraphy works of famous scholars. Behind the Wanjuan Pavilion, lies Hufa Hall, the place of sacrificial activities. These main buildings all lie on an axis to the residence. Shizi Mountain can be reached from the rear of the residence. To the north there is a vast area dispersed with a series of courtyards. This is the living area of the Tusi and his families. Divided by a bounding wall, the layout of these courtyards bears striking resemblance to the living area found in the Forbidden City.
Mu's Residence reflects the architectural style of the central plains of China during the Ming and Qing Dynasties. Its layout is arranged according to the pattern of the Forbidden City. Decorative work, including carvings and paintings of buildings, are similar in style to those in the palace of Ming. Most of the decorations are simple but sublime showing the dignity of the ruler. Some of the buildings show the delicate characteristics of landscape gardens in south China.
How to get to Mu's Residence
Visitors can reach Yudai Bridge on foot or by bike and then cross the bridge to enter Mu's Residence.
Entrance Fee
CNY 40;
Free for children under 1.2m (3.9ft).
Opening Hours
08:30 - 17:30 (Ticketing stops at 17:00.)
- Last updated on Oct. 25, 2021 -
Questions & Answers on Mu\s Residence
Asked by Emiliano from ITALY | May. 31, 2018 04:37

Reply
What is time and price from Lijiang Railway Station to Mu's Residence by taxi?
Thanks :)
Answers (1)
Answered by Daniel from CANADA | Jun. 04, 2018 04:16

0

0

Reply
30 minutes and round CNY 25 is enough.