Tiger Leaping Gorge (Hutiao Gorge)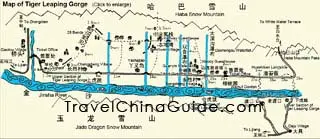 Map of Tiger Leaping Gorge
(Click to enlarge it)
About 100 kilometers (62 miles) northwest of Lijiang Old Town lying between Jade Dragon Snow Mountain (Yulong Xueshan) and Haba Snow Mountain (Haba Xueshan) is Tiger Leaping Gorge (Hutiao Gorge), which is one of the deepest gorges in the world. From the top of the gorge you look down the steeply angled (70-90 degrees) mountain sides to the rushing Golden Sands (Jinsha) River with its 18 frothing rapids more than 200 meters (about 700 feet) below.

Naturally divided into three sections, the first section, which is the narrowest and uppermost section, is the mouth of the fast flowing Jingsha River. In the midst of the river's mouth is a large rock that is positioned at the gorge's narrowest section-only 30 meters (33 yards) wide. The altitude of the mouth of the Tiger Leaping Gorge is 1,800m (984 fathoms).

As the river enters the middle section, it drops another 100 meters (330 feet) and its flow rate increases to an amazing speed. Here the thunderous rushing waters slam into sharp, large rocks and crash down into the river forming swirling whirlpools. Can it get more exciting? Yes, it can as the third and lowest section is acclaimed for being the wildest attraction of all!
The cliffs over-looking this section are even steeper and much more dangerous. Here, the river twists and turns and the river vigorously surges forward creating high waves and a frothy spew as it collides with the mountainsides. This is a view that inspires a sense of adventure and satisfies the deepest yearnings for magnificent scenery.
The Tiger Leaping Gorge stretches about 15 kilometers (nine miles) and also affords people the possibility of rafting and drifting peacefully in its large quiet sections, for the gentler folks among us and an exciting rafting adventure for the more experienced. Do not want to raft?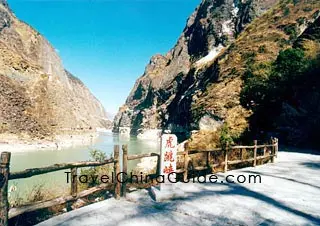 Entrance to Tiger Leaping Gorge
Hiking Tips
1. It's quite popular to hike along the gorge, and you can follow the signs made by other visitors along the way.
2. This is a great sightseeing stop with enormous photo opportunities. But the Tiger Leaping Gorge tour is long, so you are not suggested to bring many bags. Bring your camera, wear skidproof shoes, and be prepared to be astonished. Besides, 1-2 bottles of water are necessary.
3. Some difficulties may occur in the hiking along Tiger Leaping Gorge, you can choose to ride the local horse on the way.
4. The best time to visit the Tiger Leaping Gorge is April – June and September & October due to the good weather condition.
How to get to Tiger Leaping Gorge
1.Take bus from Lijiang Transport Service Center Bus Station to Tiger Leaping Gorge. It departs at 08:00 and 08:30 every morning and takes around 1.5 - 2 hours to reach there.
2. Charter a car from Lijiang. It costs around CNY 300 to 400 per day.
3. The Gorge is located between Lijiang and Shangri-La, so visitors can take the inter-city buses of the two and ask the driver to drop you off at the gorge.
Tips:
Visitors can also catch a bus passing by Tiger Leaping Gorge to Shangri-La.
Entrance Fee
CNY 35;
Free for children under 1.2m (3.9ft).
Opening Hours
9:00 - 16:30
Recommended Time for a Visit
2 hours
| | |
| --- | --- |
| Swift-flowing river in Hu Tiao Xia | Mild Section of Hutiao Gorge |

Top 10 Things to Do in Yunnan
- Last modified on Apr. 24, 2019 -
Questions & Answers on Tiger Leaping Gorge (Hutiao Gorge)
Asked by Laurent from BELGIUM | May. 29, 2019 18:59

Reply
When you take the bus from Tina Guesthouse to Shangri La,
does it stop at Jane's Guesthouse so we can pick up our luggage left there?
Answers (1)
Answered by Emma from USA | May. 30, 2019 21:01

0

0

Reply
Generally, it won't stop, but you can try to ask the driver for it.
Asked by Thế Vinh from VIETNAM | May. 28, 2019 19:40

Reply
If I take a bus from Lijiang to Shangrila, can I ask for them to stop at the TLG for visiting?
And then take me to Shangrila?
Answers (1)
Answered by David from UNITED KINGDOM | May. 29, 2019 18:29

0

0

Reply
Basically, it is the direct bus from these two places without stop. If you ask for stop, they might drop you off and then you should find other way to reach your destination.
Asked by esther vandebeeck from BELGIUM | Apr. 21, 2019 23:24

Reply
Is it allowed to take our pet dog into this Tiger Leaping Gorge?
We live in China and have a dog. We take her on our travels. She is a small dog but loves nature and hiking. Can we take her to the Tiger Leaping Gorge?
Answers (1)
Answered by David from FINLAND | Apr. 24, 2019 20:10

0

0

Reply
Yes, as I know, you can take your dog. However, the road between Jinsha River and middle section is difficult to walk.
Asked by Holly NICOLE Schnack from AUSTRALIA | Apr. 16, 2019 11:55

Reply
A friend and I are interested in having a car pick us up at Lijiang airport
And drive us to the TLG trail head in Qiaotou. How much is it and how do we organize it?

Thank you,
Answers (1)
Answered by Madison from DENMARK | Apr. 21, 2019 19:08

0

0

Reply
Yes, it will be ok for you to hire a private car from the airport.
Generally speaking, it costs CNY 600 to 800 for the single trip. The duration is around 2.5 hours. Upon landing, you can easily find the private cars. :)
Asked by clarie from MALAYSIA | Apr. 14, 2019 20:34

Reply
How to return to lijiang from tiger leaping gorge?
And is there always a bus from TLG back? when will be the last bus? by the way, is that easy to get bus lijiang -> tlg -> lijiang ? how about the bus rate anyway.

thanks so much...
Answers (1)
Answered by SAKAKI | Apr. 14, 2019 21:30

0

0

Reply
YHA shuttle bus between Lijiang(丽江)-TLG(虎跳峡)-Shangri-La(香格里拉) as of 10th Apr 2019:-
丽江国际青年旅舍 (International YH) 丽江市古城区民主路885号(明珍广场公交站斜对面) arranging shuttle bus to Tina's Guest House (香格里拉虎跳峡中峡国際青年旅舍) in middle TLG every morning 07:40 (CNY55).
Bus from Tina's GH to Lijiang and Shangri-la both bus are leaving 15:30 dalily (CNY55).

Not sure exact schedule but heard that public bus from Baisuitai/Haba (not sure starting point) pass
in front of Tina's GH before noon.

Good luck!