Tiger Leaping Gorge (Hutiao Gorge)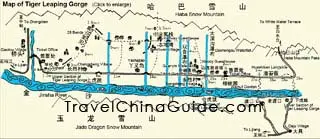 Map of Tiger Leaping Gorge
(Click to enlarge it)
About 100 kilometers (62 miles) northwest of Lijiang Old Town lying between Jade Dragon Snow Mountain (Yulong Xueshan) and Haba Snow Mountain (Haba Xueshan) is Tiger Leaping Gorge (Hutiao Gorge), which is one of the deepest gorges in the world. From the top of the gorge you look down the steeply angled (70-90 degrees) mountain sides to the rushing Golden Sands (Jinsha) River with its 18 frothing rapids more than 200 meters (about 700 feet) below.

Naturally divided into three sections, the first section, which is the narrowest and uppermost section, is the mouth of the fast flowing Jingsha River. In the midst of the river's mouth is a large rock that is positioned at the gorge's narrowest section-only 30 meters (33 yards) wide. The altitude of the mouth of the Tiger Leaping Gorge is 1,800m (984 fathoms).

As the river enters the middle section, it drops another 100 meters (330 feet) and its flow rate increases to an amazing speed. Here the thunderous rushing waters slam into sharp, large rocks and crash down into the river forming swirling whirlpools. Can it get more exciting? Yes, it can as the third and lowest section is acclaimed for being the wildest attraction of all!
The cliffs over-looking this section are even steeper and much more dangerous. Here, the river twists and turns and the river vigorously surges forward creating high waves and a frothy spew as it collides with the mountainsides. This is a view that inspires a sense of adventure and satisfies the deepest yearnings for magnificent scenery.
The Tiger Leaping Gorge stretches about 15 kilometers (nine miles) and also affords people the possibility of rafting and drifting peacefully in its large quiet sections, for the gentler folks among us and an exciting rafting adventure for the more experienced. Do not want to raft?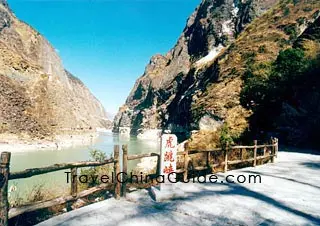 Entrance to Tiger Leaping Gorge
Hiking Tips
1. It's quite popular to hike along the gorge, and you can follow the signs made by other visitors along the way.
2. This is a great sightseeing stop with enormous photo opportunities. But the Tiger Leaping Gorge tour is long, so you are not suggested to bring many bags. Bring your camera, wear skidproof shoes, and be prepared to be astonished. Besides, 1-2 bottles of water are necessary.
3. Some difficulties may occur in the hiking along Tiger Leaping Gorge, you can choose to ride the local horse on the way.
4. The best time to visit the Tiger Leaping Gorge is April – June and September & October due to the good weather condition.
How to get to Tiger Leaping Gorge
1.Take bus from Lijiang Transport Service Center Bus Station to Tiger Leaping Gorge. It departs at 08:00 and 08:30 every morning and takes around 1.5 - 2 hours to reach there.
2. Charter a car from Lijiang. It costs around CNY 300 to 400 per day.
3. The Gorge is located between Lijiang and Shangri-La, so visitors can take the inter-city buses of the two and ask the driver to drop you off at the gorge.
Tips:
Visitors can also catch a bus passing by Tiger Leaping Gorge to Shangri-La.
Entrance Fee
CNY 35;
Free for children under 1.2m (3.9ft).
Opening Hours
9:00 - 16:30
Recommended Time for a Visit
2 hours
| | |
| --- | --- |
| Swift-flowing river in Hu Tiao Xia | Mild Section of Hutiao Gorge |

Top 10 Things to Do in Yunnan
- Last modified on Aug. 22, 2019 -
Questions & Answers on Tiger Leaping Gorge (Hutiao Gorge)
Asked by Alan from JAPAN | Aug. 20, 2019 11:09

Reply
I want to check if there is any possible way to go (by car) directly to the Halfway Guesthouse,
spend the night and start trekking for the remaining road on the next day?

Thank you all!
Answers (1)
Answered by Celia from USA | Aug. 22, 2019 19:15

0

0

Reply
Yes, no problem. You can drive the car along the road.
Asked by Garry Kidd from CHINA | Aug. 11, 2019 19:34

Reply
Where to buy hiking shoes in Lijiang - size 45
I found one outdoor camping store that looked promising, but their largest sized hiking shoes were size 43. The nearest Decathalon (迪卡龙) store is in Dali.

Any suggestions appreciated, thanks.

Garry
Answers (2)
Answered by Emma from USA | Aug. 13, 2019 18:12

0

0

Reply
Maybe you can have a look at Xiniu Outdoor Shop, which is located at No.33, Shuangshiduan, Xinhua Street.
Answered by Garry Kidd from CHINA | Aug. 15, 2019 06:17

0

0

Reply
I went there earlier and was told they had nothing in my size. 2 days later I returned, looking to buy silicone oil for my second rate shoes and another sales lady showed me the one pair of size 45 shoes that they had (Hot Potato brand).

They were extremely comfortable and I've just returned from a wonderful, if exhausting, 2 day hike of Tiger Leaping Gorge.

I can most strongly recommend the Halfway Guesthouse as a place to stay with views equal to those anywhere in the world that I've seen. Quite cheap too.
Asked by Shirley from USA | Jul. 30, 2019 05:21

Reply
Buses leave from Lijiang at 8am and 8:30am. How do we get back to Lijiang?
Answers (1)
Answered by Joanna from DENMARK | Aug. 02, 2019 01:06

0

0

Reply
Sorry I didn't find the exact bus schedule from TLG to Lijiang. However, for your convenience, you can hire a private car or share a car with other passengers.
Asked by Robin from GERMANY | Jul. 22, 2019 11:08

Reply
How to leave Tiger Leaping Gorge?
We want to visit Lijiang in 2 months and are also planning to see Tiger Leaping Gorge. We found buses running from Lijiang, where our hotel is located, to the gorge but we did not find any information about how to leave by bus. Is there any possibility - besides asking our hotel to arrange a driver - to come back to Lijiang?
Answers (1)
Answered by Sam from USA | Jul. 28, 2019 18:10

0

0

Reply
There is no direct bus from the gorge to Lijiang, while many people said you can go to Tiger Leaping Town first, then take the passing bus to come back to Lijiang. But the easiest way is to hire a car. The hotel staff will help you.