Lugu Lake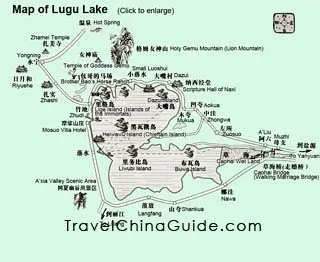 Map of Lugu Lake (Click to enlarge it)
Lugu Lake lies 200 kilometers (approximately 124 miles) from the center of Lijiang City, on the border between Ninglang County in Yunnan Province and Yanyuan County in Sichuan Province. It is like a beautiful pearl shining among the hills of the northwest plateau in Yunnan.
Lugu Lake is in the shape of a horse's hoof - long from north to south, and narrower from east to west. The vista of the lake changes constantly throughout the day. The morning mist mixed with the light of the rising sun gives it an orange glow covered by mist. When the light of sun causes the hills to throw their shadows onto the water, the Lugu Lake has a jade green color. The lake is calm and dark green in the evening when the sun sinks, and is peaceful when night comes. Gentle wind blows and water ripples.
Islands in Lugu Lake
On the Lugu Lake there are five islands. They are different sizes and are like green boats floating on the water. Heiwawu Island, Liwubi Island, and
Lige Island
are most notable. Heiwawu Island is in the center and has a variety of birds living on it. The smallest is Nixi Island - an oblong rock covered with shrubs and moss. Besides the five islands, there are also three peninsulas and an island which is linked to a seawall on the shore by a path paved with small stones.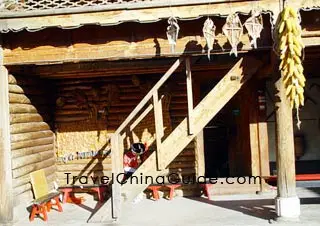 Mosuo Family at Lugu Lake
Mosuo People
Mystery and charm surround the Lugu Lake, partly because it was once an unspoiled place and still retains much of its totally natural beauty, but mostly because the Mosuo people who live there form a matriarchal society. There is no marriage. Men stay in the women's home as mates called 'Axia' and the intimate relationship lasts as long as they like. Children are brought up by women, and use the surname of their mothers. Families are composed of the members of the matrilineal kin. Women operate production and management, and hold the principal position in the society, forming a modern day 'woman's kingdom', which adds mystique to this place.
Best Time to Visit Lugu Lake
The Lugu Lake is encircled with hills. The water is clean and inviting, with fish swimming in it. The forest around is dense and the air is fresh. This is a place that is little tainted by modern industry - the natural beauty is retained. The weather is pleasant - it is cool in summer and warm in winter. All the seasons are as comfortable as spring, but the best seasons to come here are spring and autumn when the hills are emerald green, the flowers are in bloom and the birds are singing happily.
| | |
| --- | --- |
| A Mosuo Village at Lugu Hu | Young Mosuo Lady |
From Lijiang
1. Bus from Lijiang Bus Station to Lugu Lake:
Departure Time: 09:00, 10:00, 15:00.
Ticket Price: CNY 66/ 80
Duration: around 7 hours
2. Take tourist bus arranged by local travel agencies:
Departure Time: unfixed
Ticket Price: CNY 140 to 200 for a round-trip
Duration: around 4 hours
Notice:
1). Departure time is changeable. Usually, the bus driver informs the tourists of departure time and pick-up location in advance.
2). Most hostels help their guests to book the bus tickets. Visitors can ask the hostel owners if they provide this service. The reservation should be made one day in advance.
3). Visitors who take tourist bus might be arranged to go shopping, visit a Mosuo family, go boating or take part in a bonfire party. Undoubtedly, they need to pay extra money for these activities.
From Xichang, Sichuan Province
1. Take regular bus from Xichang Central Bus Station to Luguhu Town (Zuosuo Town).
Departure Time: 08:10, 08:50, 09:10, 09:30
Ticket Price: CNY 95
Duration: 7 to 8 hours
Notice:
1). Bus schedules and ticket prices might be adjusted without prior notice.
2). Extra buses from Xichang to Lugu Lake Town will be provided during the high season (May to October).
3). Visitors are suggested to buy return bus tickets upon arrival in case the tickets are sold out quickly.
4). Lugu lake is about 3 miles (5 kilometers) from Lugu Lake Town. After arriving in the town, visitors need to charter a car to reach the village where they plan to stay. The fare is around CNY 20 to 40.
2. Take regular bus from Xichang to Yanyuan, change bus to Zuosuo Town.
Ticket Fare
Entrance Fee: CNY 100

Visitors can also participate in some entertainment activities, such as boating, bonfire and visiting Mosuo family. The following prices are for your reference only.
CNY 30 for boating to Liwubi Island
CNY 30 for boating to Tusi Island
CNY 30 for joining the bonfire
CNY 20 for visiting a Mosuo family
Opening Hours
All day
Recommended Time for a Visit
One day (You can stay 2 nights there to visit the local family and enjoy a bonfire party.)

Top 10 Things to Do in Yunnan
- Last modified on Sep. 29, 2018 -