Potatso National Park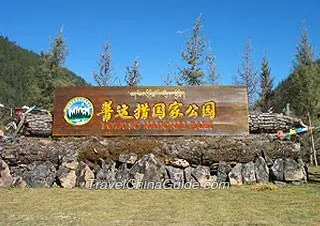 Potatso National Park
About 13.5 miles (22km) southwest and 40 minutes' drive from Shangri-la downtown area, Potatso National Park covers an area of 115 square miles and ranges from 3,827 yards to 4,548 yards high. It is renowned for well-preserved primitive landscape, which is endowed with lakes, wetlands, forests, meadows, streams, brooks, rare plants and animals. Meanwhile, Tibetan culture and custom are also component parts of the park.

As the first national park on the Chinese mainland, Potatso was open to visitors in 2007. In the park, there are three main scenic areas open to visitors: Bita Lake in the south, Shudu Lake which is a part of Three Parallel Rivers Scenic Area in the north and Militang Alpine Pasture in the middle. The sightseeing buses run among these scenic spots and stop at fixed stations. Passengers can get on and off freely with one ticket. As Bita Lake is a sacred place and Tibetan Buddhists walk around it clockwise for good luck, visitors are advised to sightsee clockwise too, in an order of Shudu Lake, Militang, and Bita Lake. Travel route in the park is about 42 miles (69 kilometers) and it takes about 4 – 6 hours to cover all the spots.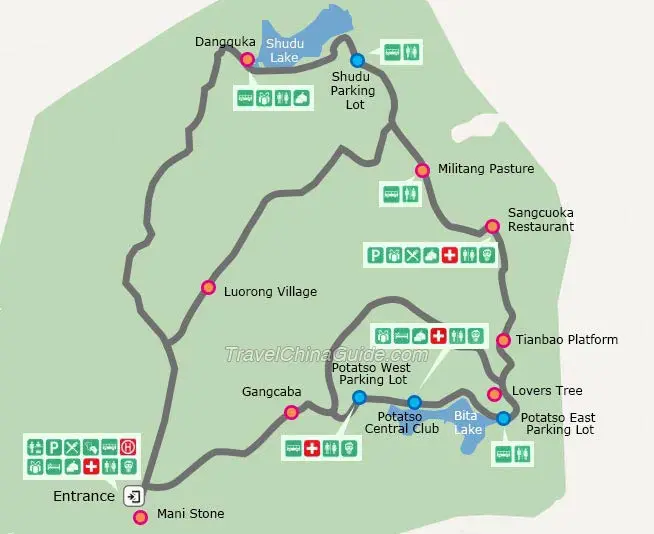 Map of Potatso National Park
Shudu Lake
It is about 20 minutes' ride from the sightseeing bus stop near the park entrance. Reputed as a pearl in plateau, Shudu Lake is 4,046 yards above the sea level. The lake is crystal clear, with wild ducks paddling in group. There was a rare kind of fish species called Liefu Fish (fish with cracks on their bellies) living inside; but now visitors can barely see them due to damage to local eco-system. Along the shore, flocks of cattle and sheep wander freely. The lake is surrounded by rolling hills covered with forest. The primitive forest seems to be a verdant protective screen, where many rare animals inhabit, such as musk deer, bears, leopards, golden cats, tufted deer and eared pheasant.
Militang Alpine Pasture
Militang is the largest pasture in Potatso National Park, about 3.7 miles and 10 minutes' drive from Shudu Lake. Under the azure sky dotted with clouds, the grassland is like a giant green carpet paved on the ground, with yaks and sheep scattered around and smoke from herdsmen's chimneys drifting in the breeze. In spring and summer, a number of flowers are blossoming, which decorates the grassland into a colorful picture. In autumn, the land will be carpeted by spruce, azalea bosk, quercus, aquifolioides and redwoods. Wild mushrooms can be seen everywhere. It looks golden on the whole, tranquil and elegant. In winter, the land will turns into a tranquil white paradise.
Tips: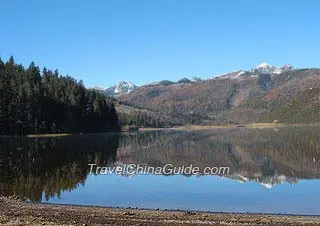 1. Shudu Lake Scenic Area has two trekking routes: One is 1.6 miles and the other is 0.3 miles. Trekking along them, one can witness the essence of the lake scenery. At the starting point of the route and near the two small lakes, there is a hiking trail leading to Militang Pasture. If you are a hiking lover and have made full preparations, you can take that route. Otherwise, you'd better turn right and walk along the previous route.
2. During the sightseeing bus ride from Militang to Bita Lake, you can ask the driver to made a detour to Sangcuoka Tourist Service Center, where buffet meals are provided.
3. Also on the way to Bita Lake, the bus will go over a mountain range, where there is a sightseeing platform. It is the best site to overview the lake and take photos.
4. There are two ways to appreciate Bita Lake:
One is trekking along the 2.5 miles long plank road. If you are energetic and eager to see the best part of the lake, it is the best way. If physically challenged, you can opt to have a cruise over the lake by boat. The boat ticket is CNY 30 per person.
Ticket fare
CNY 80
Free for children under 1.2 meters (3.9 feet).
Opening hours
8:30 – 16:00
Transportation

How to get to Potatso National Park from
Diqing Shangri-La Airport

Taking a taxi from the airport to the park directly, taking 30 minutes or so. It costs about CNY150 for a round trip.

Or renting a car to go there. It may cost CNY200 per day. Duration is about 30 minutes.

How to get from Shangri-La downtown area

By bus: Take the bus from Shangri-la Bus Station to Potatso; the bus departs at 09:30 and returns at 15:00; ticket fare is CNY 30 for a round-tip.

By taxi: It takes 40 minutes from Shangri-la County; a single trip costs CNY 80 and a round-trip costs CNY 150.

By rental car: It costs around CNY 300 for a day.
Nearby Attractions
1.
Shika Snow Mountain
2.
Meili Snow Mountain

Further Reading:
Top 10 Things to Do in Yunnan
In-depth Guide to Top 10 Yunnan Destinations
- Last updated on Jul. 19, 2022 -
Questions & Answers on Potatso National Park
Asked by lina from MALAYSIA | Dec. 17, 2019 01:43

Reply
Potatso National Park Sightseeing bus
Sightseeing bus CN¥80. Is this updated fare? Because i saw at few websites shows very higher price. Is this bus will take us around the potatso park including Bita Lake & Shudu Lake?
Answers (1)
Answered by Debbie from THAILAND | Dec. 19, 2019 19:06

0

0

Reply
The official combo ticket is CNY100 and it includes sightseeing bus. Other travel website might provide more items.
Asked by Minh Huong from VIETNAM | Sep. 01, 2019 20:34

Reply
hello. I am planning visit Potatso park this Sept, whether militang and bita lake still close?
Answers (1)
Answered by Roy from USA | Sep. 02, 2019 02:59

0

0

Reply
They are already open to the public, while north bank of Shudu Lake has been closed.
Asked by Minh from VIETNAM | Jul. 29, 2019 07:27

Reply
How many buses are there to go from Shangrila downtown to Potatso Park?
Some websites write "There are four buses from Shangri-la Passenger Bus Station to Potatso, the departure time is at 8:00, 8:30, 9:30 and 10:00; the return time is at 14:00, 14:30, 15:00 and 16:30. " Is it correct?
Answers (1)
Answered by Britton from USA | Jul. 31, 2019 20:57

0

0

Reply
Well, I haven't found the official timetable. But the truth is that the bus is not too many between these two places. So it is suggested to rent a car.
Asked by nur from MALAYSIA | May. 19, 2019 06:45

Reply
does militang and bita lake still close for this june 2019?
Answers (1)
Answered by Anna from UNITED KINGDOM | May. 20, 2019 19:11

0

0

Reply
It is still closed in May.