White Water Terraces (Baishui Tableland)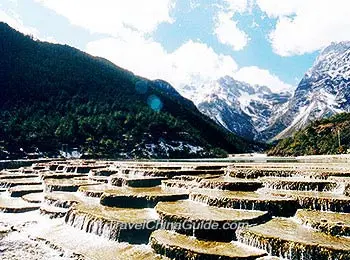 White Water Terraces, Shangri-La
The White Water Terraces (Baishui Tableland) is located in the foothills of the Haba Snow Mountains, 101 kilometers (about 62 miles) southeast of the Shangri-la County. It is known as one of the most attractive destinations in mysterious Shangri-La and is an ancient Chinese landform with a history of 200,000 to 300,000 years.
The variegated landform of the tableland is a continual deposition of calcium carbonate that is contained in the spring water. Every year, the surface of the land is covered by the deposition and finally transformed into the terraced structure you see today. Today, the White Water Terraces cover an area of three square kilometers (about 741 acres).
The spring water runs down along the slope of the mountain, leaving an impression of a large white jade carving among the green mountain. The tableland lies layer by layer giving the appearance of a terraced field, so the local people call it 'a field left by fairies'. To the left of the tableland, there is a pool and a moon-shaped platform that is said to be the dresser of the fairies. During the autumn, the mountains around the White Water Terraces will be covered by various bright-colored flowers and leaves. Amid the mountains, the White Water Terraces will form a spectacular white contrast.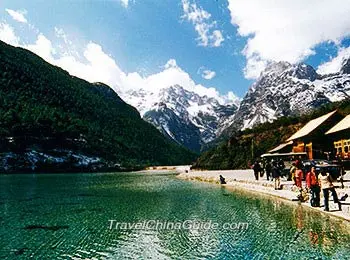 Emerald upper reaches of the stream
Besides being a beautifully scenic spot, the White Water Terraces is also the birthplace of Dongba culture of the
Naxi Minority Group
. According to legend, the first saint of the Dongba Religion was attracted by the fascinating scenery of this place on his way back from Tibet. He then stopped to missionize here. Later, the White Water Terraces became known as the Holy Land of the Dongba Religion. When the second saint of the Dongba Religion came here, he created the Dongba pictograph. Each year, on the eighth day of the second lunar month, the Naxi people will gather here to celebrate their traditional festival by singing and dancing all day and night.
Admission Fee:
CNY 30
Recommended
Time for a Visit:
Two hours
- Last modified on Dec. 28, 2018 -
Questions & Answers on White Water Terraces (Baishui Tableland)
Asked by Vananh from VIETNAM | Dec. 28, 2018 10:17

Reply
How long does it take to go by bus from Shangrila to Baishuitai?

Now does the bus from Baishuitai to Lijiang still run?
Answers (1)
Answered by Sebastian from UNITED KINGDOM | Dec. 28, 2018 18:17

0

0

Reply
1. In general, the duration is around 4 hours.
2. As I know, the buses from Baishuitai to Lijiang still operate. But I didn't find the exact bus schedule on the internet.
Asked by Thu huynh from VIETNAM | Oct. 24, 2018 22:18

Reply
how to take a bus from Shangri-la to White water Terrace and then from Terrace to Lijiang ?
Thank you so much.
Answers (2)
Answered by Fisia from USA | Oct. 25, 2018 00:08

0

0

Reply
There are two buses every day running to the attraction from Shangri-La Bus Station, and you can get off at Baidi Village.

There is one or two buses from White Water Terrace to Lijiang and the departing time is uncertain. The bus will pass Tiger Leaping Gorge and you have to buy the entrance ticket.

Of course you can take the bus from White Water Terrace back to Shangri-La at first. Then take the bus at Shangri-La Bus Station to Lijiang.
Answered by thuhuynh from VIETNAM | Oct. 25, 2018 01:27

0

0

Reply
Hi,

Thanks for your answer but because White terrace between Shangrila & Lijiang, so in save-time way, i would like to make a tour Lijiang- White terrace-Shangrila

Asked by Cathy from PHILIPPINES | Oct. 16, 2016 05:24

Reply
Hi how to get to White Water Terrace from Zhangjiajie by train?
Answers (2)
Answered by Pepe from SPAIN | Oct. 18, 2016 02:00

1

0

Reply
Take a train to Kunming from Zhangjiajie Railway Station (about 20 to 23 hours). Upon arrival, take a train to Lijiang (about 7 to 9 hours). Afterwards, charter a car to Baishuita. :)
Answered by Catherine from PHILIPPINES | Oct. 18, 2016 09:33

0

0

Reply
Thank you so much... i guess i needed atleast 15 days to explore... Beijing Great wall, danxia (Colorful mountain) Geology park, Xi'an (Terracota Warriors) White Water Terrace, Zhangjiaje (Tianmen Mountain and Zhangjiaje Grand Canyon) then last at the route is Shanghai city and (Mission Impossible - Xintang Water Village)... all accessed via train for cheap fare... :-)
Asked by Keven from INDONESIA | Apr. 05, 2015 02:38

Reply
One day trip from/to Shangri-la
Hello, is it possible to go in the morning from SL to Baishuitai, and then go back to SL again in the afternoon/evening? Can you give me the timetables? I'm going there in two weeks. Thank you.
Answers (3)
Answered by Shun from CANADA | Apr. 06, 2015 03:53

2

0

Reply
Yes, it is possible. A bus leaves from the Long-distance Bus Station in the morning to Haba Village, around 29km from this scenic area. And the bus seems to get back from the attraction directly, but the timetable is unknown.

For a full visit, I suggest you rent a taxi or private car for convenience and it costs around CNY400 for a round trip.
Answered by Mr.WAN307 from SG | Jan. 20, 2016 14:45

1

1

Reply
By any chances, do you have reliable resource contact private driver taxi?
Answered by Shun | Jan. 20, 2016 20:46

1

0

Reply
I am sorry that I don't know the contact information of local taxi drivers. But you may ask the hotel to charter a car for you. Have a try! :)
Asked by Gogo from SPAIN | Apr. 04, 2015 04:36

Reply
Hello everybody, does anybody have timetable for bus Baishui-Shangri La?
thank you and best regards
Answers (1)
Answered by Shun from CANADA | Apr. 06, 2015 03:48

0

0

Reply
I just know the direct bus from Baishuitai to SL is available each day and there seems only one schedule and takes around 3h, but I am not clear about the timetable.

I have a way for you: take the bus from SL Long-distance Bus Station to this scenic spot and ask the driver about the return schedule.