Shangri-La Attractions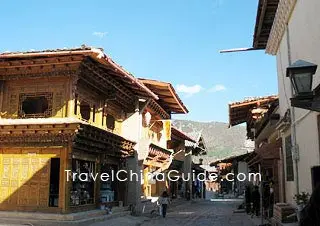 Shangri-La Old Town

Balagezong - Shangri-la Grand Canyon


Bitahai Lake


Meili Snow Mountain


Potatso National Park


Shika Snow Mountain


Songzanlin Monastery


Tiger Leaping Gorge


White Water Terraces (Baishui Tableland)


Shangri-La County is divided into two areas: Dukezong Ancient Town and a more modern city-like area. The two areas share Tuanjie Street as the common border. Dukezong, located in the southeast section of the county, has a history dating back over 1300 years. Almost all the buildings are white in color and feature the Tibetan style architecture. Upon arrival to old town, we recommend you take some time to relax before beginning your tour. A brief introduction to the scenic spots follows.



Southeast Shangri-La
Main attractions: Wufeng Mountain, White Water Terraces (Baishui Tableland), Haba Snow Mountain and the Tiger Leaping Gorge

Located three kilometers (about 1.86 miles) southeast of Shangri-La, the Wufeng Mountain is revered as a sacred mountain by the local Tibetans. Since the Tang Dynasty (618-907), the grasslands at the foot of this mountain have been used for horse racing events.

If you proceed southeast from the county for about 101 kilometers (62.76 miles), you'll arrive at another well-known attraction, the White Water Terraces. Theterraces are large limestone steps, built up over the years with calcium carbonatedeposited by spring waters which flow down the steps. You can take a bus fromthe Zhongdian Coach Bus Station to the White Water Terraces, or hire a car toget there.

The Haba Snow Mountain, a natural reserve of rare animals and plants, is about 120 kilometers (74.56 miles) southeast of the county. Both the mountain and the Tiger Leaping Gorge are located along the Dianzang Road, on the way from Shangri-La to Lijiang.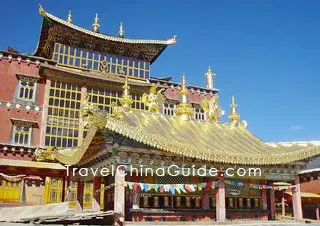 Songzanlin Monastery

The north of Shangri-La
Main attractions: Songzanlin Monastery and Shangri-La Gorge Group

Songzanlin Monastery is five kilometers (3.11 miles) north of the county. First constructed in 1679 during the early Qing Dynasty (1644-1911), it embodies the essence of the Tibetan Buddhist culture, and its architecture exemplifies thefeatures of the Tibetan style. It's the greatest monastery of Tibetan Buddhismin Yunnan Province. The city bus No. 3 can take you there.

The Shangri-La Gorge Group is located in the northern part of the County. Comprised of a series of gorges, the Shangri-la Grand Canyon in Balagezong Scenic Area is certainly worth a visit. The Birang River flows through the steep gorge and the splashing water from thestrong current immerses the entire gorge in mist. There are many rock paintings on the cliffs of the gorge. Much research was done on the paintings and it was determined that they were drawn by migrating ethnic groups in the ancient times. The gorge about 103 kilometers (64 miles) away is on the way from Shangri-La to Xiangcheng County (in Sichuan). In the morning, there are buses to Xiangcheng that will let you off at the mouth of the Gorge.



The northeast of Shangri-La
Main attractions: Bitahai Lake and Shudu Lake

Shudu Lake and Bitahai Lake are two of the more accessible lakes in northeast of the city. Located within 10 kilometers (6.2 miles) of each other, legend says these "pearls of the land" are pieces of a mirror broken and scatteredby a fairy while she was fixing her makeup.

Tip: Although Bitahai Lake is only 32 km (19.88 miles) from Shangri-La, the bus will only take you as far as Shuangqiao. From there you can either hire a horse or walk to Bitahai Lake.
| | |
| --- | --- |
| Bitahai | Shudu Lake |

The northwest of Shangri-La
Main attraction: Napa Lake
Napa Lake is located eight kilometers (4.97 miles) northwest of the county. Several rivers flow into the lake, including the Naizi and Naqu Rivers. The lake is seasonal in that it is dry in the fall and winter seasons, naturally becoming part of the Yila Prairie. During this time, visitors can see many sheep and cows grazingin the lake bed.
Tip: There are buses which take visitors to Napa Lake or you can take a taxi to get there.

Around Shangri-La
Known for the grandest view in Yunnan Province, Meili Snow Mountain boasts numerous snow-clad ridges and peaks. It is located 10 kilometers (6.2miles) northeast of Deqin County.
- Last updated on Jul. 19, 2022 -
Questions & Answers on Shangri-La Attractions
Asked by Fong from SINGAPORE | Sep. 12, 2018 08:21

Reply
I planned to visit the following places in Shangri-la in coming Oct/Nov 2018:
Day 1&2:
a) Pudacuo National Park (普达措国家公园)
b) Shudu Lake (属都湖)
c) Militang Pasture (弥里塘牧场)
d) Bita Lake (碧塔海)

Day 3:
e) Napa Lake (纳帕海) and Yila Grassland
f) Shika Snow Mountain
g) Lamuyangcuo Lake
h) Guishan Park (龟山公园)
i) Sumtseling Monastery (Songzanlin Monastery)
j) Yueguang Plaza (月光广场)

Day 4:
k) White Water Terrace (白水台)

Day 5&6:
l) Meili Snow Mountain - 2 day 1 night

1) Will a total of 6 days as above plan be sufficient to cover all the attractions?
2) Is there any attractions I need to extend or not suitable to go during Oct/Nov period?

Thanks.
Answers (3)
Answered by Helen from DENMARK | Sep. 14, 2018 00:37

0

0

Reply
You can cover all the attractions in 6 days. In fact, you can visits the first 4 places in one day. If you go in the early October, you can enjoy the most beautiful scenery. The weather condition will be nice during that period of time. After sightseeing in Shangri-la, you can travel to Lijiang Old Town.
Answered by Fong from SINGAPORE | Sep. 14, 2018 23:20

0

0

Reply
1) For Napa Lake and Shika Snow Mountain, can we cover in 1 day? Or it is better to allocate 1 day for napahai and 1 day for shika snow mountain?

2) For Lamuyangcuo lake, guishan park, songzanlin monastery and yueguang plaza, is 1 day sufficient to cover all these places?

We intend to travel to Lijiang after Shangri-la.

Thanks.
Answered by Vivian from FRANCE | Sep. 16, 2018 18:35

0

0

Reply
1). Yes, the lake and the snow mountain can be covered in 1 day.
2). Yes, I day is also enough for the four places. Btw, the lake and the monastery is within a walk distance, and the plaza and the park is also within a walk distance.
Nice Trip!
Asked by s chan from SINGAPORE | Aug. 15, 2017 04:59

Reply
any long distance bus from lijiang old town to tiger leaping gorge and baishuitai?
Answers (1)
Answered by Nigel from UNITED KINGDOM | Aug. 16, 2017 01:29

1

0

Reply
As I know, two buses head for Tiger Leaping Gorge, which are at 8:00 and 8:30 from Lijiang Bus Station.
Only one is to Baishuitai at 9:00 from the same station.

Asked by Janet Tay from MALAYSIA | Jan. 06, 2017 03:05

Reply
What is the temperature in January at Jiaozi Mountain?
hi, Iam going to visiting the mountain next week
Answers (1)
Answered by Rachel from FRANCE | Jan. 08, 2017 20:20

2

0

Reply
The temperature might differ during 40~50F between day and night and it is very likely to drizzle in some days. It is suggested you check the weather before your visit and avoid going there in rainy days. Also, take warm clothes with you as well as rain gear in case! :)
Asked by Liam Boyd from UNITED KINGDOM | Jul. 31, 2016 07:01

Reply
I would like to cycle to Napa Hai lake from Shangri-la Old Town.
I've read that there is a quiet road route but can't find any directions to it. Can you help me with some directions please? Also, is the entrance fee an official fee? I've read that many villagers demand money but it's not necessary to pay?
Answers (1)
Answered by Susan from USA | Aug. 01, 2016 04:01

0

0

Reply
The best route is to start from the old town, and cycle along the road by the lake. You are advised to rent mountain bikes near the parking lot of the old town. Remember to take enough food and water. Due to the high altitude, you may feel tired easily, and it requires at least half a day to cycle for the route and fully enjoy the lake.

If just cylcing, it is ok to see the lake nearby. I don't suggest you pay the entrance fee or so.