Songzanlin Monastery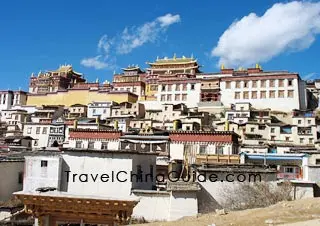 Songzanlin, also Ganden Sumtseling Gompa
Being the largest Tibetan Buddhist monastery in Yunnan, Songzanlin Monastery, also known as Guihua Monastery, is one of the famous monasteries in the Kang region. It is located near Shangri -La County, at the foot of Foping Mountain.
Construction of the monastery began in 1679 and was completed two years later. The monastery seems like a group of ancient castles and is composed of two lamaseries, Zhacang and Jikang. The gilded copper roof endows the monastery with strong Tibetan features and the 108 (an auspicious number in Buddhism) columns downstairs also feature the it with characteristics of Han nationality. The main halls in the monastery are magnificent, and on both the left and right sides are wonderful frescos, depicting Buddhist tales and legends. The inside-halls are exquisite with cloisters running through. The cloisters are all decorated with beautiful sculptures and consummate frescos.
The monastery is full of treasures. There are a lot of golden figures of Buddha josses, golden lamps, Tibetan lections, silver censers and so on. All of these are wonderful collections accumulated from each dynasty. They are precious productions made by people of both Tibet nationality and Han nationality.
Songzanlin Monastery has another alias - 'the little
Potala Palace
', so named because the whole monastery is in the traditional style with mysterious atmosphere. In 1679, Dalailama chose this place by divination, and it went on to become the uppermost public place in Yunan which features the particular local characteristics. Annually, the Gedong Festival is celebrated here by the Tibetans. Pious believers, with their knees and foreheads knocking the ground at every step, come here to pray.
| | |
| --- | --- |
| In front of one of the three main halls | Prayer wheels |
The monastery is situated in the high altitude region over 3,300 meters (about 10,827 feet) high. It snows even in August, and has a rainy season that runs from June through September. Therefore, spring and summer are the best seasons for people to visit it.
Bus route: There are autobuses in Shangri-la County which can take you to this beautiful scenic spot directly, and the buses No.3 can also take you there without stop.
Taxi: When arriving at in Shangri-La Airport, hire a taxi to get to the Songzanlin Monastery within 20 minutes at a cost of CNY 25.
Admission Fee:
CNY 115
Opening Hours:
8:00 - 18:00
Recommended
Time for a Visit:
2 to 3 hours
- Last updated on Jul. 19, 2022 -
Questions & Answers on Songzanlin Monastery
Asked by Mara from SWISS | Aug. 29, 2019 03:08

Reply
Can I buy the tickets for the Songzanlin Monastery at the entrance?
My travel guide says the opening hours are 7am to 7pm. Is this still correct?
Answers (1)
Answered by Amanda from CANADA | Aug. 30, 2019 01:11

0

0

Reply
Yes, you can buy the ticket on the spot. According to the Internet information, it opens from 7:30 to 18:30 but I'm not sure whether it has been updated.
Asked by christy from CANADA | Apr. 08, 2019 03:16

Reply
Hi, would there be enough time to do both Potatso National Park and Songzanlin monastery in a day?
I'm thinking of renting a car and driver to take us. Thank you!
Answers (1)
Answered by Sam from CANADA | Apr. 08, 2019 23:04

0

0

Reply
Yes, you can visit Potatso Park in an early morning and go to Songzanlin monastery in the afternoon.
Asked by Tom from THAILAND | Oct. 18, 2018 22:03

Reply
Can I make for Songzanlin Monastry and Napa Hai lake in only same afternoon trip?
Due to I have arrival time for Shangri-La at 10.00 am and next late morning I have to take a bus for Lijiang. so that I have time for travelling in Shangri-La only 5-6 hrs. Anyone can suggest me for this trip?
Answers (2)
Answered by Sophia from USA | Oct. 19, 2018 00:29

0

0

Reply
If you hire a car to visit the two places, I think it may be possible.
Answered by Tom from THAILAND | Oct. 19, 2018 01:36

0

0

Reply
Thank you very much Sophia!!!
Asked by Hendra12 from INDONESIA | Apr. 02, 2018 04:58

Reply
Which one better time to visit Songzanlin Monastery ?
hello all,

I will be in Shangrila either 11-12-13 April 2018
Which time is better to visit there....am or pm time ?

Thank you
Answers (2)
Answered by David from RUSSIA | Apr. 02, 2018 21:56

0

0

Reply
Any day is okay, and you are suggested to go there in the morning to enjoy the sunrise!
Answered by Hendra12 from INDONESIA | Apr. 03, 2018 00:54

0

0

Reply
Hello David,

Thanks a lot for ur information . Have good days, mate ! :)