Bitahai Lake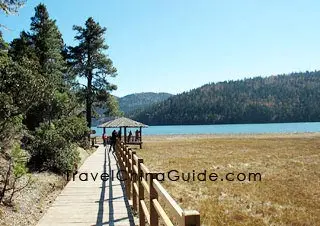 Azure lake regarded as a pearl in tableland
As the highest lake in Yunnan Province, Bitahai Lake lies in the east of Shangri-La County of Diqing Tibetan Autonomous Prefecture. It is one of the core spots in
Potatso National Park
with an altitude over 3500 meters (about 3828 yards) above sea level. Covering an area of about 159 hectares (around 393 acres) with an average depth of 20 meters (about 22 yards), it is famous for its limpid water and its beautiful scenery which is set against the mountains and forests surrounding it.
Bitahai Lake is widely recognized as 'A Pearl on the Plateau' and the most attractive lake in Shangri-La. Legend has it that a goddess dropped her mirror carelessly to the earth when she was making up. The mirror was broken into pieces and they became lakes on the plateau. Among these pieces, the most beautiful piece with green jade turned into today's Bitahai Lake.
In the center of the lake stands an islet shaped like a boat sailing on the water surface. The islet is 30 meters (about 33 yards) above the water level, and is covered with rare plants and also includes spruces and rhododendrons. Here, birds twitter happily and flowers release their pleasant fragrances. When stepping on the islet, one feels as if they are arriving at Xanadu, and visitors have frequently remarked about how they have felt intoxicated by the aura, beauty and tranquility.
Bitahai Lake is fringed with rhododendrons of various varieties, which adds to its beauty. Every year around June and July, petals of the rhododendrons fall onto the water surface with the wind. When passing fish eat these rhododendron petals (which are slightly poisonous) they can be seen on their backs with their white bellies exposed as they float upside-down amongst the petals as if they are drunk. It is now the best-known sight of Bitahai Lake. It is also said that in the past bears in the nearby mountains often came out in the moonlight to catch these intoxicated fish.
| | |
| --- | --- |
| Bitahai surrounded by fir and spruce forests | Bitahai means soft sea like yak hair in Tibetan |
Bitahai Lake is a place of legends. When visiting it, one can find that even a tree or a hill has a story. It is not only a feast to the eye, but also enhances our sense of beauty and our imagination.
Admission Fee:
CNY 30
Recommended
Time for a Visit:
Two hours
- Last updated on Jul. 19, 2022 -
Questions & Answers on Bitahai Lake
Asked by Fong Chee Khiong from SINGAPORE | Apr. 08, 2018 21:39

Reply
Planning to visit Bita Lake in Oct 2018. Is it still closed to tourists?
Answers (1)
Answered by Peter from USA | Apr. 08, 2018 22:05

1

0

Reply
No worry! I was told it's already opened! Nice trip!
Asked by Shahreen from MALAYSIA | Sep. 26, 2017 21:13

Reply
Is Bitahai Lake inside Potatso National Park?
If i pay the entry for national park, do i need to pay more for entry fee of bitahai lake?.
Thank you
Answers (1)
Answered by Ellen from AUSTRALIA | Sep. 27, 2017 20:39

1

0

Reply
Yes, the lake is inside the park.
As I know, you don't need to pay extra money for the lake. But as I know, the lake is not allowed to visit since Aug.18th, and the reopening time has not been reported.
Asked by Kelvin from SINGAPORE | Aug. 21, 2017 12:09

Reply
Bita Lake and Bitahai Lake
Is this both referring to the same thing? If so, how come the admission to Pudacuo is so much more than just going to the lake CNY30?
Answers (1)
Answered by Linda from CANADA | Aug. 21, 2017 20:38

0

0

Reply
Yes, the two refer the same lake.
The reason why the ticket of Pudacuo costs more is it's a larger scenic area, including the Bita Lake, Shudu Lake, and other attractions.

Asked by SOH from SINGAPORE | Mar. 15, 2015 10:21

Reply
Bitahai and Pudacuo National Park
Is the lake in the Park? Which is nicer? Must you enter the park in order to access to the lake?
Answers (1)
Answered by Henry from JAPAN | Mar. 18, 2015 03:13

2

1

Reply
Yes, the lake is located inside the park. Both are worth to go. To access to the lake, you need to enter the park first.
Asked by Jojo from SINGAPORE | Dec. 20, 2012 04:06

Reply
To Bitahai Lake
Hi
From Shangri-la, how do I go to Bitahai lake, is there any bus going there and how much will it cost.
Thanks
Answers (1)
Answered by Blair | Dec. 21, 2012 02:40

2

2

Reply
You can take bus from the bus station at the downtown area to Shuangqiao first. Then ride a horse to the lake. I remeber the bus fare is CNY20 and the fare for riding a horse is about CNY30.