Kunming Travel Guide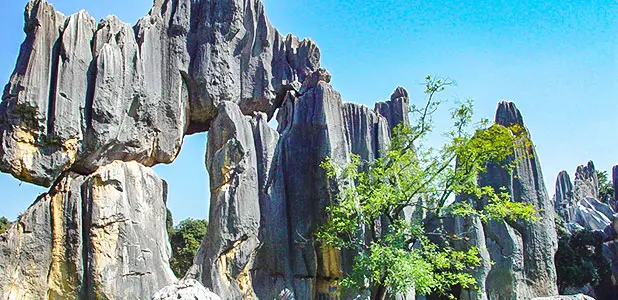 Stone Forest


Pictures

Video
Kunming, capital of Yunnan Province, is known as 'the City of Eternal Spring' for its pleasant climate and flowers that bloom all year long. With a history of more than 2,400 years, it was the gateway to the celebrated
Silk Road
that facilitated trade with Tibet, Sichuan, Myanmar, India and beyond. Today it is the provincial political, economical and cultural center of Yunnan as well as the most popular tourist destination in southwest China.
The city center is an attraction with its two squares (Jinma Biji Square, Dongfeng Square) and five intersecting roads (Dongfeng Road, Jinbi Road, Zhengyi Road, Renmin Road and Qingnian Road). Of these, Jinma Biji Square (also known as Jinbi Square) has the most eye-catching archways and stylish architectures. Qingnian Road, Zhengyi Road and Renmin Road are the main commercial areas. The most popular pedestrian streets are Nanping Street, Jingxing Flowers & Birds Market, and Jinma Biji Fang. The city is also the focal point of Yunnan minority culture. Some 26 ethnic minorities such as Yi, Bai, Miao, Dai, and Hani inhabit this region.

You may like: Top 10 Biggest Cities in China by Area

You may like:
Top 10 Things to Do in Kunming
With convenient transport links in and out of the city, Kunming welcomes and sees off tens of thousands of visitors every day. As southwest China's transportation hub, the city plays a significant role for connecting Southeast Asia and China. The city also provides links to many popular destinations elsewhere in Yunnan such as Dali, Lijiang, and Shangri-La.
-

Best Time to Visit Kunming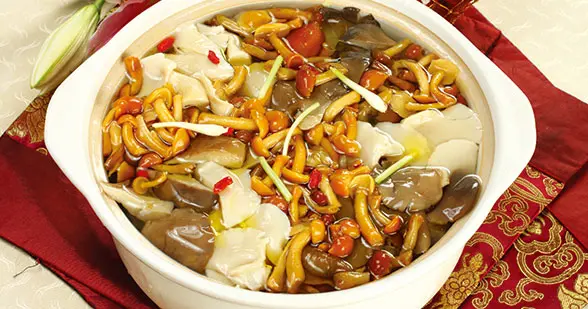 In addition to attractive scenic spots, Kunming is also renowned for its many delicious dishes. Due to the multi-cultural nature of the province, the city brings together the most representative food of the various nationalities residing in Yunnan, so eating here is an experience not to be missed. The famous food includes Steaming-Pot Chicken, Across Bridge Rice Noodles, and Xuanwei Ham. The night market is the best place to sample and enjoy the local snacks.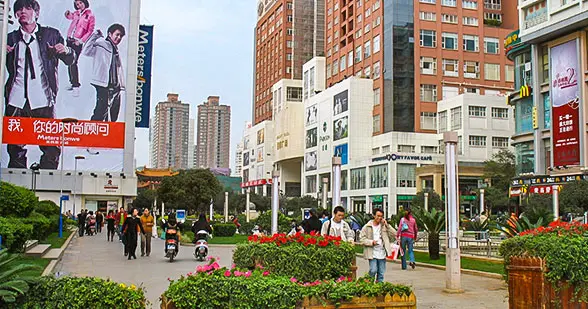 Do not forget to purchase some locally produced souvenirs for your friends or family before leaving this charming city. The local wood carvings and minority tie-dye products are highly recommended. Jinma Biji Square is considered the best place to go for your purchases.
As one of China's famous ancient and cultural cities, it boasts a history which can be traced back to 30,000 years ago. The Dianchi Lake area was one of the cradles of mankind. The city got its name from the Yuan Dynasty (1271 - 1368) and since then, it has become Yunnan's center of politics, economy and culture.
See below for some fast facts and useful tips to facilitate your visit to the city whether it is for travel, business or study.
Famous Universities
Nightlife
Banks
You May Like
- Last updated on Sep. 05, 2023 by Kina Lu -
Questions & Answers on Kunming Travel
Asked by Nat from THAILAND | Nov. 15, 2023 23:06

Reply
How to get from Changshui Airport to Kunming Rail station?
Answers (1)
Answered by Jessica | Nov. 16, 2023 19:48

0

0

Reply
Take Metro Line 6 from the airport to Tangzixiang to transfer to Metro Line 2 to South Ring Rd. After that, continue to the Railway Station by Metro Line 1. Here you don't need to get off because Line 1 and 2 are connecting together. It takes about 40 minutes in total.
Asked by Jeeval from NEPAL | Oct. 28, 2023 06:35

Reply
Traveling to Nepal via china
Do Nepali need transit visa for total flight hour of depart 25 hrs return 20hrs while transit in sanghai and kumning? Airlines china eastern
Answers (1)
Answered by Harry | Oct. 29, 2023 20:20

0

0

Reply
If your total stay in China is over 24 hours, you need to apply for a transit visa in advance.
Asked by marvo from MALAYSIA | Sep. 03, 2023 02:56

Reply
Kunming - using cash to pay for daily necessities
Is Cash still usable in Kunming to pay for Food stalls, Supermarkets, public transport, paying for daily necessities? We are visiting this month for 2 weeks and are worried about paying for daily necessities in a cashless society. TQ for your update.
Answers (1)
Answered by David | Sep. 05, 2023 23:19

0

0

Reply
Cash is still available in all places. Don't worry and enjoy your trip!
Asked by Cindy Chimonides from CANADA | May. 07, 2023 16:36

Reply
Visiting Yunnan in November 2023, need help finding accommodation in Dongchuan Red Land
Would like to stay in Huashitou Village in Dongchuan Red Land preferably a room with private bathroom.
Answers (1)
Answered by Jessica | May. 07, 2023 23:19

0

0

Reply
You may stay in Caiyun Xuan Inn (彩云轩主题客栈).
Asked by JOAO VIZZOTTO from BRASIL | Feb. 16, 2023 06:46

Reply
information about train lines
I request information on where to buy a train ticket from kunming to Vientiane, the capital of Laos.
Does your company sell this ticket? how do i book?
Tanks
Answers (1)
Answered by Irene | Feb. 16, 2023 18:03

0

0

Reply
Currently, the ticket can only be bought at the departure railway station.