Kunming Travel Guide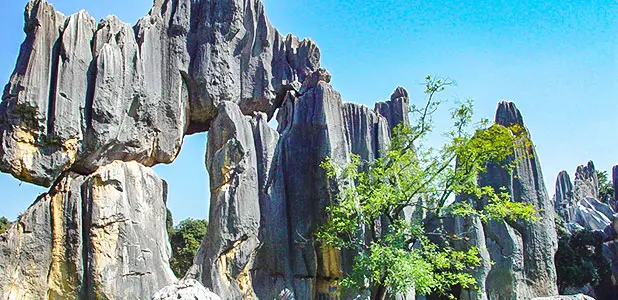 Stone Forest


Pictures

Video
Kunming, capital of Yunnan Province, is known as 'the City of Eternal Spring' for its pleasant climate and flowers that bloom all year long. With a history of more than 2,400 years, it was the gateway to the celebrated
Silk Road
that facilitated trade with Tibet, Sichuan, Myanmar, India and beyond. Today it is the provincial political, economical and cultural center of Yunnan as well as the most popular tourist destination in southwest China.
The city center is an attraction with its two squares (Jinma Biji Square, Dongfeng Square) and five intersecting roads (Dongfeng Road, Jinbi Road, Zhengyi Road, Renmin Road and Qingnian Road). Of these, Jinma Biji Square (also known as Jinbi Square) has the most eye-catching archways and stylish architectures. Qingnian Road, Zhengyi Road and Renmin Road are the main commercial areas. The most popular pedestrian streets are Nanping Street, Jingxing Flowers & Birds Market, and Jinma Biji Fang. The city is also the focal point of Yunnan minority culture. Some 26 ethnic minorities such as Yi, Bai, Miao, Dai, and Hani inhabit this region.
With convenient transport links in and out of the city, Kunming welcomes and sees off tens of thousands of visitors every day. As southwest China's transportation hub, the city plays a significant role for connecting Southeast Asia and China. The city also provides links to many popular destinations elsewhere in Yunnan such as Dali, Lijiang, and Shangri-La.
-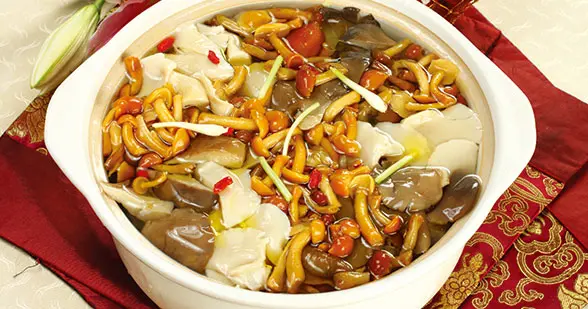 In addition to attractive scenic spots, Kunming is also renowned for its many delicious dishes. Due to the multi-cultural nature of the province, the city brings together the most representative food of the various nationalities residing in Yunnan, so eating here is an experience not to be missed. The famous food includes Steaming-Pot Chicken, Across Bridge Rice Noodles, and Xuanwei Ham. The night market is the best place to sample and enjoy the local snacks.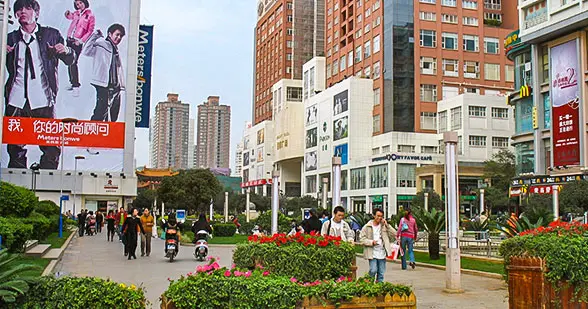 Do not forget to purchase some locally produced souvenirs for your friends or family before leaving this charming city. The local wood carvings and minority tie-dye products are highly recommended. Jinma Biji Square is considered the best place to go for your purchases.
As one of China's famous ancient and cultural cities, it boasts a history which can be traced back to 30,000 years ago. The Dianchi Lake area was one of the cradles of mankind. The city got its name from the Yuan Dynasty (1271 - 1368) and since then, it has become Yunnan's center of politics, economy and culture.
See below for some fast facts and useful tips to facilitate your visit to the city whether it is for travel, business or study.
Famous Universities
Nightlife
Banks
- Last modified on Nov. 05, 2019 -
Questions & Answers on Kunming Travel
Asked by jo from SINGAPORE | Nov. 03, 2019 08:33

Reply
Possible to do a day-trip to Jiaozi Snow Mountain on a Sat/Sun?
Answers (1)
Answered by Day from FINLAND | Nov. 05, 2019 22:21

0

0

Reply
One day is a little bit tight. You are suggested to prepare two days to tour around the mountain.
Asked by Salmah from MALAYSIA | Oct. 31, 2019 06:42

Reply
How do i go from kunming to xian? is it easier by bullet train or flight?
Answers (1)
Answered by Mason from CANADA | Nov. 03, 2019 23:47

0

0

Reply
The two places are too far apart so there is no bullet train. The normal train takes around 22.5 hours on the way. You better take airplane.
Asked by Liem from SINGAPORE | Oct. 24, 2019 01:09

Reply
we are travelling from Kunming to Dali ,may I know which mode of transport is the faster ?
by coach or Train ?
thanks.
Answers (1)
Answered by Gina from CANADA | Oct. 27, 2019 22:41

0

0

Reply
You can take high speed train from the Main Railway station to Dali Railway station.
Asked by diana from COLOMBIA | Oct. 20, 2019 14:39

Reply
Hi I hold a Colombian passport and I am travelling Sydney-Kunming-Kathmandu.
I have a layover of 8 hrs in Kunming and I was wondering if I need to get a visa for this transit?
Answers (1)
Answered by Stella from AUSTRALIA | Oct. 22, 2019 20:46

0

0

Reply
Don't worry, you are eligible for 24 hour visa free transit.