Yunnan Provincial Museum
Yunnan Provincial Museum is located in the east section of Guangfu Road in Guandu District. As a comprehensive museum, it has rich collections of more than 200,000 pieces. For tourists, the museum can help them to know Yunnan's history and the rich ethnic culture; for history lovers, its rich collections give them the opportunity to better understand Yunnan and the ancient Dian Kingdom's (278 - 115BC) historical features as well as bronze culture.
The relics in Yunnan Provincial Museum mainly include
bronze vessels
, Buddhism relics, cultural relics of local ethnic minorities, art works,
calligraphies
and
paintings
, and
porcelains
, etc. Among them, the gilding Knight-shaped shell-containers unearthed in Jinning Shizhai Mountain, Tiger and Ox shaped bronze case unearthed in Lijia Mountain, the Golden Kwanyin Statue from Dali Kingdom, golden tuinga with jewels of the
Ming Dynasty
(1368 - 1644AD), and the 'Travel in Xishan Mountain' painted by Guoxi in the Earlier
Song Dynasty
(960 - 1127AD) as well as some others are regarded as national treasures.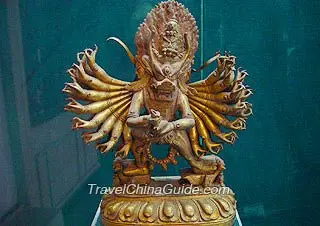 Buddhist Statue in the Museum
Here are some of the major exhibitions:
Bronze Vessels of the Dian Kingdom
Bronze vessels here maintain a high artistic level and have rich social & cultural meanings. The related collections mainly include Bronze Oxhead Ornaments, Chime of the King of the Dian Kingdom, Bronze Lantern with Three Branches, Gilding Horsewoman Ornaments, Ox-shaped Bronze Reed-pipes, etc. Those bronze vessels reveal people's daily lives of that time period vividly.
Yunnan is a place that
Buddhism
shines everywhere. Numbers of Buddhism relics have been inherited from history and preserved in the Yunnan Provincial Museum. The representative collections include a Golden Kwanyin Statue unearthed in Dali and a Five-colored Model Dagoba.
Intangible Cultural Heritage
Yunnan is a province that inhabited by many minority nationalities which have different life styles and habits, and whose culture is very colorful. Yunnan Provincial Museum exhibits rich intangible cultural heritages of the local ethnic minorities such as manual dyeing, batik, metal crafts and handmade Pu'er tea.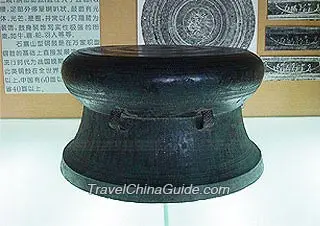 Bronze Drum
In addition to the bronze vessels, metal crafts showed in the Yunnan Provincial Museum include gold vessels and silver vessels, all of which came from the
Han
(202BC - 220AD) and Ming Dynasty. Those came from the Han Dynasty are mostly golden decorations, such as golden earrings inlaid with jewels, and the golden tuinga. Silver vessels are mostly from the local minorities. Each exhibition reflects different cultural backgrounds and different understandings of beauty.
Jewelry and Jade Articles
They mainly include
jade
, amber, carnelian and crystal. Most of the selected items are made from superb material and by excellent carving. Among them, the most distinctive collection is jade articles of the
Qing Dynasty
(1644 - 1911 AD), including a blue jade Bitian (a tool used to wipe writing brush), and Jadite Bed-curtain Hook. They are made of exquisite workmanship, which fully indicate the wisdom of the ancient Chinese.
There are about ten pieces of carving crafts of different shapes in Yunnan Provincial Museum, which are made from different material like bamboo, wood, ivory, stone, horn, bone, etc. Among them, the Ivory Carving of Cursive Wall Hangings is the highlight; with a height of 198 cm (6.5 feet) and a width of 58 cm (2 feet), all of the twelve paintings are painted by famous Yunnan local sculptors.
How to get to Yunnan Provincial Museum
1. Take bus no. 169, 252, A12, or D28 to Xin Bao Xiang He Qiao, and then walk southeast for about 270 meters (300 yards) to reach there.
2. Take bus no. 31, 165, 185, 186, 253, 255, 259, 908, C85, C142, C143, K15, K15 Express, or K42 and get off at Puzi Village, and then walk northwest for about 550 meters (600 yards) to get there.
Kunming Bus/ Subway Search
| | |
| --- | --- |
| Entrance Fee | Free (no reservation is required in advance) |
| Opening Hours | 9:00-17:00 (closed on Mondays) |
| Recommended Time for a Visit | Two hours |