Western Hills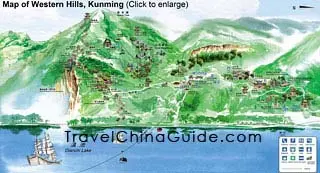 Map of Western Hills (Click to enlarge it)
In the western suburbs of Kunming lies Western Hills. They are also called 'Sleeping Buddha Hills'. For looked at from a distance, they have the appearance of a giant sleeping Buddha. They have also been given another name - 'Sleeping Beauty Hills' for the hills when viewed together look like a beautiful young lady laying beside
Dianchi Lake
with her face upward and her hair trailling into water. You can see the outline of her face, chest, and legs clearly.
Western Hills boasts an excellent environment with flourishing flowers and dense forest, providing tourists an excellent environment to enjoy the tranquility and marvelous scenery. No wonder that the place has gained a reputation as 'having the most pleasant environment in the world'.
Here, there are wonderful scenic spots such as Huating Temple, Taihua Temple, Sanqing Pavilion, and Dragon Gate.
Huating Temple
Huating Temple is one of the largest Buddhist temples in Yunnan Province. It had been destroyed and rebuilt several times most recently in 1923.
Daxiong Baodian Hall, Tianwang Hall and Kwan-yin Hall are some of the features in the temple. In the temple you can see three golden Buddha figures with kindly expressions, 500 life-like arhats which are vivid just like real people, and golden figures of Laughing Buddha. Besides, there are abundant colored clay figures depicting vividly various images of mythical animals.
Taihua Temple
Taihua Temple gained its name for it is located on Taihua Hill. Originally built in the Yuan Dynasty (1206 - 1368), the temple is the oldest one in Western Hills. Daxiong Baodian Hall, Piaomiao Pavilion, Sizhao Hall are in the temple. The temple is famous for the beautiful rare flowers on the grounds. It is also a good place to watch the grand spectacle of the rising sun.
Sanqing Pavilion
Sanqing Pavilion is built on the cliff at Luohan Hill. Being over 300 meters (approximately 984 feet) above Dianchi Lake, the pavilion looks like a 'castle in the air'. This temple has a Taoist influence, and 'Sanqing' in Taoism refers to the loftiest stature. The pavilion is a good place where you can not only visit the temples, but also enjoy a panoramic view of Dianchi Lake.
Dragon Gate
There is a saying - 'If you do not visit Western Hills, you haven't visited Kunming; if you do not come to Dragon Gate, you haven't been to Western Hills.' Being the outstanding scenic place in Western Hills, Dragon Gate is a big exquisite stone carved edifice. The stone paths, stone rooms, stone grottos, and stone
Buddhist figures are all carved with excellent craftsmanship on a large natural rock. Like Sanqing Pavilion, Dragon Gate was also built on cliff. You can stand on the edge of the cliff holding the railing, looking downward to experience the steepness of the hill and enjoy the spectacle of Dianchi Lake.
| | |
| --- | --- |
| Buddha Statues in Huating Temple | Admire Dianchi lake on the top of Dragon Gate |
How to get to Western Hills
Subway:
Take
subway line 3
and get off at Western Hills Station, then walk southeast around 1.5 kilometers (1 mile) to arrive at the scenic area.
Bus:
1. Take bus no. 6, 51, 94, C70 or Fu 6, and get off at Gao Yao Station.
2. Take cable car from the west gate of Haigeng Park to Dragon Gate Grottoes directly.
Kunming Bus / Subway Search
Entrance Fee
CNY 30 for Dragon Gate Grottoes;
CNY 20 for a combo ticket (including Huating Temple and Taihua Temple);
CNY 100 for the combo ticket (including Dragon Gate Grottoes, one-way Dragon Gate Ropeway, one-way sight-seeing battery car, round-trip tourist bus, magnolia garden, Huating Temple, Taihua Temple and Xuyun Memorial Hall);
CNY 88 for the combo ticket (including Dragon Gate Grottoes, one-way Dragon Gate Ropeway, one-way sight-seeing battery car and round-trip tourist bus);
One-way Dragon Gate Ropeway
CNY 25 per person
One-way Sight-seeing Battery Car
CNY 8 per person
Tourist Bus
CNY 12.5 for a single trip and CNY 25 for a round trip (per person)
Recommended Time for a Visit:
half a day
Opening Hours:
March - October: 7:00 - 18:00
November -February: 8:00 - 17:00
- Last modified on Jun. 24, 2019 -
Questions & Answers on Western Hills
Asked by David n from AUSTRALIA | Jun. 22, 2019 03:54

Reply
how much time should i give myself to see only the Kunming west-hills dragon gate grottoes?
what are the road conditions from dali to lijiang to shangrila like these days?

will shangrila be v cold in early sept?
thanks
Answers (1)
Answered by Belly from USA | Jun. 24, 2019 20:02

0

0

Reply
1. Half day will be enough.
2. You don't need to worry about road condition. These places are mature tourism attractions.
3. The temperature may range from 10-20C and temperature difference will be huge in the day and night.
Asked by L from VIETNAM | May. 26, 2019 09:10

Reply
i want to ask about combo CNY100 of Kunming Western Hill
When i visit all and want to go back so i need to buy another way sight seeing battery car and one way dragon gate rope way?
Answers (1)
Answered by Fred from UNITED KINGDOM | May. 26, 2019 20:49

0

0

Reply
Yes, the combo ticket is only for single trip about rope way and battery car.
Asked by evalien van't veen from NETHERLANDS | May. 14, 2019 08:59

Reply
Where is the starting point Cable car across the lake
We stay in hotel close to Ethnic Village / Minority Museum and know there is a cable car across the lake, but can nowhere find the entrance. Which street?
Answers (1)
Answered by Justin from CANADA | May. 14, 2019 20:44

0

0

Reply
It is in the Dianchi Haigeng Park.
Asked by Nuna from MALAYSIA | Apr. 18, 2019 21:35

Reply
Is it possible to visit all the places in one day?
Western Hill - Haigeng Park - Dragon Gate - Stone Forest - Jiuxiang Caves

If possible, which one should I visit first?
Answers (1)
Answered by Gill from DENMARK | Apr. 23, 2019 00:43

0

0

Reply
No, the time is not enough. You are suggested to go to Western Hill, Stone Forest first.