Dianchi Lake Scenic Area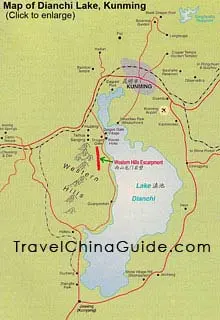 Map of Dianchi Lake
(Click to enlage it)
The Dianchi Lake Scenic Area is located in the southwest part of Kunming City. Dianchi Lake is, beyond question, the center of the resort. There are numerous attractions along the lake captivating tourists. Among these are the Yunnan Nationalities Village, Grand View Park (Daguan Park), White Fish Park (Baiyukou Park), Haigeng Bank, Kwan-yin Hill, Western Hills Forest Park, temples and pagodas. Towns, big or small near the lake provide visitors with an opportunity to experience customs of the local people.
Dianchi Lake
Measuring about 300 square kilometers (74,132 acres), Dianchi Lake or Dian Lake is the largest freshwater lake in Yunnan Province and the sixth largest one in China. With picturesque scenery and its location on the Yungui Plateau, the lake has a reputation as 'A Pearl on the Plateau'. Unfortunately, the lake has been badly polluted. Although efforts have been made to save the lake, they have been largely unsuccessful.

The lake is crescent-shaped, about 39 kilometers (24 miles) in length and 13 kilometers (8 miles) in width at its widest. Its natural banks are formed by mountains on all four sides. More than twenty rivers nurture the lake which has a shoreline of 163.2 kilometers (101 miles). Four surrounding hills contribute to the picturesque landscape, making visitors intoxicated and linger around. You may appreciate the beauty of the lake and hills from a boat, and explore this cradle of Yunnan culture.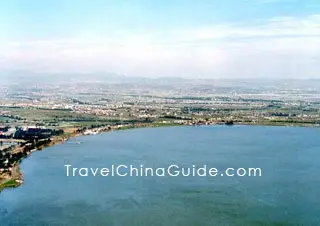 Dianchi, the largest lake of Yunnan


Pictures
The village in Dianchi Lake Scenic Area acts as a good shortcut to understand the social customs of the ethnic groups in Yunnan. It has a natural sun-bathing area where you can escape from the heat of summer. Twenty-five ethnic nationalities have their respective villages and conduct many activities to present their unique folkways and beautiful clothes. Also you can enjoy the water screen movie and an elephant performance, have a taste of the local dishes and buy pretty handicrafts.
Grand View Park is vibrant with rock gardens, pavilions, bridges and murmuring water. It is famous for the longest couplets in China on the Grand View Pavilion. The Grand View Pavilion was built in the year 1828. It commands a lovely view. The couplet written in the Qing Dynasty (1644-1911), contains 180 characters brimming with literary grace. During festival evenings, gatherings take place here.

White Fish Park
White Fish Park is on the west bank of Dianchi Lake. Here a small hill looks like a white fish opening its mouth to the lake. Near the Irregular shore line, beautiful gardens are hidden among green trees. In spring, the cherry trees are in blossom, adding luster to this serene place. Overlooking the lake, you can see white sails of boats on the glistening lake and gulls skimming over the waves.
| | |
| --- | --- |
| The land of fish and rice | Many hills around to overlook the lake |
Haigeng Bank
Haigeng Bank is about four kilometers (2.5 miles) long while ranging in width from forty meters (131 feet) to three hundred meters (984 feet). The bank, like a floating jade belt, is in fact a watershed of the Dianchi Lake. Slender willow twigs sweep the lake in the gentle breeze. In the south is a wonderful natural swimming pool which is always crammed with people in midsummer.

Kwan-yin Hill
Kwan-yin Hill is bordered by the vast lake and has an altitude of 2,040 meters (6,693 feet). Lofty peaks on this hill seem to thrust themselves straight towards the sky. A Kwan-yin Temple built here in the Ming Dynasty (1368-1644) was once a popular resort of Buddhism. Remaining are a seven-tier brick pagoda, houses, and a gate to the Kwan-yin Temple.

Visitors can appreciate Dianchi Lake closely at Haigeng Park. Or they can climb to the top of
Western Hills
to have a bird's eye view of the lake. Dianchi Lake is free of charge for visitors.
Haigeng Park
Western Hills
Entrance Fee
Free
Opening Hours
Mom. - Fri.: 10:00 - 18:00
Sat. & Sun.: 10:00 - 20:00
8:00 - 17:00
How to get to Dianchi Lake Scenic Area
Take bus 24, 44, 73, 94, 135, 172 or 233, and get off at Haigeng Gongyuan (Haigeng Park) Station.
Kunming Bus Search
- Last modified on Nov. 27, 2018 -
Questions & Answers on Dianchi Lake Scenic Area
Asked by Shanta Maria from BANGLADESH | Nov. 27, 2018 01:14

Reply
I live in Chenggong campus of Yunnan Minzu University. I want go to Dianchi lake.
Which Bus I should take from Subway station?
Answers (1)
Answered by Zachariah from FRANCE | Nov. 27, 2018 17:35

0

0

Reply
First walk about 100 meters from the campus to Fuanshan Ring Road(No.2 West Gate of the university) bus stop to take the bus c85 and get off at Yuhua Bus Hub Station. Then walk about 300 meters to University Town to take the metro line 3 and get off at South Huancheng Road. Get out from the exit B and then walk about 220 meters to Shuanglong shopping mall to take the bus No.44 and get off at Haigeng Park(Dianchi Road). Then go on walk about 700 – 750 meters to Dianchi. The whole ride needs about 2 hours.
Asked by nurul from MALAYSIA | Nov. 26, 2018 22:22

Reply
hi, can you suggest me the places i can go in 5 days at Kunming, 28 DEC - 1 Jan?
Can you suggest me if i have to visit jiaozi snow mountain or jade snow mountain? and which is cheapest?
How much the entrance fee + cable car in jiaozi snow mountain?
Where i can get the bus to jiaozi snow mountain?

i really appreciate if you can help me.
Answers (1)
Answered by Zandra from SOUTH AFRICA | Nov. 27, 2018 17:56

0

0

Reply
During the five days, you can visit Green Lake Park, Stone Forest, Dianchi Lake, Yunnan University, Dongchuan Red Land, Jiaozi Snow Mountain, Golden Temple, Western Hills, Bamboo Temple (Qiongzhu Temple), Bamei Village, Black Dragon Pool, Chengjiang Fossil Site, Flowers and Birds Market, Fuxian Lake, Grand View Park (Daguan Park), Jiuxiang Scenic Area, Yuantong Temple, Yunnan Nationalities Village.

Jiaozi Snow Mountain is much cheaper than Jade Dragon Snow Mountain. The tickets, including the entrance ticket, cable car and round-trip shuttle buses, charge about CNY150. You can take the direct bus at KM Tuodong Gymnasium.
Asked by Gary from AUSTRALIA | Aug. 13, 2017 10:06

Reply
Dragon Boat World Championships OCT 2017
Does anyone know where on Lake Dianchi the Dragon Boat Championships are being held in October 2017 and where are the best hotels to stay to get to this location easily?
Gary in Sydney, Australia
Answers (7)
Answered by Mile from USA | Aug. 16, 2017 23:03

0

0

Reply
Well, as I know, the Dragon Boat World Champions was held in Dianchi Lake in last Sep. This October, it will be held in Hanyuan County, Sichuan and Funing County, Jiangsu Provinces.
Answered by HELEN_ANDREW | Aug. 25, 2017 21:09

0

0

Reply
We are in the city now and staying at the Holiday Inn (we are from melbourne). About to go to the Lake today and don't think it is too far from hotel. Holiday Inn is great.
Answered by HELEN_ANDREW | Aug. 25, 2017 21:10

0

0

Reply
As in......easy to access by bus or taxi (not able to walk there)

Answered by Margie from USA | Aug. 25, 2017 22:43

1

0

Reply
I am on the US team, and we are headed there in October for the World Championship Dragon Boat races.
Answered by Gary from AUSTRALIA | Nov. 10, 2017 03:05

0

0

Reply
Hi Margie, got to the World Championships last month and met Richie from the USA team. I was the crazy Aussie supporter in the yellow and green shirt shouting "Come on Aussie, come on!". Hope you enjoyed your time in KM - it was a great event. Cheers, Gary
Answered by Gary from AUSTRALIA | Nov. 10, 2017 03:07

0

0

Reply
Thanks, Mile, it was held in KM last month and I have just returned. It was a great event. Cheers, Gary
Answered by Gary from AUSTRALIA | Nov. 10, 2017 03:10

0

0

Reply
Hi Helen, thanks for your reply. Initially went to a hotel in central KM and, while it didn't look too far on the map, it took hours in the traffic to get to lake Dian Chi. Finished up relocating to Soluxe, not far from the Soffitel, and this was much better - only 15 minutes by taxi or 30 by bus (depending upon the traffic of course). Hope your trip was good. Cheers, Gary
Asked by Fay from AUSTRALIA | Mar. 22, 2017 15:53

Reply
Where on Dianchi Lake will the 2017 world dragon boat championships will be held?
Answers (1)
Answered by Sylvia from FINLAND | Mar. 26, 2017 03:46

1

0

Reply
In 2016, the competition was held on Grass Sea. The location and time of this year have not been released now. You may keep noticing that.
Asked by Effenddy Teoh from MALAYSIA | Dec. 22, 2016 22:47

Reply
I am staying at Jin Jiang Hotel, Kunming so how far from my hotel to Stone Forest?
Answers (1)
Answered by Judy from ITALY | Dec. 23, 2016 02:20

1

0

Reply
The distance is about 53 miles (85 kilometers). There are frequent buses from KM East Passenger Station to the Stone Forest and the first bus leaves at 7:00. You may take a taxi from your hotel to the bus station in 30min.