Jianshui Ancient Town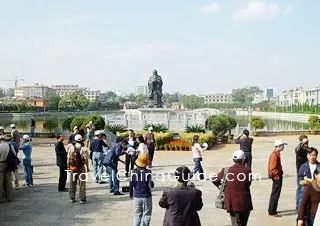 Jianshui Confucius Temple
Jianshui, an ancient town in
Jianshui
, is one of the national famous historic and cultural towns of China. With a history of about 1200 years and an abundant distinctive cultural heritage, the Ancient Town enjoys a great reputation as a 'Museum of Ancient Buildings and Residential Houses' and attracts a lot of visitors at home and abroad.
Jianshui was called Lin'an or Badian Town in ancient times. It is located over 220 kilometers (nearly 136.7 miles) south of Kunming. The history of this ancient town can be dated back to Nanzhao State (738-937). About the year 810 the Nanzhao State built Huili City here. Huili in Yi (an ethnic minority of China) language means 'vast sea', and in Han language it is translated as Jianshui. In the Yuan Dynasty (1271-1368) the government set up Jianshui Zhou. Later, in the Ming Dynasty, it was changed to Lin'an Fu. Under the reign of Emperor Qianlong of the Qing Dynasty (1644-1911) it was changed to Jianshui County.

Jianshui still retains the traditional style of the original town in the Ming Dynasty (1368-1644) with break walls and a gate tower. From over 12 centuries of construction, more than 15 ancient buildings have remained in its present ancient town. If you come here to have a look, you will find many distinctive attractions. The famous scenic spots include: Jianshui Confucius Temple, Zhu Family Garden, Double Dragon Bridge and the National Examination Site of Xuezheng (the National Education Ministry) of the Ming and Qing Dynasties. Apart from these attractions, the surrounding sights are also delightful, such as the Swallow Cave and Zhang Family Garden in Tuanshan Village.
| | |
| --- | --- |
| Swallow Cave, Jianshui, Honghe | National Examination Site of Xuezheng |
Among the above scenic spots, Jianshui Confucius Temple was a very special attraction. It was built in the Yuan Dynasty (1271-1368) and was the biggest Confucius Temple at that time. Now it is just behind the Confucius Temple in Qufu, Shandong Province, in scale. The temple has a traditional Chinese construction style, facing south. It is 625 meters (0.39 miles) deep, covering an area of 114 mu (18.78 acres), including 31 buildings. There is a memorial archway in front of the temple. Behind the archway lies a green lotus pool, called PanChi Pool or Xuehai (Sea of Learning, an academy where learners and scholars gathered to study ), which covers an area of 42 mu (6.9 acres) and ranks No.1 in the whole country. It is surrounded by red walls and boasts a small pavilion named Diao'ao (meaning angling for a huge legendary turtle) Pavilion. The name means achieving in career and fame. Walking through several gates and yards, you will see the Ancestral Master Hall, which is the major building of the Confucius Temple and lies on the highest terrace back of the vertical axis of the whole building complex. Sacrificial rituals are regularly held here,
showing respect to Confucius. There is a bronze incense burner in front of the hall, whose four legs were carved to be four elephants' heads, representing the cultural characteristics of South Yunnan. All in all, this Confucius Temple is a display of the cultural mixture of the Han and the other ethnic groups of South Yunnan.
| | |
| --- | --- |
| Ancestral Master Hall, Confucius Temple | Sacrificial rituals held in Confucius Temple |
Chaoyang Tower (the tower facing the sun) is the landmark of Jianshui Ancient Town. It was built as the eastern gate of the ancient town in the Ming Dynasty (1368-1644) and remains till now, while the other three towers all collapsed because of war fires and the erosion of wind and rain. Chaoyang Tower is reputed to be the 'Small Tiananmen Tower' because it is very much like the Beijing Tiananmen Tower in appearance, although Chaoyang Tower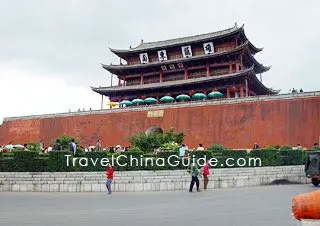 Chaoyang Tower, Jianshui Ancient Town
was built 28 years earlier. It is 24.5 meters (80.38 feet) high, 12.31 meters (13.46 yards) long and 26.8 meters (29.3 yards) wide, containing three storeys and covering an area of 414 square meters (0.102 acres). It features the traditional construction style with big
poles, a three-eaves saddle roof and wood carved doors. Under the eaves hang horizontal boards, inscribed by celebrities, such as the calligrapher Tu Rizhuo in the Qing Dynasty (1644-1911) and the Saint of Cursive Script Zhang Xu (658- 747) in the Tang Dynasty (618-907). Another attraction is the bell hanging on the tower which is over 2 meters (6.562 feet) high and weighs 3.4 jin (1.4 kilograms). At the time of sunset, the bell resounds through the whole town. It is the direct data for people to learn about the history of the ancient town.
Zhu Family Garden, the so-called 'Grand View Garden' of South Yunnan Province, is a representative of Chinese residential houses of the Qing Dynasty (1644-1911). When walking through the garden, it really seems as if you are strolling through the Grand View Garden depicted in 'A Dream of the Red Mansions' (a famous Chinese Classical novel by Cao Xueqin (1724-1764) in the Qing Dynasty). This garden was the residence and ancestral temple of the rich man Zhu Weiqing and his brother in the Qing Dynasty (1644-1911). It was built in the year of the Emperor Guangxu (1871-1903), covering a land of more than 20,000 square meters (4.942 acres). Zhu Family Garden boasts 218 pavilions and towers with steep ridges, painted crossbeams and intricate painted ceilings, as well as 42 Tianjing (the space between houses and walls or two separate houses in one courtyard). Every building in the courtyards enjoys an elegant and unique name, such as Hanyu Tower, Lan (Orchid) Pavilion and Xufang Pavilion. The garden is a good place to explore the residential buildings of Qing Dynasty. Now, there are 28 rooms used as guest rooms, like Mei (Plume) House, Lan (Orchid) Yard, Zhu (Bamboo) Garden and Ju (Chrysanthemum) Garden letting visitors fully experience the life style of the Qing Dynasty (1644-1911). It is welcome among a lot of visitors from at home and abroad.
| | |
| --- | --- |
| Zhu Family Garden | Inside Zhu Family Garden |
Double Dragon Bridge is located 5 kilometers (3.107 miles) west of Jianshui, at the confluence of Lushui River and Tacun River, which are like double winding dragons crossing the land. It is the biggest and has the most artistic value of the ancient bridges in Yunnan Province. This ancient bridge was built in the years of the Emperor Qianlong (1711-1799), and in the years of the Emperor Guangxu (1871-1908) it was rebuilt and added to by 14 holes, so that it became a 17-hole bridge. In total, the bridge is 153 meters (167 yards) long and 3 meters (3.28 yards) wide, paved with black marble. There are three exquisite and elegant lofts on the bridge. Among them, the middle one is the most majestic and splendid, called the 'Grand View Pavilion of South Yunnan'. Standing on the bridge you get beautiful views, both nearby and in the distance, including endless green fields, majestic blue mountains and clear water.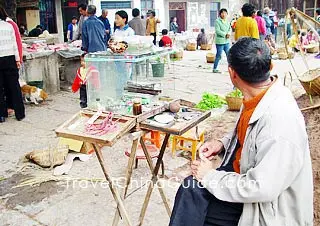 Morning Market, Tuanshan Village
As for the local handicrafts, the top one is the local purple pottery, which along with Yixing pottery in Jiangsu Province, Qinzhou pottery in Guangxi Province and Rongchang pottery in Sichuan Province composes the four renowned potteries of China. Jianshui purple
pottery is made out of natural quality five-color clay with a bright and smooth shape and exquisite techniques. It should be the top choice as a souvenir for visitors. Here you can also taste many local snacks and dishes. For example, Barbecued Tofu and Cross-Bridge Rice Noodles are welcome among the local people and visitors. Their good fame spreads to the whole nation. Since the taste is very good and the price is low, you just have to try them.
How to get to Jianshui Ancient Town
1. Train: From Kunming, you can take a high speed train to Jianshui. There are 18 trains running from Kunming to Jianshui every day. The trains depart from Kunming or Kunming South Railway Station, taking 1.5 to 3 hours for a single trip and costing 50 for second class seat. From Jianshui Railway Station, you can take bus line 919 to the ancient town in 30 minutes. A Taxi takes 20 minutes and costs CNY 20.

2. Bus: From 11:00 to 19:10, there are 5 buses running from Kunming South Coach Station to Jianshui. A single way takes 2.5 hours and costs CNY 81 per person. From the coach station, bus line 11, 15, 16, or 19 can take you to the ancient town in 20 minutes. A Taxi takes 10 minutes and costs CNY 8.

| | |
| --- | --- |
| Entrance Fee | Free entry for the town. CNY50 for Zhu Family Garden, CNY30 for Confucius Temple, CNY20 for ascending Chaoyang Tower, CNY 50 for Tuanshan Village, CNY80 for Swallow Cave, CNY30 for National Examination Site; CNY 133 for a combo ticket including Confucius Temple, Zhu Family Garden, and Swallow Cave. |
| Opening Hours | The town opens all day long. The scenic spots open from 8:00 or 9:00 to 18:00 or 20:00. |

You may like:
Top 10 Ancient Cities in China
- Last updated on Jul. 18, 2022 -
Questions & Answers on Jianshui Ancient Town
Asked by RUSH123 | Jul. 05, 2019 10:07

Reply
what to eat in Jianshui town ? recommend plz.
Answers (1)
Answered by Hailey from NEW ZEALAND | Jul. 15, 2019 01:14

0

0

Reply
You can taste local dishes in Lin'an Story Restaurant located at No. 97, Lin'an Road, Lin'an Town.
Asked by Uli from SPAIN | Jun. 17, 2017 16:33

Reply
Bus Jianshui to Yuanyang Xinjie
Hello

Does anybody know where to catch buses from Jianshui to Yuanyang Xinjie? I have read somewhere that there are buses running from 7:30 every 20/30 minutes. Is it really like that? Would I need to buy ticket in advance or just have to show up at the bus station?

Cheers
Answers (1)
Answered by Judy from UK | Jun. 26, 2017 02:08

0

0

Reply
As I know, you can catch this bus at JS Bus Station. This bus will depart when the bus is full from about 07:15. You can buy the ticket when you arrive there.
Asked by Peter Chie from SINGAPORE | Feb. 07, 2017 05:46

Reply
Hello,what is the best month in terms of weather to visit Honghe Jianshui Ancient Town?
Answers (2)
Answered by David from UNITED KINGDOM | Feb. 07, 2017 20:57

0

0

Reply
Generally speaking, April to October is a recommended period for sightseeing. Have a nice journey!
Answered by Peter Chia from SINGAPORE | Feb. 13, 2017 06:19

0

0

Reply
Thanks David.
Asked by Sam from CANADA | Jan. 04, 2017 17:09

Reply
Hi - what times/options are there for buses to reach Jianshui FROM Yuanyang Xinjie?
Thanks!
Answers (1)
Answered by Catherine from POLAND | Jan. 05, 2017 01:53

0

0

Reply
I heard there are buses from Yuanyang Xinjie Bus Station to JS at 10:30, 11:10, 11:50, 12:20, 14:30, and 16:00. It will take around 4h to reach the destination.
Asked by Kiki from GERMANY | Dec. 15, 2015 12:02

Reply
Hello! Is there any other way to get from Jianshui to Xishuangbanna but the 12 hour bus?
Would a private car be possible? Or is this not an option? How much would that approx be?
Answers (2)
Answered by Mia from GERMANY | Dec. 15, 2015 21:23

0

0

Reply
The distance is about 332 miles (535km), so I am afraid it is hard to charter a car. You have two ways to choose from:
1. Take a coach to Jinghong from JS Bus Station for about CNY 170. The coaches depart at 13:30, and 16:30, and the duration is about 12-13 hours.
2. Take a coach or train to Kunming, and take a flight to Xishuangbana. :)
Answered by Kiki from GERMANY | Dec. 16, 2015 00:43

0

0

Reply
Thanks, Mia!