Jianshui, Yunnan
Jianshui Facts
Chinese Name: 建水 (jiàn shuǐ)
Population: 540,000
Area: 3,789 square kilometers (1,463 square miles)
Location: in the northeast of Honghe Hani and Yi Autonomous Prefecture, Yunnan Province, southwest China
Area Code: 0873
Zip Code: 654300
GDP (2018): CNY 16.14 billion (USD 2.44 billion)
Nationalities: Han, Hani, Yi, Hui, Dai, Miao
An Ancient City with Multi-Ethnic Culture
Located in the south of Yunnan Province, Jianshui County is one of the counties under the jurisdiction of Honghe Hani and Yi Autonomous Prefecture. With a history of more than 1,200 years, Jianshui is a famous cultural city in Yunnan. There are many historical sites and natural landscapes. Ancient bridges, pagodas, wells, streets and other cultural relics are scattered all over the county. Han, Hani, Yi, Hui, Dai and Miao people have lived in Jianshui for generations. The unique customs of ethnic groups form a wonderful cultural landscape. Also, tea lovers cannot miss one of top China's tea wares, the high fired Jianshui teapot, which is made of purple clay and carved with exquisite Chinese calligraphy or pictures.
Best Places to Visit & Top Things to Do in Jianshui
Built in the Tang Dynasty (618-907), the Jianshui Ancient Town has preserved more than 50 splendid ancient buildings. The main scenic spots include Zhu's Family Garden, Jianshui Confucius Temple, Zhaoyang Tower, Double Dragons Bridge and Zhang's Family Garden.



Zhu's Family Garden
Situated on Hanlin Street, Zhu's Family Garden is a family house and ancestral hall built by Zhu family in the late Qing Dynasty (1636-1912). It has a good reputation in south Yunnan for the exquisite buildings and beautiful garden. It totally has 42 patios and 214 houses. The layout of the whole garden is complex but well-arranged. A hotel is operated in the garden and people who check in are free of admission.
| | |
| --- | --- |
| Zhu's Family Garden | Jianshui Confucius Temple |

Jianshui Confucius Temple
With a history of more than 600 years, Jianshui Confucius Temple is the third largest Confucius temple after Confucius Temples in Qufu and Beijing. The historical sites and buildings of the temple are all well preserved such as the memorial archways, pavilions, palaces and memorial temples. The most attractive place is undoubtedly the Dacheng Palace, the main building of the Confucian temple. It is composed of five halls in a roll and the middle one shrines the statue of Confucius. Many plaques and statues for celebrities who contributed to the promotion of Confucian culture can be appreciated.

Highlights: Every weekend, there will be a wonderful and free ancient music performance at 9:00 and 14:00, lasting for 2 hours.
Swallow Cave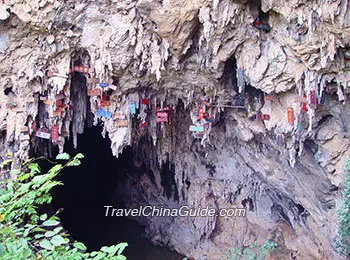 Swallow Cave
Famous as the first karst cave in Asia, Jianshui Swallow Cave is divided into 2 caves: the high dry cave and the low wet cave. Stalagmites, stone pillars and stalactites are clustered in the cave. From May to July, visitors can see a great number of swallows leaving and returning to the cave at about 9 am and 5 pm.

Highlights: On March 21th every year, a celebration activity will be held that some local top climbers hang the plaques on the cliff without any protective measures and climbing tools. Besides, there will be someone climbing by hand to pick bird's nests during a three-day Bird's Nest Festival on August 8th.
Tuanshan Village
Tuanshan Village highlights the local ancient ethnic residences by the Han and Yi people. All the buildings face east with green tiles and white walls. The patios are the center of all houses. The doors and windows are meticulously carved with different patterns, and the painting and calligraphy are also an important part of the house decorations.
Best Time to Visit Jianshui
The best time to visit Jianshui Yunnan is from May to August. This is the best time to visit the tens of thousands of swallows and experience activities in the Sallow Cave. In Jianshui, the summer from June to August is rainy and hot as the highest temperature can reach 29℃ (84℉). The winter starts from December to February and the lowest temperature is about7℃ (45℉). From March to May, it is the spring time of Jianshui Yunnan, warm and sunny with an average temperature of 21℃ (70℉). As the autumn comes, the weather is colder and drier with an average temperature of 20℃ (68℉)
Jianshui Weather Forecast
-
Transportation
Jianshui is 198 kilometers (123 miles) away from Kunming, the capital of Yunnan Province, and 88 kilometers (55 miles) from Mengzi, the capital of Honghe Hani and Yi Autonomous Prefecture. Visitors can take a flight to Kunming Changshui International Airport and then take a shuttle bus to Jianshui Yunnan. Taking a train from Kunming South Railway Station is also possible, taking about 1.5 hours. Besides, it is also easy to arrive in Jianshui by coach. The coach runs from 7:30 to 20:30 at Kunming South Bus Station and it takes about 3.5 hours.

The inner-city transportation depends on buses and taxis. If you want to find more ancient sites, you can rent a bicycle for about CNY30/day. It takes CNY15 from the central city to Jianshui Railway Station and CNY5 to Jianshui Bus Station by taxi.
Best Jianshui Food to Try
When you visit Jianshui Yunnan, you cannot miss the Steam Pot Chicken, Rice Noodles, Roasted Tofu, Bird's Nest and Deep-fried Lotus Root with Glutinous Rice.



Steam Pot Chicken
Steam Pot Chicken is one of the ten famous dishes in Yunnan and popular for its rich nutrition. Put the chicken into the steam pot with ginger, salt, a scallions and Caoguo (a local natural spice), and place the steam pot on another pot filled with water and boil for 3-4 hours.



Roasted Tofu
Roasted Tofu is a kind of small Stinky Tofu which smells bad but tastes tender, soft and spicy.



Deep-fried Lotus Root with Glutinous Rice
Stuff the lotus root with soaked glutinous rice and steam it until done. Cut the cooked lotus root into pieces and deep-fry them until golden. Sprinkle it with Sichuan Pepper Salt or dip in the seasoning made by the sweet soy sauce, pepper powder, sesame powder, chili powder and aginomoto. It tastes crispy and fabulous with the fragrance of rice.



See more: 10 Special Yunnan Foods You Need to Try
Must-buy Local Products
Jianshui Teapot
- Last updated on Apr. 12, 2021 -