Yuanyang Rice Terraces
Yuanyang Rice Terraces Facts
Location: On the southern slopes of Ailao Mountain in Yuanyang County (part of Honghe Hani Autonomous Prefecture) and in the south of Yunnan Province.
Area: Over 113 square kilometers (28,005.3 acres)
Number of steps: 3,000 steps
Yuanyang Rice Terraces has been a masterpiece of the ingenuity of the Hani people for generations. Southern Ailao Mountain, with this typical tiered landscape, is famed for its unique frontier scenery.
The Hani people's ancestors came to this steep mountain area 2,500 years ago. In their struggle against the difficult terrain they successfully established the terraces, where they grew rice in order to make a living. The technology of developing fertile land on rugged mountain slopes didn't spread all over China and Southeast Asia until 14th century. The creativity of the Hani people turned this mountain area into one of artistic beauty. In recognition, the Ming Dynasty (1368-1644) emperor granted the title of 'Skillful Sculptor' to Hani people and their good reputation was passed down from generation to generation. At present, known as 'land sculpture' the terraced fields have been being officially acknowledged by UNESCO as a World Cultural and Natural Heritage site.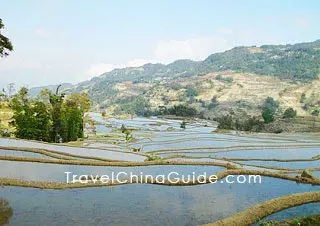 Yuanyang Rice Terraces, Honghe, Yunnan
Hani terraced fields are magnificent and on a large-scale. They extend to many towns along the south bank of the Red River, such as Yuanyang, Lüchun and Jinping among others. With an area of more than 113 square kilometers (28,005.3 acres), the terrace in Yuanyang County is regarded as the core area of Hani terraces as the county is mountainous and the terraces built on the hillsides have a slope varying from 15 degrees to 75 degrees. The terraces rise by 3,000 steps forming a landscape that is rare both at home and abroad. In the main, the Yuanyang Hani terraces form three major scenic areas: Duoyishu scenic area, Bada scenic area and Laohuzui (the Tiger Mouth) scenic area. So many terraces set among vast forests, topped by an ocean of clouds create a magical, magnificent view.
Duoyishu Scenic Area
This is the most beautiful natural and cultural landscape of Yuanyang Terraces, and it is the best place to go if you wish to photograph the sunrise. The terraces in this scenic area, including Duoyishu, Aichun, and Dawazhe, are more than 6.7 square kilometers (1647.4 acres) in total. Sunrise provides the most beautiful sight in Duoyishu as the morning there highlights the superlative dynamic landscape. As a kind suggestion, we recommend that you can pay special attention to the changing color of the water during the early morning sunrise. As the reflections and shadows are constantly changing, the visual impact can be overwhelming.
Bada Scenic Area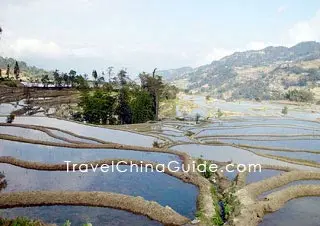 It is the biggest attraction in terms of acreage of Yuanyang Terraces and the best of the sunset scenery can be seen here. The terraces here include the Qingkou, Quanfuzhuang, Malizhai, Zhulu and other contiguous areas extending over more than 9.3 square kilometers (2306.3 acres). The Bada terraces at sunset are truly amazing and the incessantly changing colors will make you feel that you are in a magical kingdom.
Laohuzui (the Tiger Mouth) Scenic Area
The third dimension and the colorific hierarchy of Laohuzui is the most intense. The colors are as though they have been painted by an artist, while the terraced slopes are more rugged. The lowest section of the terrace is the most attractive and the outline resembles a galloping horse.
Best Time to Visit Yuanyang Rice Terraces
The scenery of the terraced fields in Yuanyang is at its best from November to the following April. Taking a tour to Yuanyang Terraces in winter is amazing, since the fields are full of water, composing a colorful painting.

6 Days Kunming to Yuanyang Tour from

$749

9 Days Tour to Kunming – Jianshui – Yuanyang – Hekou – Sapa – Hanoi from

$1328
Other view points in Yuanyang County
1. Jingkou: a Hani Ethnic Village, the only place to be charged in the country, and there are folk dancing performances and Hani showroom.
2. Village architecture: the mushroom-like houses are undoubtedly the most distinctive, and can be seen throughout the county.
3. Long Dragon Feast: Held on 12th December lunar calendar. The Feast in Habo is most famous.
4. Clouds in the Xinjie Town: Due to the high altitude it is often shrouded in cloud and offers great scope to photographers.
5. Folk: In addition to outside terrace, Hani costumes and folklore are also good film subjects. There are Hani, Yao, Miao, Dai, Zhuang, Yi and other nationalities so that the locality has a very strong ethnic flavor.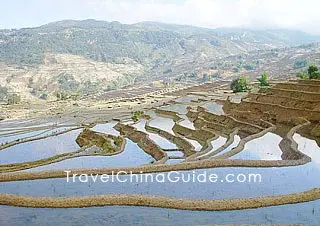 Some Tips
1. Yuanyang lies on the Tropic of Cancer, so the climate is neither extremely hot nor cold. However, it is cooler in morning and evening, and the sun is very strong at noon. You should pay attention to sun protection. Moreover, T-shirts and shorts can be worn all year round, but you are advised to take a jacket.
2. It is very interesting to participate in a local country fair, during which the entire minority people dress in colorful ethnic costumes. It is very lively.

How to get to Yuanyang Rice Terraces
From Kunming to Yuanyang Rice Terraces, you can take a bus from South Bus Station to Yuanyang Xinjie Town and then hire a local car to each scenic spot. The buses depart at 10:20, 12:30 and 18:00.
Entrance Fee
Day Ticket: CNY 100, single entry for each scenic spot within a day;
Seven-day Ticklet: CNY 180, unlimited entry for each scenic spot included within the 7-day validity.
Note:
1. The ticket covers Duoyishu, Bada, Laohuzui Scenic Areas and Jingkou Folk Village.
2. Half-price ticket for children between 1.2 and 1.4m (3.9-4.6ft); free for children under 1.2m.
Opening Hours
All day

Top 10 Things to Do in Yunnan
- Last modified on Nov. 26, 2018 -
Questions & Answers on Yuanyang Rice Terraces
Asked by Corinna Bröcker from DEUTSCHLAND | Nov. 25, 2018 04:18

Reply
Is there any sleeping bus from Kunming to Yuanyang?
I read something about a bus leaving at 8pm and arriving around 5am but I cannot find any information about this route.
I want to save as much as possible travel time as I only have Limited days in Kunming.
Answers (1)
Answered by Benson from USA | Nov. 26, 2018 00:47

0

0

Reply
You can take the direct bus at South Bus Station to Yuanyang Xinjie, departing at 10:30, 12:30 and 18:00. The duration is about 6 hours. The ticket fare is CNY140/ 147.
Asked by Lara from UK | Aug. 11, 2018 02:23

Reply
My partner and I are planning on visiting the rice terraces between 11 and 13 March next year.
Will there be water in the terraces then?

Thanks!
Answers (1)
Answered by Nick from NEW ZEALAND | Aug. 13, 2018 00:56

0

0

Reply
Yes, however, in April, you can see the best scene.
Asked by Jure from USA | Mar. 06, 2018 06:10

Reply
Bus from Yuanyang county to Rice fields
So if I take the overnight bus from Kunming and arrive around 5:30, how far away are the rice terraces and how much does that trip cost? Will I be able to catch the sunrise (7:00 ish)?
Answers (1)
Answered by Cam from SWITZERLAND | Mar. 06, 2018 20:54

0

0

Reply
It's about 6km away, and you can take a taxi to get there within 20mins. So you can enjoy the sunrise. As for price, it may be around 30yuan.
Asked by Heinz Homatsch from ITALY | Feb. 20, 2018 03:51

Reply
Private driver in Yunnan
Hi, I like to visit the Terraces and villages Second half of May. I have two questions. What is the Cost of a driver and car from Kunming. It is worth to visit as a photographer. Thanks
Answers (1)
Answered by Neol from SWEDEN | Feb. 23, 2018 01:05

2

0

Reply
As I know, the price is 1,200-1,500RMB, but you may share the fare with other visitors.
I think it's pretty worth to the place for photographing! It's wonderful!
Asked by Beewinny from THAILAND | Feb. 05, 2018 21:52

Reply
Can I buy Yuanyang-Kunming bus at South Bus Station Kunming?
I will be arriving Kunming on 24/02/2018.

Want to buy bus for 28/02/2018 at the KM South Bus Station on 24/02/2018.

I have plan to go to Luoping first, then come back to Kunming and go to Yuanyang.
I want to make sure I have seats for both bus routes.

Thank you.
Answers (1)
Answered by Amy from FINLAND | Feb. 06, 2018 20:20

1

0

Reply
Yes, you can book it in advance, here is the official number: 0871 68015801. But I think they may only provide Chinese service, you can turn to your Chinese friends for help.