Honghe Travel Guide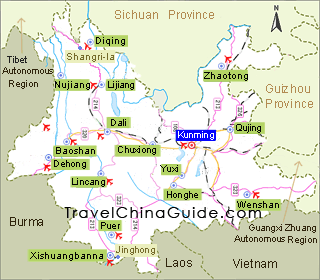 Honghe Facts:
Chinese Name: 红河哈尼族自治州 (hóng hé hā ní zú zì zhì zhōu)
Population: 2,610,000
Area: 32,931 square kilometers (12,715 square miles)
Location: in the southeast of Yunnan, southwest China
Administrative Division: 6 counties (Luchun, Jianshui, Shiping, Luxi, Yuanyang, Honghe); 3 autonomous counties (Jinping Miao, Yao and Dai Autonomous County, Hekou Yao Autonomous County, Pingbian Miao Autonomous County); 4 county-level cities (Gejiu, Kaiyuan, Mengzi, Mile)
Area Code: 0873
Zip Code: 661100
GDP (2018): CNY 159.377 billion (USD 24.086 billion)
Nationalities: Han, Hani, Yi, Miao, Dai
Famous for Yuanyang Hani Rice Terraces & Jianshui Ancient Town
Honghe Hani Autonomous Prefecture is situated in the southeastern part of Yunnan Province, neighboring Kunming, the capital city of the province to the north and bordered by Yuxi, Qujing and Pu'er to the northwest, northeast and southwest. It also shares a boundary of 848 kilometers (527 miles) with Vietnam in the south. This city is 285 kilometers (177 miles) from Kunming.

Yuanyang Rice Terraces and Jianshui Ancient Town are the essential part of the Honghe experience. For more than a thousand years, the hardworking and intelligent Hani people reclaim terraces of different sizes according to the changes of mountain topographies. They are so magnificent and impressive that reputed as the most beautiful mountain carving in China. There are more than 50 well-preserved and exquisite ancient buildings in Jianshui Ancient City, which will surely give you a feast for the eyes. It is also a good choice to have an unforgettable border trip in Hekou, Jinping and Luchun, the cities which borders Vietnam. Steam Pot Chicken and Crossing-the-bridge Noodles are delicious local dishes not to be missed.
| | |
| --- | --- |
| Jianshui Confucius Temple | Jianshui Ancient Town |
Attractions - Things to Do

Alu Cave: Located 5 kilometers (3 miles) west of Luxi County, this ancient limestone cave contains three inner caves and an underground river. The cave is well known in Yunnan for the stunning karst landscape inside. Near the cave there are another eighteen caves in nine peaks. This scenic spot is only 80 kilometers (50 miles) east of the Stone Forest in Kunming.

Yuanyang Rice Terraces: Yuanyang County, lying in the south part of the Ailao Mountains, is inhabited by a compact community of the Hani ethnic minority. The Hani people open up farmland on mountainsides as the terrain changes. The grand terraces, like works of art, are especially favored by photographers. Most terraces lie along the highway from Yuanyang to Lvchun. Jianshui Ancient Town: Jianshui was built with a clay city wall when it was first constructed during the Nanzhao State (738-937) period and was expanded to a brick construct in 1387 of the Ming Dynasty (1368-1644). Along with the ancient buildings and resident houses in the city, the Jianshui Confucius Temple and Swallow Cave are also listed in the Jianshui tour.

Other Scenic Spots: Chaoyang Gate, Nanxihe Scenic Area
| | |
| --- | --- |
| Hani Terraces | Ancestral Hall of Zhu Family Garden |
How to Get to Honghe
1. Hekou is a national first-grade port in the southeast end of Honghe bordered by Vietnam. Kunming-Hekou Railway runs through Honghe Prefecture, but it is a narrow-gauge railway. The carriages are narrower than ordinary ones. Traveling by bus will save several hours over making the trip by train.

2. Kunming is about 4 hours' drive to Honghe and 3.5 hours to Jianshui County. Buses going here can be easily found in Yunnan Tourist Passenger Transport Bus Station in Minhang Lu of Kunming. Regular buses serve well among counties and cities of the prefecture. Local villagers, however, would usually thumb lifts from wagon drivers.

3. For self-reliant tourists, renting a vehicle is a better choice while traveling around in this region.


See also Kunming to Hekou Train
| | |
| --- | --- |
| Local Musical Instrument | Celebrate with local people |
Weather
-
Enjoying a subtropical plateau monsoon climate, Honghe has an annual average temperature of 15℃-22℃ (59℉-71.6℉). With no summer heat or winter chilliness, the prefecture is abundant in sunlight and rainfall. The southern region is wetter and warmer than the northern one. The temperature varies greatly between day and night, but slightly during the whole year. When to Go: March to April and September to November are fine periods to visit the prefecture.
Honghe Travel Tips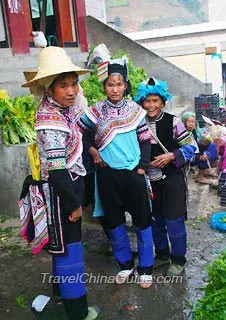 Women in a Morning Market

History: The Han Dynasty (206BC-220AD) established shires to administer this region in 135BC, and that was the beginning of the sphere of influence of the central government in this region. In 1957, this autonomous prefecture was established, made up of the Mengzi Special Zone and the former Honghe Hani Autonomous Region.



Physical Features: The terrain in the region is higher in the northwest and lower in the southeast. The Ailao Mountains form the main mountain range of the prefecture. They zigzag all the way to Vietnam. The prefecture is divided into north and south regions by the Honghe River. The mountainous area makes up eighty-five percent of the prefecture's total territory.



Local Highlights: The New Year Festival of Hani and the Torch Festival of Yi, as well as many other celebrations of ethnic minorities enrich the colorful culture of the prefecture. Music, musical instrument and catering customs will provide you a window into the lifestyle of the locals. For example, during the New Year in October, the Hani ethnic minority holds an outdoor Long-Street Banquet on lunar October 10. Every family will prepare their dishes to their table and celebrates the festival together the long line of tables. It will be a lot of fun and honorable to be invited to the banquet. People will be hospitable to invite the passersby to participate.



Special Local Products: purple clay wares of Jianshui County, tin handicrafts of Gejiu City, rice cakes of Mengzi County, Hani embroidery of Yuanyang County
- Last updated on Apr. 12, 2021 -
Questions & Answers on Honghe Travel
Asked by Michael from USA | Nov. 17, 2023 14:58

Reply
Are American foreigners allowed to visit Yunnan?
Answers (1)
Answered by James | Nov. 20, 2023 00:03

0

0

Reply
Yes, they are allowed to visit most of Yunnan.
Asked by Generoso C. Inocencio from PHILIPPINES | Aug. 02, 2019 19:33

Reply
how can get thru Jianshui station to yuanyang rice terraces ,there is a bus nearby
Answers (1)
Answered by Lucas from USA | Aug. 06, 2019 17:53

0

0

Reply
Take bus from Jianshui Coach Station to Yuanyang Nansha Coach Station and there are many buses every day, then you can take taxi to rice terrace.
Asked by ELSIE96 | Nov. 10, 2018 19:17

Reply
How can i get from Yuanyang Rice Terraces to Lvchun and Lvchun to Kunming?
How many hours is the trip - Yuanyang to Lvchun and Lvchun to Kunming?
Answers (7)
Answered by Ashley from USA | Nov. 11, 2018 23:27

0

0

Reply
You can take the bus at Yuanyang Xinjie Bus Station to Lvchun. The duration is about 5 hours.

And take the bus at Lvchun Bus Station to Kunming. The running time is about 10 hours.
Answered by ELSIE96 | Nov. 12, 2018 13:22

0

0

Reply
Do you know the schedule or point me to the where I can check that out? Many thanks.
Answered by Ashley | Nov. 12, 2018 17:17

0

0

Reply
I remember that the bus schedule from Yuanyang to Lvchun is 07:30, 09:50, 10:40, 11:20, 12:00, 12:30, 12:50, 13:30, 14:00, 15:00, 16:00 and 18:30. Lvchun to Kunming bus schedule is 11:50, 16:50 and 17:00.
Answered by ELSIE96 | Nov. 13, 2018 02:48

0

0

Reply
Thank you so much! Wow, i didn't know Lvchun to Kunming is so far 10 hours. Is there a nice place I could spend a night and sightsee? Thanks
Answered by ELSIE96 | Nov. 13, 2018 02:58

0

0

Reply
Is there an airport very close by Lvchun? Mt next destination is Guiyang but figured that I had to go back to Kunming first and take the high speed train. Is that correct? Any better choice?
Answered by Ashley | Nov. 13, 2018 17:54

0

0

Reply
To be honest, one day in Lvchun is enough for sightseeing so if you can catch the last bus to Kunming, you don't need to spend one night in Lvchun.
Answered by Ashley | Nov. 13, 2018 17:58

0

0

Reply
The nearest airport is Lincang Airport. But there is no direct flight to Guiyang and you also have to go back to Kunming at first. You are advised to take the bus from Lvchun to Kunming and then make a transfer in Kunming to Guiyang by plane or train.
Asked by ELSIE96 | Oct. 29, 2018 09:25

Reply
How to go to Lushun from Xinjie (Yuanyang Rice Terraces)?
Planning to visit Lushun after Yuanyang to coincide with their Street Festival - how to get there and back to Kunming?
Answers (1)
Answered by Dana from USA | Oct. 30, 2018 21:01

0

0

Reply
There is no direct bus from Yuanyang to Lushun. You are advised to take the bus at Yuanyang Xinjie Bus Station to Kunming at first and then take the bus from Kunming to Yuanyang.
Asked by Chinwl from MALAYSIA | Oct. 03, 2018 00:35

Reply
What are the attractions in Jinping,Honghe?
Answers (1)
Answered by Myron from USA | Oct. 09, 2018 23:57

0

0

Reply
Here are some top attractions there:
1. Biaoshuiyan Village
2. Ladeng Waterfalls
3. Hani Terrace National Wetland Park
4. Mong La Hot Spring
5. Butterfly Valley
6. Xilong Mountain Nature Reserve