Qujing Travel Guide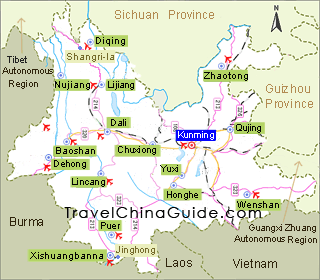 Qujing Facts:
Chinese Name: 曲靖 (qū jìng)
Location: Located in eastern Yunnan Province, Qujing is the headstream where the largest river in South China, the Pearl River initiates. It is bordered by Guizhou and Guangxi provinces in the east. The capital city of the province, Kunming lies about 130 kilometers (81 miles) west to it.

Population: 5,756,600
Area: 28,904 square kilometers (11,160 square miles)
Nationalities: Han, Yi, Miao
Administrative Division: 1district (Qilin); 7 counties (Malong, Zhanyi, Fuyuan, Luoping, Shizong, Luliang, Huize); 1 county-level city (Xuanwei)
Seat of the city government: No.78, Wenchang Street Qilin District, Qujing City
Useful Telephone Numbers:
Tourist Complaints: 0874-96927
Weather Forecast: 121
Zip Code Inquiry: 184
Bank of China: Qilin Road (East), Qilin District
China Post: No.183, Qilin Road (South), Qilin District
Attractions - Things to Do
Luoping is a small county at the convergence of Yunnan, Guizhou and Guangxi. Flourishing rape flowers in vast rape fields are the most charming scene in Luoping. It is an ever ideal attraction for photographers. Usually, the Rape Flower Tourism Festival is held around February, 21st. Jinji Peak in northeast of Luoping County is recommended as the best perspective to catch the enthralling pictures of the rape flower field.



Nine Dragons Waterfalls are consisted of ten tiers of waterfalls in 4 kilometers (2.5 miles) long reaches of the Jiulong River with a fall of more than a hundred meters (328 feet) in total. It ranks among the six most beautiful waterfalls in China and is reputed as the most spectacular waterfall group as well.



Other Scenic Spots: Duoyi River, Lubuge Mini Three Gorges
| | |
| --- | --- |
| Nine Dragon Waterfall, Luoping County | Colorful Sands Forest, Luliang County |
How to Get to Qujing
It is about two hours' drive from Qujing city proper to Kunming. From the Dongju Passenger Transport Bus Station in Dongjiao Road of downtown Kunming, there are buses to Luoping leaving once an hour. Qujing Gaokuai Passenger Transport Bus Station is located in No.65, Jiaotong Road. Passenger Transport Bus Station stands in No1, Jiaotong Road, Qilin Garden (Qilin Huayuan).
Weather
-
The region enjoys a subtropical monsoon climate, and the weather is temperate and pleasurable throughout the year. The average temperature in coldest January and hottest July are respectively 14 and 19 degree centigrade (57.2 and 66.2 degree Fahrenheit). Due to the high altitude, climatic types ranging from the lower subtropic to north temperate all can be found in the city. Thanks to the temperate weather, this place is an all-year-round destination. Notable is that March to October is the period in Yunnan celebrations and festivals of ethnic minorities are densely held, and it is also the pomp season of flowers and fruits. But May to October is the rainy season in Yunnan. Umbrella and warm clothes are the prime priorities.
Qujing Travel Tips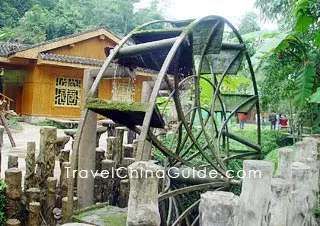 Water wheel, ancient farming tool

History: The Five-Chi Road (Wuchidao) in the city was the earliest pass opened during the Qin (221BC-206BC) and Han (206BC-220AD) dynasties to linking the transportation in and around Yunnan. By the western Han Dynasty (206BC-24AD), county has been established in this area. In the following five hundred years after the Western Jin Dynasty (265-316) set up prefecture to administrate the region, Qujing was always the political, economic and cultural center of Yunnan.

Physical Features: The terrain here is mainly made up of mountains, hills and plain or basins in plateau. Karst landform also has distribution in the city. Its overall terrain declines from northeast to southwest. It has an average altitude of 2,000 meters (6,562 feet). The vertex of the city is the Guniu Stockade (Guniuzhai) in its Huize County.

Local Highlights: traditional festivals of the local ethnic minorities, such as the Torch Festival, folk song festival

Special Local Products: Xuanwei ham, dried beef, edible fungi

| | |
| --- | --- |
| Fruit vendors from local ethnic groups | Local minority people welcome visitors |

Recommended Tour Itinerary:
Hiking Tours: Information about hiking in Qujing for your reference