Qujing Travel Guide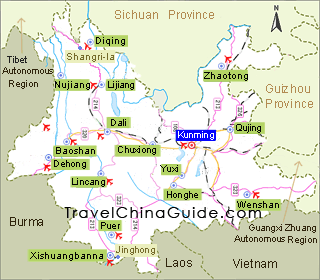 Qujing Facts:
Chinese Name: 曲靖 (qū jìng)
Population: 6,667,400
Area: 28,904 square kilometers (11,160 square miles)
Location: in the east of Yunnan, southwest China
Administrative Division: 3 districts (Qilin, Malong, Zhanyi); 5 counties (Fuyuan, Luoping, Shizong, Luliang, Huize); 1 county-level city (Xuanwei)
Area Code: 0874
Zip Code: 655000
GDP (2019): CNY 263.759 billion (USD 38.231 billion)
Nationalities: Han, Yi, Zhuang, Miao, Hui, Yao, Buyi, Shui
"Throat of Yunnan" Featuring Rapeseed Flowers
Located in eastern Yunnan Province, Qujing is the headstream where the largest river in South China, the Pearl River initiates. It is bordered by Guizhou and Guangxi to the east. The capital city of the province, Kunming lies about 130 kilometers (81 miles) west to it. Thousands of years ago, the ancestors of Qujing began to cultivate civilization here from the splendid ancient Dian Kingdom culture to the prosperous Silk Road, Cuan culture which was created by Cuan family including rites, poetry, customs, architecture and crafts during their reign in Yunnan, Guizhou and southwestern Sichuan area for more than 400 years since the Eastern Jin Dynasty (317 - 420). Perhaps it is the blessing of time, many of the historic sites and ancient towns here have not vanished.

Qujing is also naturally favored. When you want to find the most beautiful color, then go to Luoping to see the endless sea of yellow rapeseed flowers, pay a visit to the colorful sand forest in Luliang, or catch the magnificent scenery of greenery and waterfalls in Nine Dragons Waterfalls.
Attractions - Things to Do
Luoping is a small county at the convergence of Yunnan, Guizhou and Guangxi. Flourishing rape flowers in vast rape fields are the most charming scene in Luoping. It is an ever ideal attraction for photographers. Usually, the Rape Flower Tourism Festival is held around February, 21st. Jinji Peak in northeast of Luoping County is recommended as the best perspective to catch the enthralling pictures of the rape flower field.



Nine Dragons Waterfalls are consisted of ten tiers of waterfalls in 4 kilometers (2.5 miles) long reaches of the Jiulong River with a fall of more than a hundred meters (328 feet) in total. It ranks among the six most beautiful waterfalls in China and is reputed as the most spectacular waterfall group as well.



Other Scenic Spots: Duoyi River, Lubuge Mini Three Gorges, Beipanjiang Bridge
| | |
| --- | --- |
| Nine Dragon Waterfall, Luoping County | Colorful Sands Forest, Luliang County |
How to Get to Qujing
It is about two hours' drive from Qujing city proper to Kunming. From the Dongju Passenger Transport Bus Station in Dongjiao Road of downtown Kunming, there are buses to Luoping leaving once an hour. Qujing Gaokuai Passenger Transport Bus Station is located in No.65, Jiaotong Road. Passenger Transport Bus Station stands in No1, Jiaotong Road, Qilin Garden (Qilin Huayuan).
Weather
-
The region enjoys a subtropical monsoon climate, and the weather is temperate and pleasurable throughout the year. The average temperature in coldest January and hottest July are respectively 14 and 19 degree centigrade (57.2 and 66.2 degree Fahrenheit). Due to the high altitude, climatic types ranging from the lower subtropic to north temperate all can be found in the city. Thanks to the temperate weather, this place is an all-year-round destination. Notable is that March to October is the period in Yunnan celebrations and festivals of ethnic minorities are densely held, and it is also the pomp season of flowers and fruits. But May to October is the rainy season in Yunnan. Umbrella and warm clothes are the prime priorities.
Qujing Travel Tips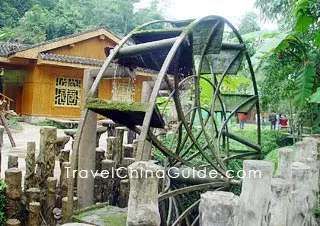 Water wheel, ancient farming tool

History: The Five-Chi Road (Wuchidao) in the city was the earliest pass opened during the Qin (221BC-206BC) and Han (206BC-220AD) dynasties to linking the transportation in and around Yunnan. By the western Han Dynasty (206BC-24AD), county has been established in this area. In the following five hundred years after the Western Jin Dynasty (265-316) set up prefecture to administrate the region, Qujing was always the political, economic and cultural center of Yunnan.

Physical Features: The terrain here is mainly made up of mountains, hills and plain or basins in plateau. Karst landform also has distribution in the city. Its overall terrain declines from northeast to southwest. It has an average altitude of 2,000 meters (6,562 feet). The vertex of the city is the Guniu Stockade (Guniuzhai) in its Huize County.

Local Highlights: traditional festivals of the local ethnic minorities, such as the Torch Festival, folk song festival

Special Local Products: Xuanwei ham, dried beef, edible fungi

| | |
| --- | --- |
| Fruit vendors from local ethnic groups | Local minority people welcome visitors |

Recommended Tour Itinerary:
Hiking Tours: Information about hiking in Qujing for your reference
- Last updated on Apr. 12, 2021 -
Questions & Answers on Qujing Travel
Asked by Dksarene from MALAYSIA | Oct. 01, 2019 00:58

Reply
Hi. May i know if there is any night bus from Luoping to Kunming in night?
What time is bus operating time from Luoping to Kunming
Answers (1)
Answered by Patricia from USA | Oct. 08, 2019 18:59

0

0

Reply
You can take bus from Luoping Coach station to Kunming. The bus runs from 7:00 to 17:20 with interval of 40 minutes. And the night bus departs at 21:00 and 21:30.
Asked by Dksarene from MALAYSIA | Sep. 30, 2019 01:57

Reply
Hi. Is available luggage storage at Luoping railway station?
Answers (1)
Answered by Paula from USA | Oct. 08, 2019 18:51

0

0

Reply
Generally speaking, people can store their luggage in the railway station but I didn't find the exact location in Luoping train station. You can ask for help from the staff when you get there.
Asked by SB Lim from SINGAPORE | Oct. 01, 2017 06:43

Reply
May I know public bus details to get to Luoping from Puzhehei?
Answers (1)
Answered by Felicia from DENMARK | Oct. 11, 2017 21:01

1

0

Reply
I just know only one bus leaves from Puzhehei back to Luoping, but forget the schedule. You may go to the Tourist Service Center for consultation. By the way, the journey can be 5h and the fare is CNY40 or so.
Asked by Apek from IRELAND | Jun. 22, 2015 02:26

Reply
Anyone know where I can find a good detailed english map of Quijng?
Hi everyone,
to download or at a physical location somewhere ?

thanks for any help, Apek

Answers (1)
Answered by Frank from UAE | Jun. 22, 2015 22:06

1

0

Reply
It is hard to find such a detailed English map. The best choice for you is to use the google map. Have a try.
Asked by Gogo from SPAIN | Mar. 02, 2015 11:07

Reply
Luoping visit
Hi everybody, i would like to ask is it posible to visit Golden Rooster Hills spot Jinjilin, Shiwandashan and Luositian from Luoping, i would like to visit it in middle day and at afternoon take bus or train to Kunming, you think is posible? there is any kind of motorickshaws or tuk tuks to take?
thenk you very much and best regards
Answers (3)
Answered by Shasha | Mar. 04, 2015 19:43

1

1

Reply
Hello there. To use public transportation, half a day is too tight to cover the thress scenic spot and go back to Kunming. If you don't mind, I suggest you spend half an hour at Jinjilin and Luositian. Stay in Luoping for a night and visit the Shiwandashan in the next morning. Then go back to Luoping city to catch a bus at Luoping Bus Station or a train at Luoping Train Station to Kunming.

If you really wanna go back to Kunming in the same day, to tour these attraction by hiring a car and then ask the driver to take you to Luoping to take a bus or train to Kunming.
Answered by Gogo from SPAIN | Mar. 05, 2015 04:46

0

0

Reply
Hello Sasha, thank you for your answer, i think i not explain me good, my idea is came to Luoping night before the visit,sleep and day after in the sunrise and during morning visit Jinjilin, Golden Rooster and Shiwandashan at afternoon take bus or train to Kunming, you thing is that posible?
thank you over again and best regards
Answered by Cora from GERMANY | Mar. 05, 2015 20:25

2

0

Reply
Yes, it's possible for you. Stay in Luoping for one night and start off in the next early morning. Then take a bus or train to Kunming at afternoon. In this way, you will have enough time.