Luoping, Yunnan
Luoping Facts
Chinses Name: 罗平 (luó píng)
Population: 633,000
Area: 3,018 square kilometers (1,165 square miles)
Location: in the southeast of Qujing, Yunnan Province, southwest China
Area Code: 0874
Zip Code: 655800-655816
GDP (2018): CNY 17.86 billion (USD 2.70 billion)
Nationalities: Han, Yi, Zhuang, Miao, Hui, Yao, Buyi, and Shui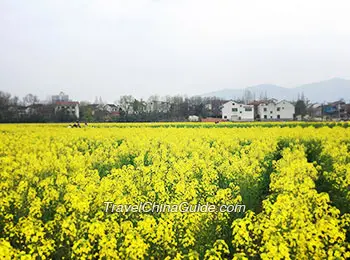 Luoping - Best Place to View Rape Flowers
Best Place to View Canola Flowers
Luoping is one of the counties under the jurisdiction of Qujing City, Yunnan Province. It is located in the east of Yunnan Province and borders Guizhou Province on the east and Guangxi Zhuang Autonomous Region on the southeast. This is a multi-ethnic area which is inhabited by Yi, Zhuang, Miao, Hui, Yao, Buyi and Shui people. Numerous tourists are attracted to Luoping Yunnan by the beautiful rapeseed flower fields, spectacular Jiulong waterfall groups, and rural scenery of the Duoyi River. Besides, the distinctive national customs adds more charm to Luoping. The Luoping International Rapeseed Flower Cultural Tourism Festival held from March and April also shouldn't be missed. Luoping is not only the rape production base in China, but also the honey product processing base due to the rich rapeseed flowers.
Best Places to Visit & Top Things to Do in Luoping
Shoot Rapeseed Flowers in Jinji Peak and Luosi Field

Jinji Peak
Jinji Peak features the karst landscape spectacle, stretching 12 kilometers (7 miles) from the county to the National Highway 324. It is composed of numerous cone-shaped peak clusters in different shapes and heights. Standing on the observation platform behind the Jinji Peak, you can have a panoramic view of various peaks dotted in the boundless fields. The best time to visit the peak is in February and March as the golden rapeseed flower fields and magnificent peaks present a beautiful and splendid scenery. There are many visitors in March and it's better to arrive at the observation platform before 6 o'clock.



Luosi Field
Luosi Field, 10 kilometers (6 miles) away from the urban area of Luoping, is one of the most famous canola flower shooting points. The fields are in a circle shape, which looks like the spiral pattern on the screw from a distance. Compared with the magnificent and vast canola flower fields of Jinji Peak, the fields here are smaller and more exquisite.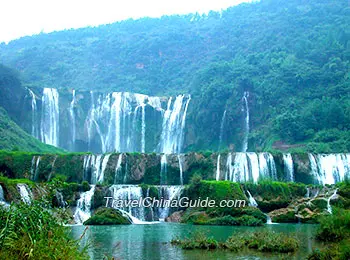 Nine Dragons Waterfalls
Nine Dragons Waterfalls is known as the most beautiful waterfalls in China. Due to the special geological structure and the millennial erosion of water flow, there are ten waterfalls in different styles, and the largest one is 112 meters (367 feet) wide and 56 meters (184 feet) high. These waterfalls change according to different seasons. In the wet season, the roar of the waterfall can be heard several meters away. Visitors can take a cable car to a high viewing platform overlooking the whole picture of waterfalls.

Highlights: On the second day of the second lunar month every year, the Buyi people will come to the waterfalls in splendid native costumes, singing and dancing to celebrate the Song Festival.
Buyi River
The natural scenery along the Buyi River is very beautiful and eye-catching as waterfalls and calcified shoals are picturesquely scattered on the12-kilometer (7-mile) long river bed. The stilted buildings on both sides of the river are hidden between the trees and the bamboo forest. The large-scale waterwheel exhibition area vividly shows the unique charm of Buyi people's farming culture.

​ Highlights: During the Water Splashing Festival on the third day of the third month of the lunar calendar, there is a grand mass rally by the Buyi River. Buyi people gather here in their folk costumes to race bamboo rafts, splash water and sing folk songs.

Others: Small Three Gorges, Lubuge Power Station
Best Time to Visit Luoping
The best time to visit Luoping Yunnan is in March and April when visitors can enjoy fully bloomy rapeseed flowers and participate in the local Song Festival and Water Splashing Festival. Luoping Yunnan has a mild climate and abundant rainfalls. In summer from June to August, there are heavy rains and rainstorms. The hottest month of the year is July with an average temperature of 22 ℃ (72℉). The weather becomes cold and dry as Luoping gets into autumn, from September to November. From December to February, the winter time of Luoping, the weather is overcast and rainy, and the temperature can be as low as 6℃ (41℉). Luoping is relatively warmer and sunny in spring from March to May with an average temperature of 19℃ (66℉).
Luoping Weather Forecast
-
Transportation
Luoping Yunnan is 207 kilometers (129 miles) away from Kunming, the capital of Yunnan Province and 120 kilometers (75 miles) away from Qujing. To get to Luoping, visitors can fly to Kunming Changshui International Airport and then take a train at Kunming Railway Station in 3 hours. During the Rapeseed Flower Cultural Tourism Festival, Kunming Railway Station will operate a special travel train to Luoping. Or one can take a coach at Kunming East Bus Station to Luoping, taking about 4.5 hours. The coach leaves to Luoping every 40 minutes from 7:00 to 18:40.

In Luoping, buses and taxis are the two major transportation means. There are many minibuses to different scenic spots such as the Buyi River, Jinji Peak Cluster and Screw Field. In addition, a special tourist bus from Luoping to Small Three Gorges, Lubuge Power Station and Duoyi River is also a good choice. It takes about CNY10 by taxi from the central area to Luoping Railway Station.
Best Luoping Food to Try
Five-color Rice, Boiled Fish with Sour Bamboo Shoot, Fule Crispy Pork, Quanguo Soup and Beef Jerky are local traditional foods.



​ Five-color Rice
The local people mash the roots, stems and leaves of edible wild plants and use them to dye the glutinous rice into red, purple and black colors. Steam or deep-fry the rice until done.



​ Buyi Quanguo Soup
The Quanguo literally means that the meat and offal of a pig or goat are boiled together. With Buyi people's unique recipe, it is particularly delicious and tender. It tastes more fragrant with the special sauce.



Further Reading:

15 Most Beautiful Places in China​
- Last updated on Apr. 18, 2021 -
Questions & Answers on Luoping, Yunnan
Asked by Tommy from THAILAND | Apr. 12, 2021 03:07

Reply
Are there a bus between Luoping and Yuanyang?
Are there a bus between Luoping and Yuanyang? What is bus timetable?
Answers (2)
Answered by Judith | Apr. 18, 2021 19:59

0

0

Reply
Well, as I know, there is no direct bus that operates between these two places. You need to transfer a bus at Kaiyuan.
Answered by Tommy | Apr. 18, 2021 22:22

0

0

Reply
Thank you so much for your information.