Kunming Railway Station
Kunming Railway Station is 19 miles (30 kilometers) from Changshui International Airport, 8 miles (13 km) from Dianchi Lake, 53 miles (85 kilometers) from Stone Forest, 2 miles (3 kilometers) from Jinbi Square (city center) and 17 miles (28 km) from Kunming South Railway Station.

Address: Beijing Road, Guandu District


Kunming Railway Station See-off Service
Schedule and Ticket Booking
As an important railway station in southwest China, the station is the intersection of several main rail lines. It links the city with the national railroad network, and operates trains to/from many major China cities, including Beijing, Shanghai, Xi'an, Chengdu, Nanjing, Guangzhou, Dali, and Lijiang.



Major rail lines from the station to:
High Speed Train Schedule
(Last Update on Apr 25, 2023)
To
Trains
Duration
Ticket Fare (CNY)
First / Second Class Seat

Dali

D8653, D8657, D8652, D8661...
64 departures from 06:47 to 21:40
1h58m - 2h50m
CNY 173/ 109
USD 25/ 16

Lijiang

D8773, D8772, D8797, D8796...
14 departures from 08:08 to 19:33
3h2m - 3h59m
CNY 351/ 220
USD 52/ 32
Normal Speed Train Schedule
(Last Update on Apr 25, 2023)
To
Trains
Duration
Ticket Fare (CNY)
Soft/ Hard Sleeper

Beijing West

Z54, K474, Z162 from 07:00 to 19:56
34h32m - 43h34m
CNY 850.5/ 548.5
USD 125/ 81

Shanghai South

K80, T382, K740 from 18:59 to 23:30
34h27m - 38h56m
CNY 780.5/ 504.5
USD 115/ 74

Lijiang

Y752 at 22:00
9h00m
CNY 194/ 130
USD 29/ 19

Guilin

T382 at 20:44
17h50m
CNY 427.5/ 279.5
USD 63/ 41

Guangzhou

K1206, K232 at 08:04 and 16:37
27h00m - 27h12m
CNY 538/ 351
USD 79/ 52

Xi'an

K692, K692 at 21:33 and 21:33
21h40m - 22h24m
CNY 564/ 367
USD 83/ 54

Zhengzhou

Z54, Z162 at 07:00 and 19:56
28h7m - 28h51m
CNY 749.5/ 486.5
USD 110/ 72

Nanjing

K138 at 18:45
36h9m
CNY 749.5/ 486.5
USD 110/ 72

The above schedule is for reference only. For real-time schedule and ticket booking, please click the arrival stations.
See detailed
Kunming Train Schedule
| | |
| --- | --- |
| Kunming Train Station | Entrance to the Station Building |
Station Plan
The station consists of a two-storey terminal building and two squares, the north and south squares. The south square is still under construction.


2F: waiting hall, check points, exit/entrance, toilets, hot drinking water, shopping area


1F: ticket office, waiting room, restaurants, shops, left luggage, service desk, toilets, hot drinking water, exit/ entrance, luggage consignment office, police stand


-1F: parking lots, taxi stands (pick-up), toilets, arrival hall, transfer hall, exit

Along the road to the west of the north square, there is a Postal Savings Bank, an internet bar, a supermarket, plus several hotels and restaurants. Besides, there is a Dicos Restaurant between the entrance and the exit. Those facilities provide great convenience to travelers.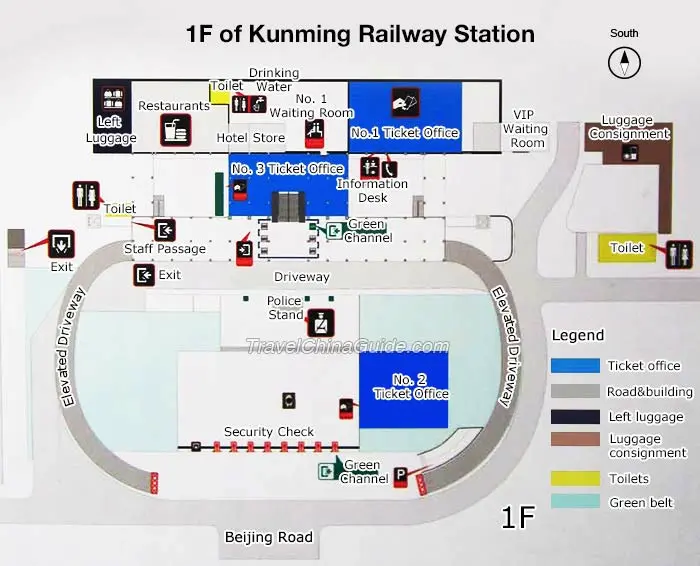 Map of Kunming Railway Station 1F
How to get to the Kunming Train Station from downtown area?

Arrival by bus:
At Beijing Road: 23, 24, 25, 44, 83, Z30
At Nanyao Coach Station: C71
At Zhanqian Road: 2, 31, 32, 59, 80, 86, 154, 919 (C line)
At Yongping Road: 2, 47, 58, 59, 64, 68, 80, 107, 117, 134, 140, K12, Z33
At Yongsheng Road: 31, 32, 60, 86, 117, 134, 154, 209

Passengers getting to the station by bus will arrive at the north square. For those with a ticket in hand, enter the station straightly and go to the correct waiting room by reading the ticket carefully; For those without, go to the ticket office on 1F and purchase a ticket first. And then go to the waiting room to wait for departure.



Arrival by metro line 1:
Passengers arriving by metro will get off at the south square. As the south square is not opened yet, passengers need to pass through an underground passage to the north square and enter the station via north entrance. It takes about 20 minutes.



Arrival by taxi
If arriving by taxi, passengers will be dropped off on the road between the north square and the terminal building.
From
Duration (Minutes)
Cost (CNY)
Dianchi Lake
40
30
Green Lake Park (Cuihu Park)
25
15
Golden Temple
30
25
Changshui International Airport
55
75

Arrival by long-distance bus:
Passengers taking coaches to the station will arrive at the Coach Station to the east side of the train station.

Ticket Check and Boarding
Passengers should read their tickets and LED screens carefully to know where to have the tickets checked. After checking in, follow the direction boards to the platforms to board. Please note that the carriages may be higher than the platforms. Thus, be careful when boarding. After finding your seat, please put your luggage in the right place steadily in case that it falls and hurts others.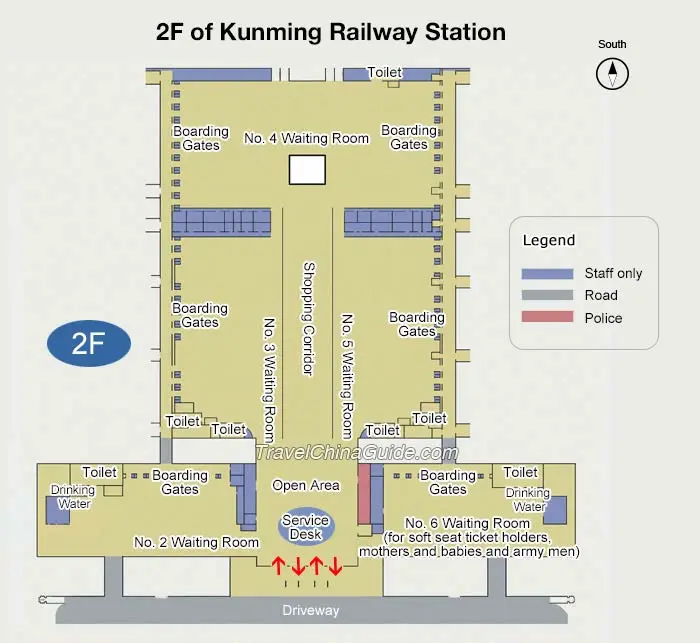 Map of 2F
How to exit and leave the station?
Upon arrival, passengers will be led to underground passage to exit. When exiting, follow the direction boards to find bus, taxi or metro to leave the station.

Leave by bus:
Bus stops are located to the north, east, and northeast of the north square, where passengers can take buses to other places or attraction sites of the city.



Leave by metro:
Metro station can be easily found at the south square. One needs to go through an underground passage to get there.



Leave by taxi:
If passengers want to leave by taxi, they should go to the pick-up area of the taxi stands on -1F of the terminal building.



Leave by long-distance bus:
The Coach Station to the east side of the station operates coaches to Dali, Lijiang, Qujing, Yuxi, Gejiu, and Chuxiong etc.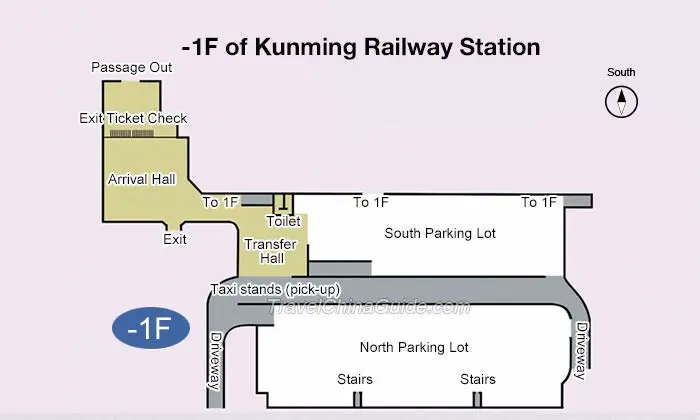 Map of -1F

Transportation to famous sites:


Stone Forest:
1. Take bus line 60 to East Coach Station and then take a coach to get there. The ticket fare is CNY34 per person and it usually takes about 2 hours.
2. Take a train to Shilin Railway Station (K366: 10:05-12:17; K984: 11:18-13:22; K986: 15:40-17:19; T382: 18:45-20:25). The travel time varies from 1.5h to 2.5 h. Ticket fare is CNY97.5 for a soft sleeper, CNY64.5 for a hard sleeper and CNY18.5 for a hard seat. After getting off, take a local mini bus to the destination. It takes about 5 minutes and costs CNY2.



Dianchi Lake:
Take bus line 44 and get off at Haigeng Park station. Afterwards, walk 350 yards (300 meters) southward to the destination.



Golden Temple:
Take bus line 47 and get off at Jindian station.



Green Lake Park (Cuihu Park):
Take bus line 2 and get off at Wuyi Road Station, and then walk 700 yards (600 meters) northward to get there.



Yuantong Temple:
Take bus line 83 or 59 and get off at Yuantongshan station; after, walk westward for 520 yards (480 meters) to the temple.



Changshui International Aiport:
1. Take bus line 919 (C line) to get there.
2. Close to the station exit, one can find the Airport City Terminal Building where passengers can take airport shuttle bus Train Station Special Line to reach the airport directly. The bus is available between 04:40 and 21:30 every 20 minutes; ticket fare is CNY10 per person and duration is about 45 minutes. Please arrive at least an hour before flight departure for boarding procedures.
3. Take airport shuttle bus line 2 (B line) to the airport. The bus departs from Jinjiang hotel facing the north square from 05:00 to 23:00 with an interval of 20 minutes. It usually takes 50 minutes on the way and the ticket fare is CNY25 per person.
| | |
| --- | --- |
| Waiting Room | Left Luggage |
Facilities and Services

Ticket Office:
Three ticket offices are available in the station. The first one is on the west side of 1F, next to the No.1 waiting room. Outside the ticket office, there is a big LED screen on the wall, providing detailed information about train schedules. The second one is located on the west side of the north square. The third is next to the entrance. All of the three ticket offices provide services such as ticket refund, ticket change and ticket purchase.

Waiting Hall:
Altogether, there are six waiting rooms in the station, one on the first floor and others on the second floor. No. 6 waiting room is reserved for soft seat ticket holders, mother and baby as well as army personnel. Free drinking water and wash rooms are available in each waiting room. There is a shopping corridor on the second floor; travelers can buy food and drinks there.

Left Luggage:
There are several left luggage offices in the station. Taking security and price into consideration, you'd better choose the one operated by the station. It is to the left side of the ticket office. It opens from 6:00 to 23:00 every day. The service fee is CNY 5 per day per piece less than 44 pounds (20 kg) in weight and 40 inches (100 cm) in width, length and height. For those larger or heavier, the fee will be double or even multiple. Besides, it is not advised to leave valuables there.

Information Desk:
There is an inquiry desk available on the first floor for passengers' convenience. From there, passengers can ask for direction or seek advice. It also provides emergency medicine, needlework and handles complaint.
Print

- Last updated on Apr. 25, 2023 -