Puer Travel Guide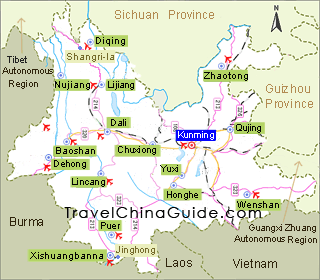 Puer Facts
Chinese Name: 普洱 (pǔ ěr)
Population: 2,627,000
Area: 45,385 square kilometers (17,523 square miles)
Location: in the northwest of Yunnan, southwest China
Administrative Division: 1 district (Simao); 9 autonomous counties (Ning'er; Mojiang, Jingdong; Jinggu; Zhenyuan; Jiangcheng; Menglian; Lancang; Ximeng)
Area Code: 0889
Zip Code: 665000
GDP (2019): CNY 87.528 billion (USD 12.687 billion)
Nationalities: Han, Hani, Yi, Lahu, Wa, Dai
Famous for Producing Pu erh Tea – One of the Best Chinese Dark Tea
Situated in the northwest of Yunnan Province, Puer has an important location in China's southwestern boundary, neighboring Laos, Vietnam and Burma and sharing a 486 kilometers (302 miles) boundary line with these three countries. Pu'er is about 550 kilometers (342 miles) from Kunming.

Puer is one of the important producing areas of famous Pu erh tea, and Pu erh tea culture is also an important factor in attracting many tourists. Pu erh tea is a kind of dark tea, also known as deelply fermented tea. In fact, Puer has been the tea distribution and trade center since the Tang Dynasty (618 - 907). The tea was carried by local horse caravans to Lhasa for exchanging horses, fur and medicinal materials, which resulted in the Tea Horse Road coming into being. The Pu erh Tea Expo Park, 29 kilometers (18 miles) away from the urban area, allows visitors to fully understand how to pick up, make and taste Pu erh tea. Bixi Ancient Town is an important post station on the ancient tea horse road with many quaint quadrangle courtyard groups.
Attractions - Things to Do

China Puer Tea Exhibition Garden: Tea culture is an attractive tourist factor of the city. The exhibition garden is built on the Yingpan Mountain, 29 kilometers (18 miles) from the downtown area. Against the background of a vast tea garden, it is made up of Puer Tea Museum, Tea making workshop, tea-picking zone, tea appraisal garden and some other facilities which comprehensively show the history of Puer Tea, and of how to plant and produce as well.



Awa Mountain: Sea clouds in winter and spring is the most fascinating scene of the Awa Mountain in Ximeng County. After the clouds disperse, bamboo houses in villages, terraced fields and Musa trees are exposed and the Awa Mountain looks even more tranquil and beautiful.
How to Get to Puer
1.Puer Simao Airport is situated at No.123, Si'ting Road, Simao District, Puer City, Yunnan Province, 4.5 kilometers (3 miles) away from the downtown Pu'er. Direct flights to/from Beijing, Shanghai, Kunming, Chongqing, Chengdu, and Dali are included.

2. Puer does not have train stations; buses are the main vehicle for transportation. It is about four to five hours' drive from Kunming. There are mainly two bus stations in downtown. One is in Wuyi Road and the new one is located in South Zhenxing Road.
Weather
-
Enjoying a plateau monsoon climate at low latitude, the region is affected by the Indian Ocean and the Bay of Bengal. Therefore, the main features of its weather are mildness and humidity without strong winds. It has a wet season and a dry season. November is the rainy season, and the temperature is high. The annual average temperature of the city is usually between 15.3℃ (59.5℉) and 20.2℃ (68.4). Tourists can visit this area all the year round.
Puer Travel Tips

History: Puer is in an important location linking roadway and waterway transportation between the China hinterland and Southeast Asia. Since 1896, it has been opened up as a commerce port, being one of the three towns of trading importance in Yunnan. The city was originally called,'Simao City' and, is famous for its Puer Tea.

Physical Features: The region lies at the southwest edge of the Yunnan-Guizhou Plateau, which is in the south section of the Hengduan Mountains. Within the city, mountains and rivers run southward, alternating with each other frequently in the north and gradually dispersing to the southeast and the southwest. Medium sized mountains and valleys between them constitute nearly ninety percent the city's territory.

Local Highlights: There are many ethnic minorities living here, such as Lahu, Hani, Wa and Yi. Varied customs make it a colorful city. Eating habits, ceremonies, costumes and folk legends can all be a strong attraction for people who are visiting. In addition, the city is the hometown of the well known Puer Tea, and the local people have diversified ways of handling tea, such as bamboo tube tea, cold tea dish, earth-pot tea and baked tea; all of which you should try.

Special Local Products: Puer Tea, bamboo shoot, edible fungi, purple rice, mango
- Last updated on Sep. 17, 2020 -
Questions & Answers on Puer Travel
Asked by Ponnak Ang from CANADA | May. 30, 2018 12:52

Reply
How long to take a bus from Jinghong to Puer and Kunming to Jinghong.
Is It recommended. Is it easy to take the flight to these cities?

ANG Canada
Answers (3)
Answered by Kathy from CANADA | Jun. 04, 2018 01:31

1

0

Reply
It takes about 2.5 hours from Jinghong to Puer by bus and around 8 hours from Kunming to Jinghong. This is the best way because there is no direct rains between these cities and only Kunming has an airport.
Answered by GavinR from UNITED KINGDOM | Nov. 06, 2018 17:25

0

0

Reply
Contrary to the previous answer, there are several flights a day from Kunming to Puer (Simao) and to Jinghong. Less than 2 hours to travel by road between Puer and Jinghong.
Answered by yasi from IRAN | Apr. 15, 2019 09:34

0

0

Reply
I want to go from Iran to pu er how long does it take?
how should I get there
Asked by Betflor from SWITZERLAND | Apr. 04, 2018 08:48

Reply
How to get to Yuanyang Rice Terraces from Pu'er?
Answers (1)
Answered by Alex from FINLAND | Apr. 09, 2018 22:31

0

0

Reply
You need to take a bus to Kunming South Coach Station first, then, change to a bus to Yuanyang Xinjie.
Asked by Víctor Chaves from COSTA RICAV | Sep. 25, 2016 18:32

Reply
Hello, Where is Starbucks Coffee Farm in Pu'er?
And how long is from downtown?
Answers (1)
Answered by Ava from USA | Sep. 27, 2016 01:51

1

0

Reply
It is located by Manlao River. It is about 37 miles (60km) from downtown area. :)