Lhasa Travel Guide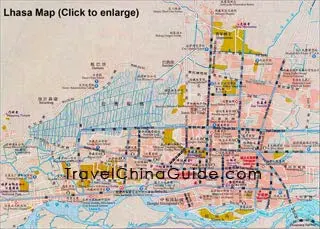 Click to enlarge the above map,
or go for more Lhasa maps
Lhasa Facts

Chinese Name: 拉萨 (lā sà)
Location: As the beautiful capital city of Tibet Autonomous Region (TAR), Lhasa is situated in the South Central part of the region, on the North bank of the Kyichu River in a mountain-fringed valley.

Population: 400,000
Area: 30,000 square kilometers (11,583 square miles)
Nationalities: Tibetan
City Flower: Galsang flower
Administrative Division: 2 municipal districts (Chengguan, Tuilong Deqing), 6 counties (Linzhou, Dangxiong, Nimu, Qushui, Dazi, Mozhu Gongka)


In the Tibetan language, Lhasa means the Holy Land or the Buddha Land. It is the center of Tibet's politics, economy and culture. The city has also been appointed as one of the 24 historical and cultural cities of China. The splendor and grandeur of the Potala Palace remains a world-famous symbol of the enigmatic power of politics and religion in this region.
| | |
| --- | --- |
| Sera Monastery | Jokhang Temple |
Recommended Tour Itineraries
Mysterious Lhasa Package
: 4 Days Luxury & Cheap Itinerary
Devout Buddhist Journey
: 7 Days of Lhasa - Gyangtse - Shigatse
Tibet Impression
: 12 Days Luxury Journey of Beijing - Xian - Lhasa - Shanghai
Lhasa Discovery
: 2-day Hiking Route
Currently there are three options to reach this mysterious high land, by plane, by road and by train.

1. Taking plane is comfortable and time saving , but offers little time for you to acclimatise to the altitude; this may cause sickness. Lhasa Gonggar Airport, about 62 kilometers (38.5 miles) south of downtown area, has 40 more flights to/from major domestic cities including Beijing, Chamdo, Changsha, Chengdu, Chongqing, Dazhou, Diqing, Fuzhou, Golmud, Guangzhou, Guiyang, Hangzhou, Kangding, Kunming, Lanzhou etc.
2. Taking the bus along one of five highways that have been opened-up for visitors' use. This will take longer but will enable you to see the amazing scenery en route. Furthermore, taking extra time allows for a more gradual acclimatization to the altitude.
3. Taking the train, is a fabulous new option, giving the opportunity to see hitherto unseen mountain scenery. With the operation of Tibet Railway from July 1st, 2006, more and more visitors have swarmed into the land via train.
Generally the period from March to October is the best time to pay a visit. Since the city is located at such a high altitude it is wise to be prepared before starting your journey. Generally speaking, due to the large temperature differences during any given day, warm clothes should be taken to keep away the cold. However, because it also receives a great deal of sunshine, sunglasses, suntan oil, and a sun hat are indispensable items if you're going anywhere in the area.

Local Highlights: It is rightly one of the most featured and dreamt-about cities in the world. This is not only because of its high altitude at 3,650 meters (11,975 feet) which means remoteness and limited accessibility, but also because of its over 1,000 years' cultural and spiritual history which leaves an impressive heritage that has helped to create the romantic and mysterious Tibetan religion.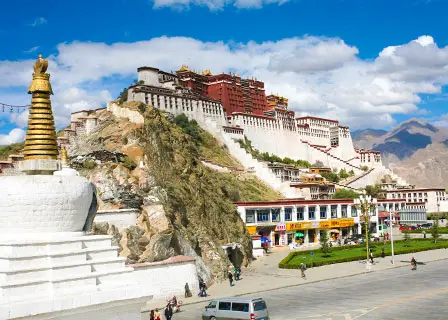 Potala Palace

Physical Features: Different from the inland cities and other places in that high land, this area is unique with an allure all of its own.



One word of warning: although there is a gradually increasing tourism industry here, it is a city with many difficulties yet to be overcome due to its unique location and geography. Please bear in mind that a visit to this area is more challenging than in any other part of China. Despite this more and more people from every corner of the world are being attracted towards this vibrant city with its mysterious culture. Its unique scenery, long history, exotic culture, mystical religion and spectacular monuments will ensure your stay is unforgettable.



Further Reading:


Dinning

Shopping

Nightlife