Lhasa Dining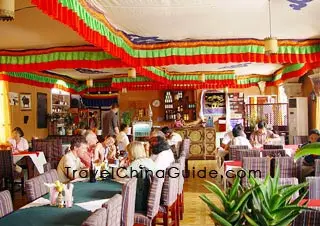 Lhasa Kitchen
Restaurants in Lhasa serve the best food and accommodation in Tibet. The food includes Tibetan cuisine,
Sichuan cuisine
and western style dishes. Some hotel restaurants even provide Nepalese and Indian dishes. It's worth noting that Sichuan dishes here are more expensive than in other parts of China. Tourist restaurants also serve delicacies and almost every hotel has western dishes. Most of the restaurants can be found clustered around the Jokhang Temple and Barkhor Street, the center of Lhasa City, so that travelers can find places to eat and drink within easy reach.
Where to Dine
Tibetan Restaurants
Crazy Yak Saloon lies next door to Kirey Hotel on Beijing East Road. It has uniquely Tibetan decor and furnishings. Tibetan dish has a good reputation here and the yak meat comes recommended. The other highlight is the local song and dance show from 19:30 to 20:30 every evening.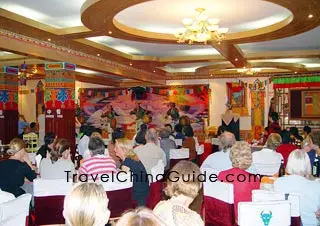 Crazy Yak Saloon
Ethnic Restaurant
lies opposite the Kirey Hotel, on East Beijing Road, and it is one of the largest Tibetan restaurants in Lhasa. It serves aweto chicken and aweto beef as well as some common dishes.
Snow-Deity Palace Tibetan Style Restaurant
is located just west of the Potala Palace Plaza. It is one of the only slap-up Tibetan Style restaurants in Lhasa. There is authentic Tibetan dishes on offer such as freshly fried mutton chops and Tibetan steamed stuffed buns.
Snowland Restaurant
next to Snowland Hotel on Mentsikhang Road has a range of western, Tibetan and Nepalese food. Its Nepalese food and pizza are delicious. The price is moderate when compared with the excellent quality of the food.
Tashi
, close to Penthoc Guesthouse and Tashi 2 in the Kirey Hotel is a favorite of many visitors. It is clean, quiet and the staffs speak good English. They offer featured local dishes including momos, tsampa, thukpa and fried yak meat as well as spaghetti, mashed potatoes and fries.
Tibetan Cafeteria
is located west of Middle Beijing Road. It offers local dishes such as fried mutton chops, radish stew, yak meat and potato buns.
Others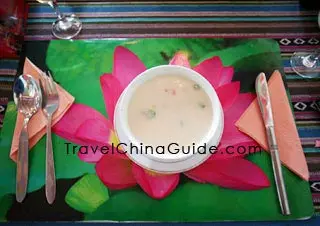 A dish from Namaste Restaurant
Aloo Gang
is located on Duosengge Road. It serves veggie food, yak butter tea and soup.
Barkhor Cafe
has various drinks and foods and a few PCs with internet access are available. Its rooftop terrace is popular among visitors since you can enjoy drinks watching the sunset over the Jokhang Temple.
Beimei Fast Food
(North America Style), on Beijing East Road, serves hamburgers, hotdogs and soups etc.
Curried Potato Restaurant
is located at the first crossing on the right of Jokhang Temple and offers delicious but cheap food such as curried potato, curried barbecue and yogurt.
Hard Yak Cafe
in Lhasa Hotel has a range of expensive western food and a good ambience. Lhasa Hotel also has a fast food stall on Mentsikhang Road serving hamburgers and fried potatoes.
Kailash Restaurant
on the rooftop of Banak Shol Hotel on Beijing East Road is also a great place to dine. With pleasant and friendly service, it serves dishes including a nice breakfast, yak burgers and many vegetarian options too.
Makye Ame
on the southeastern corner of Barkhor Street is often busy with western visitors. It serves tasty dishes with pasta and pesto and makes good coffee. A few computer terminals make emails possible too.
Xinfeng
is located at the East Beijing Road provides all kinds of European dishes, especially the grilled burgers.
Aside from the above-mentioned restaurants, the night market on Duosenge Road is an interesting place where you can get street food and drink at very reasonable prices.
For more information about local food, please refer to the
Tibetan Food and Drink
.
| | |
| --- | --- |
| Fungus with hot and sour sauce | Ma Po Beancurd |
- Last updated on Jul. 12, 2022 -
Questions & Answers on Dining in Lhasa
Asked by mickey lee from SINGAPORE | Apr. 30, 2016 06:45

Reply
Kindly recommend if any vegetarian eateries are available in lhasa
Answers (1)
Answered by Sarah from INDIA | May. 01, 2016 22:59

1

0

Reply
Yes, I know some very good vegetarian restaurants in Lhasa, here are my recommendations:
Qingshui Hehua Vegetarian Restaurant: No. 4 Zangyiyuan Road.
Zonglian Cangsu, located at No. 7 Baokuo Street, Dazhaosi Square.
Shanyuan Vegetarian Restaurant: located at No. 21 West Linkuo Road.

Asked by Emma Samraa from MALAYSIA | Jan. 24, 2016 05:25

Reply
Would like to look for any eating place that is suitable for Muslims travelers in Lhasa.
Thank you.

Much appreciated.
Emma
Answers (3)
Answered by Rose from AUSTRALIA | Jan. 24, 2016 21:53

0

0

Reply
Hey, I know a Xinjiang Weidao Yakexi Flavour Restaurant at No. 40, West Beijing Road, Chengguan District. The restaurant provides authentic Muslim food. Have a try!
Answered by Emma from MALAYSIA | Jan. 25, 2016 01:35

0

0

Reply
Thank you so much! would add this to my itinerary then. When was your visit there?

Emma
Answered by Rose | Jan. 25, 2016 03:55

0

0

Reply
I went there last June. You can have a try.