Lhasa Weather
As one of the highest cities in the world, Lhasa has over 3,000 hours of sunshine on average per year, famed as 'City of Sunlight'. It has a mild weather all year round, without hot summer or cold winter. Generally, climate in Lhasa is divided into two seasons – dry season and wet season. Annual rainfall here is considerable and mainly falls from June to September.



Best Time to Visit Lhasa
From March to October, Lhasa's weather becomes mild and humid, so this is the best season to pay a visit, and May Day Holiday is the beginning of the peak traveling season.
7-Day Lhasa Weather Forecast
Lhasa Weather by Month
Averages for Lhasa Weather
High/Low Temperatures of Lhasa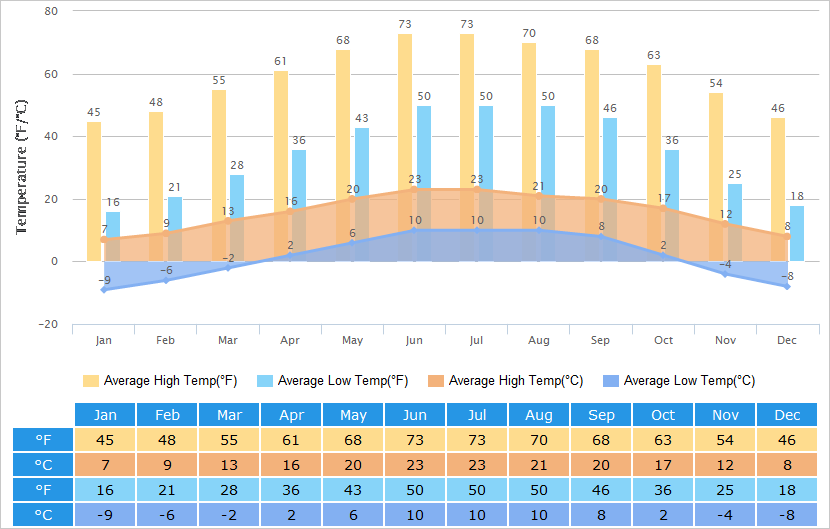 Average Temperatures of Lhasa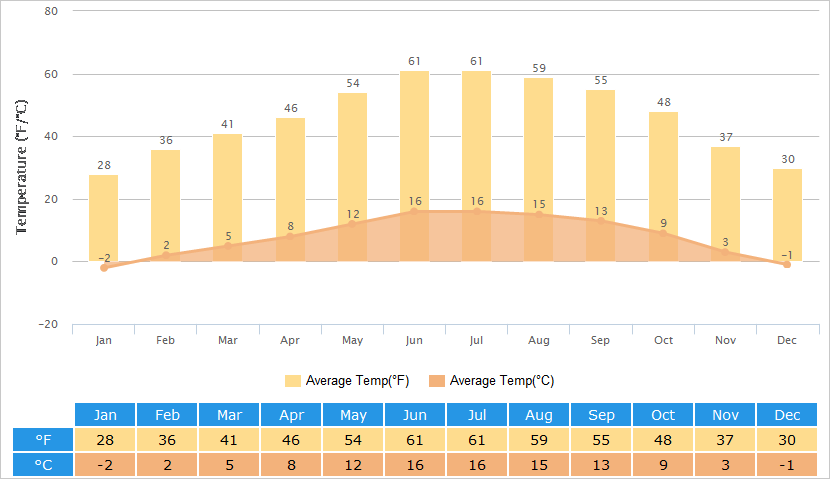 Humidity Graph of Lhasa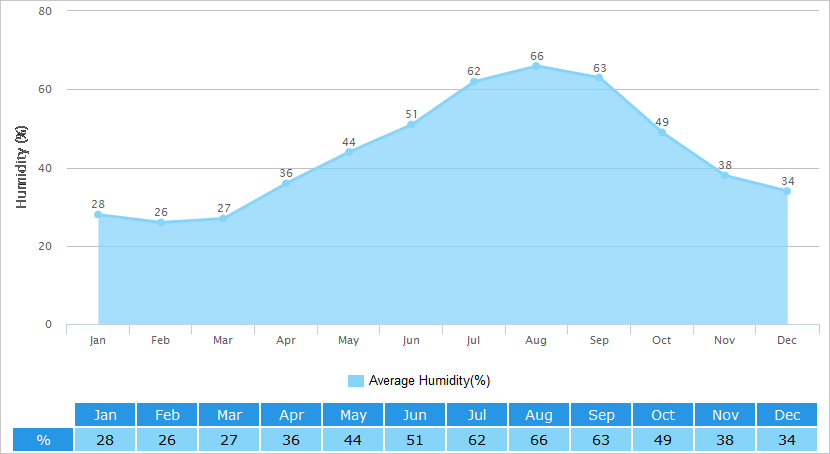 Average Rainfall of Lhasa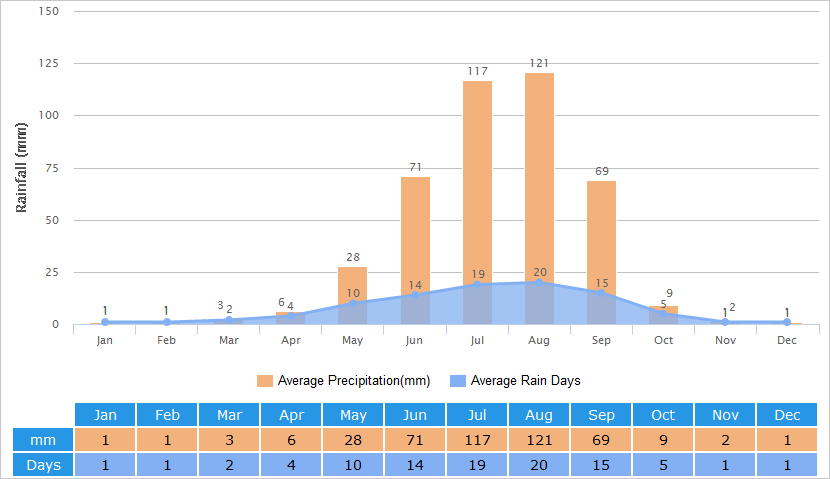 Air Quality of Lhasa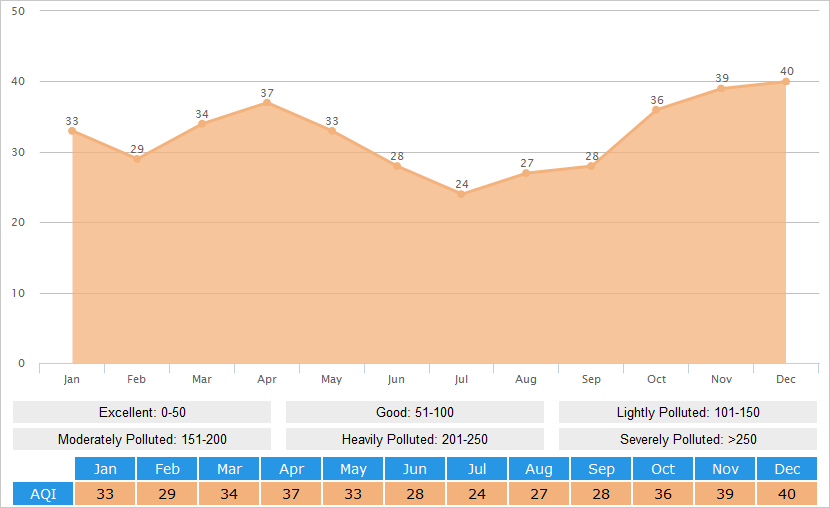 Lhasa Climate - Seasons & Travel Advice
With deep blue sky, sparkling rivers, mystery, religion, architecture, and the simple and unsophisticated Tibetan people, Lhasa is definitely many travelers' dream destination. The air here is thin and the temperature is comparatively low. The temperature differences between day and night during a single day can be large.
Winter and spring, this is what people called 'dry season' or 'windy season', is from late October to the next May in the region. During this period of time, there is usually little rain and much wind, and snow only occurs in the mountainous areas. It still feels warm in the day thanks to the abundant sunshine and strong radiation no matter how cold it is at night.

During the wet season from June to early October, the weather becomes warm and moist. The temperature can reach up to 27 - 29

C (81 - 84

F) in the afternoon in June when you may just wear shorts, but the temperature will drop to 0 - 5

C (32 - 41

F) at night. Rain gear is not necessary in this season, since it almost rains at night but turns clear in the morning. Thus, Lhasa is also a good summer resort.



What to Wear:
Despite the amount of sunlight in Tibet, the daily difference in temperature is still big. It is chilly at night even if the day here is sunny. Most hotels in Tibet have no central heating. Bringing winter clothes is therefore a wise choice. Generally a T-shirt, overcoat and jeans are also indispensable. Sunhats, sunglasses and suntan lotion are necessities. Also, if you intend to watch the sunrise at Mt. Everest or Namtso Lake, then warm clothes are a must. To avoid being hurt burnt by the strong ultraviolet lights in this high-altitude area, it is suggested that you take sunscreens and sunglasses. What's more, for it is usually windy and dry here, a protective lipstick is also necessary.
- Last updated on Mar. 17, 2021 -
Questions & Answers on Lhasa Weather
Asked by Relly from INDONESIA | Nov. 29, 2014 21:16

Reply
What is the expected wheater in December and January of lhasa
Answers (1)
Answered by William from UNITED KINGDOM | Nov. 30, 2014 01:25

0

1

Reply
Hey, the weather there is very cold with a large temperature difference.
The warmest day it would be 23 – 52F, while the coldest day it would be 10 – 39F. It will be cold, so take enough warm clothing.
Asked by Uri from CANADA | Nov. 15, 2013 14:35

Reply
When is the best time to visit Lhasa
Answers (1)
Answered by Ali from NETHERLANDS | Nov. 15, 2013 20:25

0

1

Reply
July and Aug. is the best time to go and there will be many tourists then. To avoid that, June or Sep. can also be ok.
Asked by Dada Choy | Sep. 14, 2013 05:25

Reply
What sort of clothing is advisable for Lhasa, Shigatse and Mt Everest Base camp from mid to end Oct?
Answers (1)
Answered by Allen from CANADA | Sep. 15, 2013 02:29

0

1

Reply
The average temperature in Lhasa is around 1 to 15C during that time and it is much colder when you go tothe Mt. Everest Base Camp.
It is suggested to take your thick sweaters and thick down jacket.
Asked by sujit from INDIA | Aug. 31, 2013 21:02

Reply
if one goes to lasha all by himself can he hire a taxi & cover the tourist spots?
Answers (1)
Answered by Miller from USA | Aug. 31, 2013 22:36

1

1

Reply
According to the policy, foreigners are not allowed to enter Lhasa alone. He has to join a tour group by China tour agency to enter that wonderful place.
Asked by eli from ISRAEL | Aug. 16, 2013 08:46

Reply
what is the expected weather in Mid Sept.of Lhasa
Answers (1)
Answered by Nelly from NEPAL | Aug. 17, 2013 02:42

0

2

Reply
Hi, it will be cloudy and a little wet. The temperature ranges from 11C to 22C. Shower or light rain may happen now and then.