Lhasa Weather in May
Compared to early spring, May's weather in Lhasa is pleasant during the day with brilliant sunshine and a breeze, neither cold nor hot. There is only a little invigorating rain. At night it can be slightly cold.
The fascinating Lhasa attracts many tourists from all over the world. As the climate turns warmer in May in Lhasa, the trees are thriving and flowers are blossoming. It is a gorgeous scene with pure blue sky and white clouds close enough to touch and snow-capped mountain in the distance. Because of the intense ultraviolet radiation, all visitors are reminded to wear sunscreen or, even better, to wear a hat while under the long daylight exposure.
Averages for Lhasa Weather in May
Temperature:12°C / 54°F
High Temperature: 20°C / 68°F
Low Temperature: 6°C / 43°F
Humidity: 44%
Rainfall: 28 mm
Rainy Days:10 days
Sunrise: 06:56 ~ 07:14
Sunset: 20:32 ~ 20:51
Air Quality in May
Average AQI:33

What to Wear in Lhasa in May
Thermal underwear, a thin sweater, a coat and casual pants are enough if you plan to stay mostly in the cities of Lhasa and
Nyingchi
. Winter dress such as mountaineering jackets, woolen underwear, and cotton socks are necessary if you visit
Mount Everest
, the Olympic base camp. A good set of hiking boots is always recommended.


Things to Do in Lhasa in May
Potala Palace, located in the city center, is a must see for all tourists to Lhasa, After that we recommend going to the
Jokhang Temple
and
Barkhor Street
nearby. Yangpachen is a good choice for those who like hot spring baths.
Namtso Lake
thaws in May and is a wonderful place to watch the sunrise and sunset and to enjoy a sky full of stars at night. A nice bicycle ride can be taken along the
Lhasa River
. Another good spot to visit is the Ganden Monastery on the southern bank of the River.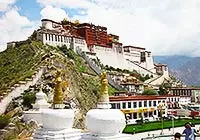 Potala Palace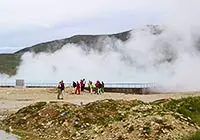 Yangpachen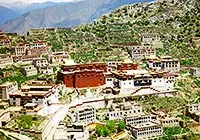 Ganden Monastery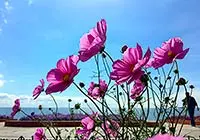 Galsang Flowers
Lhasa is not suitable for persons with hypertension, heart disease and asthma. Due to its high altitude (3,650 meters, about 11,975 feet), visitors should bring altitude sickness medication and plan sufficient time to rest after arriving to beginning any activities. Sunscreen, lipstick, sunglasses, and a hat are essential. We also recommend bringing cold medicine because of the large temperature difference between day and night.
What is the temperature in Lhasa in May?
High/Low Temperatures of Lhasa in May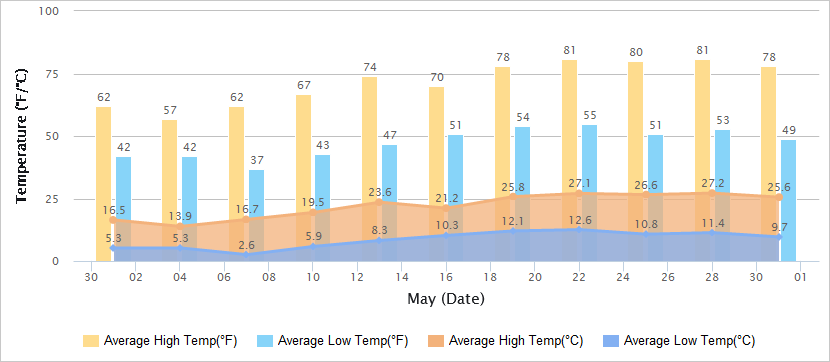 Air Quality of Lhasa in May (2017)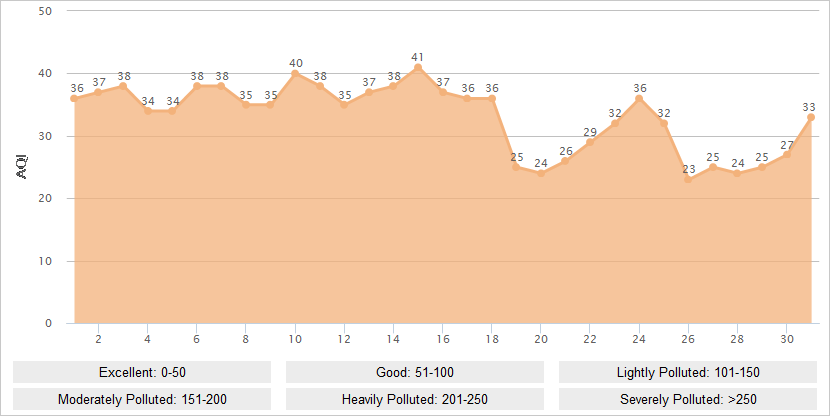 Historical Lhasa Weather in May
May
Temperature
Sunrise / Sunset
Humi-
dity
(%)
High
Low
1
16.5°C / 61.7°F
5.3°C / 41.5°F
07:14 / 20:32
29
2
16.5°C / 61.7°F
5.1°C / 41.2°F
07:13 / 20:33
25
3
17.5°C / 63.5°F
5.7°C / 42.3°F
07:12 / 20:33
32
4
13.9°C / 57°F
5.3°C / 41.5°F
07:11 / 20:34
46
5
15.7°C / 60.3°F
3.4°C / 38.1°F
07:10 / 20:35
52
6
17°C / 62.6°F
6.5°C / 43.7°F
07:09 / 20:35
23
7
16.7°C / 62.1°F
2.6°C / 36.7°F
07:09 / 20:36
28
8
19.5°C / 67.1°F
4°C / 39.2°F
07:08 / 20:36
33
9
21.6°C / 70.9°F
6.2°C / 43.2°F
07:07 / 20:37
25
10
19.5°C / 67.1°F
5.9°C / 42.6°F
07:06 / 20:38
42
11
18.6°C / 65.5°F
2°C / 35.6°F
07:06 / 20:38
62
12
20.8°C / 69.4°F
8.6°C / 47.5°F
07:05 / 20:39
37
13
23.6°C / 74.5°F
8.3°C / 46.9°F
07:04 / 20:40
29
14
22.3°C / 72.1°F
9.1°C / 48.4°F
07:04 / 20:40
27
15
23°C / 73.4°F
9.2°C / 48.6°F
07:03 / 20:41
27
16
21.2°C / 70.2°F
10.3°C / 50.5°F
07:02 / 20:42
20
17
19°C / 66.2°F
8.2°C / 46.8°F
07:02 / 20:42
34
18
22.8°C / 73°F
7.1°C / 44.8°F
07:01 / 20:43
28
19
25.8°C / 78.4°F
12.1°C / 53.8°F
07:01 / 20;43
21
20
24.8°C / 76.6°F
12.1°C / 53.8°F
07:00 / 20:44
25
21
25.1°C / 77.2°F
11.6°C / 52.9°F
07:00 / 20:45
23
22
27.1°C / 80.8°F
12.6°C / 54.7°F
06:59 / 20:45
20
23
27.7°C / 81.9°F
12.2°C / 54°F
06:59 / 20:46
20
24
26.8°C / 80.2°F
13.8°C / 56.8°F
06:58 / 20:47
21
25
26.6°C / 79.9°F
10.8°C / 51.4°F
06:58 / 20:47
15
26
25.5°C / 77.9°F
13.8°C / 56.8°F
06:57 / 20:48
30
27
27°C / 80.6°F
12.2°C / 54°F
06:57 / 20:48
34
28
27.2°C / 81°F
11.4°C / 52.5°F
06:57 / 20:49
30
29
26.2°C / 79.2°F
14.9°C / 58.8°F
06:56 / 20:49
27
30
28.4°C / 83.1°F
13.5°C / 56.3°F
06:56 / 20:50
28
31
25.6°C / 78.1°F
9.7°C / 49.5°F
06:56 / 20:51
36
- Last updated on Sep. 23, 2019 -