Lhasa Weather in April
Lhasa gradually enters into its spring in April, with the temperature rising day by day. However, it is still cold at night due to the high altitude. The wind is often strong, but there is little rain. As a result, flying dust and sandstorms are still common. At the same time, the weather is very changeable, and there is the possibility of experiencing snow entrained in cold air.
Generally speaking, the natural landscape improves in April. For instance, the peach blossoms and the azaleas in
Nyingchi
often begin to bloom in this month. Thus, the number of visitors usually progressively increases, although Lhasa hasn't reached its peak travel time yet.
Averages for Lhasa Weather in April
Temperature: 8°C / 46°F
High Temperature: 16°C / 61°F
Low Temperature: 2°C / 36°F
Humidity: 36%
Rainfall: 6 mm
Rainy Days:4 days
Sunrise: 07:14 ~ 07:46
Sunset: 20:14 ~ 20:31
Air Quality in April
Average AQI:37

What to Wear in Lhasa in April
Considering the climate in April in Lhasa, a long-sleeved T-shirt, a sweater and a thick jacket will be enough during a sunny day, but an additional warm down coat is necessary to cope with the night coldness. It's advisable to take a pair of sports shoes, casual shoes or hiking shoes that are comfortable for walking.


Where to Go in Lhasa in April
Potala Palace, the first choice for almost all of the visitors to Lhasa, can be visited at any time of the year due to its favorable location in an urban area.
Barkhor Street
is a good place for souvenir shopping.
Jokhang Temple
, the center of all the great Buddhist activities in Lhasa, is also a must-see place. Recommended places for a side trip in the suburban areas of Lhasa include the peach blossom covered Nyingchi, the holy Yamdrok Yumtso Lake and Meili Snow Mountain.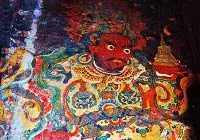 Potala Palace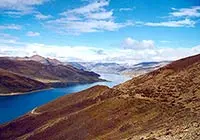 Yamdrok Yumtso Lake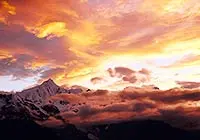 Meili Snow Mountain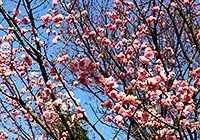 Nyingchi Peach Blossom
Bring medicine necessary for colds and altitude stress. For a trip to Lhasa, a sunhat, sunglasses, and suntan lotion are indispensable all year round. As well, take lipbalm during the dry and windy season from late October to the following May. On arrival at Lhasa, have a good rest before bathing or visiting any place. When going out, wear a mask to guard against respiratory tract infection caused by the flying dust and sand, and prepare some glucose powder/liquor or an emergency oxygen pack for unexpected altitude reaction on the way.
What is the temperature in Lhasa in April?
High/Low Temperatures of Lhasa in April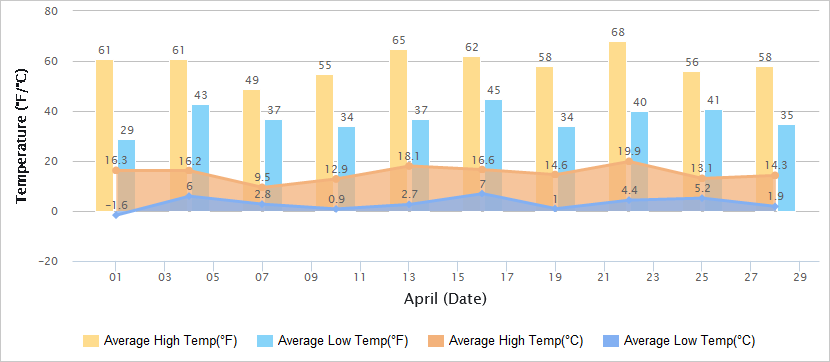 Air Quality of Lhasa in April (2017)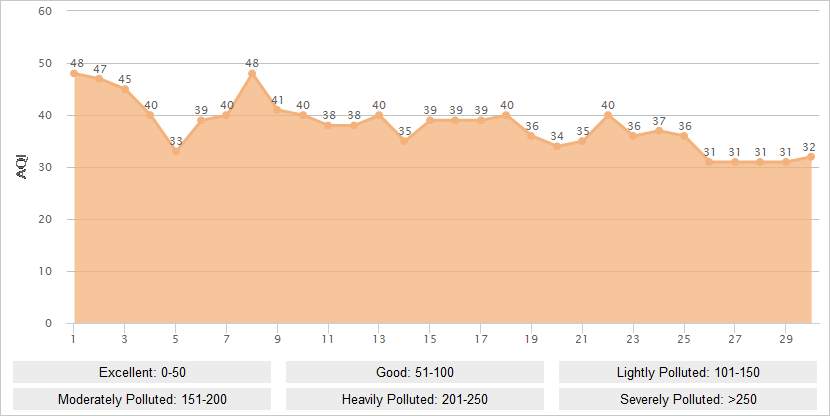 Historical Lhasa Weather in April
Apr
Temperature
Sunrise / Sunset
Humi-
dity
(%)
High
Low
1
16.3°C / 61.3°F
-1.6°C / 29.1°F
07:46 / 20:14
16
2
18.6°C / 65.5°F
-0.6°C / 30.9°F
07:44 / 20:14
15
3
18.8°C / 65.8°F
0.7°C / 33.3°F
07:43 / 20:15
20
4
16.2°C / 61.2°F
6°C / 42.8°F
07:42 / 20:15
28
5
12.9°C / 55.2°F
2.7°C / 36.9°F
07:41 / 20:16
60
6
14.4°C / 57.9°F
3.1°C / 37.6°F
07:40 / 20:17
63
7
9.5°C / 49.1°F
2.8°C / 37°F
07:39 / 20:17
69
8
12.6°C / 54.7°F
1.1°C / 34°F
07:37 / 20:18
59
9
10.6°C / 51.1°F
0.4°C / 32.7°F
07:36 / 20:18
53
10
12.9°C / 55.2°F
0.9°C / 33.6°F
07:35 / 20:19
50
11
15.4°C / 59.7°F
1.5°C / 34.7°F
07:34 / 20:20
43
12
18.3°C / 64.9°F
2.2°C / 36°F
07:33 / 20:20
30
13
18.1°C / 64.6°F
2.7°C / 36.9°F
07:32 / 20:21
34
14
19.1°C / 66.4°F
2.5°C / 36.5°F
07:31 / 20:21
19
15
18.8°C / 65.8°F
5.6°C / 42.1°F
07:30 / 20:22
24
16
16.6°C / 61.9°F
7°C / 44.6°F
07:28 / 20:23
21
17
19.6°C / 67.3°F
5.3°C / 41.5°F
07:27 / 20:23
18
18
19.2°C / 66.6°F
3.2°C / 37.8°F
07:26 / 20:24
42
19
14.6°C / 58.3°F
1°C / 33.8°F
07:25 / 20:24
42
20
16.4°C / 61.5°F
1.8°C / 35.2°F
07:24 / 20:25
31
21
17.9°C / 64.2°F
2.6°C / 36.7°F
07:23 / 20:26
29
22
19.9°C / 67.8°F
4.4°C / 39.9°F
07:22 / 20:26
44
23
19.1°C / 66.4°F
7.7°C / 45.9°F
07:21 / 20:27
17
24
16.2°C / 61.2°F
6.3°C / 43.3°F
07:20 / 20:28
31
25
13.1°C / 55.6°F
5.2°C / 41.4°F
07:19 / 20:28
47
26
16.6°C / 61.9°F
3.9°C / 39°F
07:18 / 20:29
52
27
16.4°C / 61.5°F
4.4°C / 39.9°F
07:17 / 20:29
52
28
14.3°C / 57.7°F
1.9°C / 35.4°F
07:16 / 20:30
57
29
16.4°C / 61.5°F
3.3°C / 37.9°F
07:15 / 20:31
55
30
17°C / 62.6°F
4°C / 39.2°F
07:14 / 20:31
42
- Last updated on Sep. 23, 2019 -