Ganden Monastery
Ganden Monastery is located on Wangbur Mountain, on the southern bank of
Lhasa River
in Tagtse County, 47 kilometers (29 miles) from Lhasa City. It stands at an altitude of 3,800 meters (12,467 feet) above sea level! It is one of the earliest and largest Buddhist monasteries in Tibet, and stands atop of the six famous temples of Gelugpa - a branch of Tibetan Buddhism. Its significance as a religious, artistic, political and cultural relic led to it being preserved by the National Key Cultural Relic Preservation scheme in 1961, and is now known as being one of the 'Three Great Temples', together with the
Sera Monastery
and the
Drepung Monastery
. Every year, one of the grandest of Buddhist activities - Buddha Painting Unfolding Festival - is conducted here, attracting thousands of visitors and disciples.
In the early 15th century, Tsong Khapa called for the Reformation of Religion, advocating the rooting out the previous disadvantages in religious orders and initiated the Gelugpa. This sect also became known as the Yellow Hat sect, as its disciples were always wearing yellow hats. This order went on to become the biggest sect in Tibetan Buddhism, leading to Tsong Khapa establish the Ganden Monastery. Since dharma is essential to the teachings of the sect, the whole layout of the monastery is built on its principles.
The Ganden Monastery is comprised of over 50 structures. The main halls in the temple are the Main Assembly Hall (or Coqen Hall), Zhacangs, Khangtsens, and Myicuns.
Coqen Hall
Coqen Hall is positioned in the northern part of the whole complex and faces south. It serves as the main assembly hall. It has three levels, and is 43.8 meters (143.7 feet) wide and 44.7 meters (146.7 feet) long.
Sutra Hall
The Sutra Hall runs through the middle of the first floor, with the three Buddha Halls branching from it. The Sutra Hall is so large that it can hold over 3,000 lamas.
Buddha Halls
Inside the Buddha Halls are statues of the Maitreya Buddha and the master Tsong Khapa, the initiator of Gelugpa. To the west of Coqen Hall is the other main hall consisting of the Buddhist Guardian Hall, Mandala Hall, and other complexes. It was built during the early fifteenth century, from 1409 - 1416. Built into its back wall is a huge stone which is said to have flown from India!
Tri Thok Khang
Tri Thok Khang is one of the earliest Buddha Halls here, and once served as Tsong Khapa and other tripas' bedchamber. Originally built in 1409, and added onto in 1720, it was once adorned with luxurious gilded bronze bricks. In the hall are enshrined statues of the Sitatapatra and Manjushri Bodhisattva. Its windows are ornately carved in the style of the Central Plains. Due to the fact that is houses clothing of Tsong Khapa and other tripas, it is also known as the 'Clothing-Preserving Hall'.
Holy Stupa Hall
Serdhung is the Holy Stupa Hall that was used by Tsong Khapa and other tripas'. In 1419, Tsong Khapa passed away in Tri Thok Khang and in the following year his disciples established the hall for him, as well as a silver pagoda inside with more than 900 taels of silver to surround the master's body. Afterwards, the thirteenth Dalai Lama covered it with pure gold. From then on, each time a tripa died, a silver pagoda would be built in their honor. In the time leading up to the liberation of Tibet, 95 pagodas were built.
Two Tantric Colleges
There are two Zhacang (or Tantric colleges) - Xaze and Jamze here. Both of these cover an area of nearly 1,000 square meters (1196 square yards) and are capable of holding 1,500 worshipping lamas.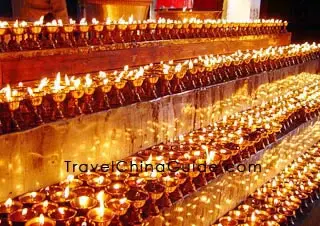 Butter-burning lamps, Ganden Monastery
Nine Debating Courtyards
There are also 23 Khangtsens and 20 Myicuns, which serve as the monks' living areas. Nine Debating Courtyards are used to as places to debate the sutras every day, as well as perform Summons Ceremonies throughout the four seasons.
Other Cultural Relics
Besides the 95 Holy Stupas, Ganden Monastery also houses rare and well preserved cultural relics, such as the armor of Qing Dynasty (1644 - 1911). This armour is studded with jewels and engraved in four kinds of characters. There are also exquisite tapestries from Jiangsu Province, the sutra written in gold known as the National Super-Class Cultural Relic, and a set of thangka painted with sixteen arhats and the four Heavenly Kings. All of these are amazing works of art.
How to get to Ganden Monastery
There are shuttle buses at the square of
Jokhang Temple
. The bus departs around 6:30 in the morning and returns around 15:00 - 16:00. The round-trip ticket is CNY 20.
| | |
| --- | --- |
| Entrance Fee | CNY 40 |
| Opening Hours | 9:00 - 16:00 |
| Recommended Time for a Visit | 2h is needed for a visit, but as it is far away from the city, so it altogether needs 1 day. |
- Last updated on Apr. 08, 2021 -
Questions & Answers on Ganden Monastery
Asked by Dog from MERICA | Feb. 02, 2016 09:21

Reply
Is it possible to move in and live and learn into Ganden Monastery? Do they accept students?
Answers (1)
Answered by Patrick from FINLAND | Feb. 03, 2016 02:40

0

0

Reply
As I know, you cannot live and learn in this monastery. But it doesn't accept students. You can stay at the hotels nearby.
Asked by lekshey from TIBET | Nov. 23, 2014 00:52

Reply
who were the sponsor of the ganden monastery when it was establishing ?
Answers (1)
Answered by Rukawa from JAPAN | Nov. 23, 2014 03:50

3

3

Reply
The sponsor was TsongKhapa.
Asked by Audrey from US | Jun. 01, 2013 14:40

Reply
I am 80. Altitude is fine but are there a lot of stairs to Ganden Monastery?
Answers (1)
Answered by Black from CANADA | Jun. 01, 2013 22:55

3

2

Reply
There are not so many stairs for the monastery. The monastery is built on the 3800-meter-high mountain, so you may need to care about the mountain.