Code: TB08
Tsubu Monastery
Tsubu Monastery, also called Tolung Tsurpu, is located at Gurum town in Tolong Dechen County, 70 km from
Lhasa
. This is the main temple of the Garma Kagyu pa sect, and the place where the living Buddha's reincarnation rite originated and then spread out to other sects in Tibet.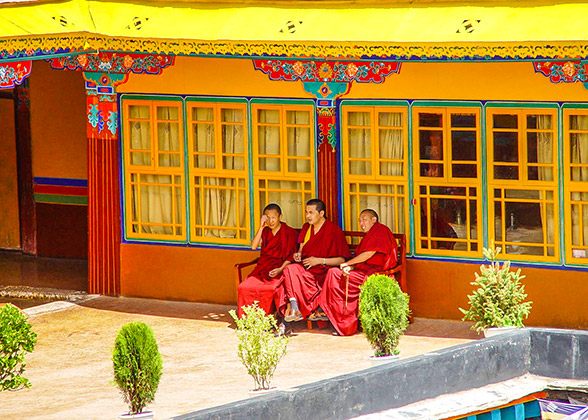 Buddha unfolding ceremony
Buses depart at regular intervals for Tsubu Monastery from a side street 200 meters south of the western side of Jokhang Temple. Theses buses depart between 07:00 and 08:00 every morning, and the ticket price is CNY15.00 per person. Make sure you get up early, otherwise you may miss them. The one way trip takes about 4 hours. Please note that the part of the road is in a poor condition, bumpy with patches of sand and stones. Also, there is no good restaurant near Tsubu Monastery, only chophouses are available. Therefore it is suggested that you bring some snacks or a packed lunch to make sure you don't go hungry.
Besides the regular buses, you can also charter a jeep for the round-trip. This is a more comfortable and flexible option but the price is, of course, much higher. If you are able to share the cost with others it becomes a more reasonable option.
The admission fee for Tsubu Monastery is CNY40.00 per person, and it is open between 09:00 and 14:00. Allow about 2 hours for your visit.
Tibetan people
The monastery is 4,267 metres (14,000 feet) above sea level. It was built in the middle of the valley facing south with high mountains surrounding the monastery complex. Tsurphu is a 300m2 complex with walls up to 4 meters thick. The monastery or "gompa" is about 28 km up the Dowo Lung Valley, on the north side of the river. The monks' residences were on the eastern side. Within this magnificent building, you can see monks sitting everywhere studying and reciting sutras, and you are bound to be filled with deep esteem for these people whose chanting falls upon your ears.
Some lucky pilgrims and tourists might get a chance to be touched on the head by the 17th living Buddha of Garmapa. This ritual is held once a month, and it is said that those lucky people will be free of disaster for the rest of their lives.
Tsubu Monastery has a great number of rare cultural relics, amongst those worth mentioning are Kongzhu Buddha, Monument of Jiangpu Temple and Tsubu Buddha. Kongzhu Buddha is a silver image the eighth Garmapa built in memory of his teacher. It is said that the Buddha image rose unaided into the air where it remained suspended for seven days, hence its name. Monument of Jiangpu Temple, which is located in the audience hall of Tsubu Monastery and engraved with ancient Tibetan words, has great significance to the Tibetan religious culture of the Tufan period. Tsubu Grand Buddha, at a height of 6 meters, is said to have been made by the second Garmapa.
You will return to Lhasa by the same bus after your visit. The bus will wait for you at the same place that you were dropped off. Usually they return to the city at 14:00 or 15:00, do ask for the exact time when you first arrive to ensure that you are able to catch it on time.

Recommended Itineraries with Cheap Price:
China & Holy Tibet
: 12 Days, Beijing - Xian - Lhasa - Shanghai

More Hiking Routes:
Journey to Sichuan
: 6 days to learn the local customs of the remote Tibetan areas
Sichuan-Tibet Overland Adventure
Yunnan-Tibet Overland Journey
: 8 days from Deqin to Markham, Chamdo, Riwuqi, Tengchen, Bachen, Sok, Nakchu