Lhasa Carpet Factory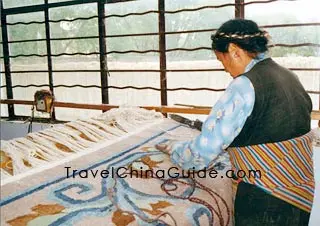 Lhasa Carpet Factory
Lhasa is situated at Hebalin to the east of the old city of Lhasa. It is one of the remarkable enterprises in Tibet Autonomous Region, mainly producing traditional Tibetan carpets.
In the Lhasa Carpet Factory, hundreds of experienced weavers using old-styled vertical looms weave carpets. All the carpets here are hand-made in different sizes, styles,and patterns. Some are elegant, and some are colorful; they can be used as floor covering or hung on the wall as a beautiful picture. Every item is unique. Lhasa Carpet Factory has developed into the biggest and the best in Tibet Autonomous Region.
Knowledge on Tibetan Carpet
Tibetan carpet, Persian carpet and oriental artistic carpet are reputed to be the best three kinds of carpets in the world. Tibetan carpet is a symbol of the traditional Tibetan arts and crafts. With over 900 years' history, a distinctive production procedure has been formed, including spinning, dyeing, weaving and trimming and so on.
Nowadays, Tibetan carpets are always a hot seller both home and abroad. It is an ideal purchase as a wonderful reminder of a trip to Tibet. What make the carpets so popular? That is the quality raw material, natural dye stuff,various designs and special weaving methods which together show the unique charming of local flavor.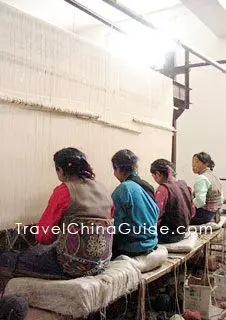 Three Kinds of Tibetan Carpets
Common Carpet
Usually made of yak hair and wool, it is soft, light and smooth with colorful and delicate patterns weaved in special method;
Thin Carpet
Often made of the soft hair from sheep, it always has simple patterns weaved in an ordinary method;
Rug or Cushion
Being as big as a single bed, the rug is favored by Tibetan people in daily use. Generally it is weaved by using wool in varied colors. Beingdurable in use, the rug can prevent damp as well as keep warmth. Additionally,the rug can be used for decoration.
Further Reading
are actually many carpets factories in Tibet. The following are two in Lhasa for your reference:
Chengguan District Carpet Factory
Address: No. 7, Sera Road, Lhasa
Sera Carpet Factory
Address: Sera Road, Lhasa, about 100 meters (110 yards) from
Sera Monastery
.
- Last updated on May. 16, 2018 -