Ganden Monastery Pictures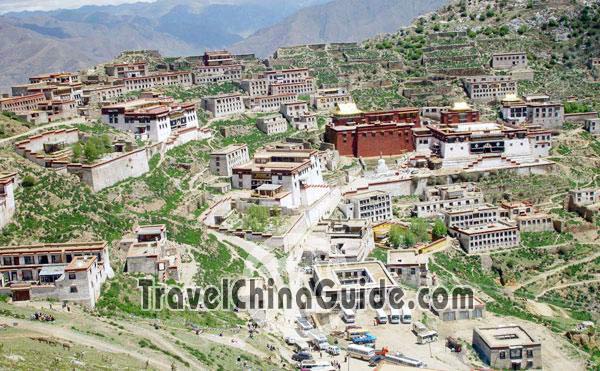 The building group of the Ganden Monastery is erected on the 3,800-meter's Wangbur Mountain which is about 47 kilometers to the east of Lhasa City.
Constructed in 1409 by Tsongkhapa, founder of the Buddhist Gelupa, the Ganden Monastery plays a prior role during the six famous temples of Gelugpa. The three-storey Coqen Hall is the main building in the temple, in which the statues of Maitreya and Tsongkhapa are stored. On the other hand, the abundant priceless historical treasures preserved here make the temple more popular. Attraction Intro:
Ganden Monastery
- Last modified on Feb. 05, 2017 -
Questions & Answers on Ganden Monastery Pictures
Asked by Mrs.Lauren from USA | Dec. 31, 2009 11:12

Reply
Hello..
I am looking to travel on the Luxury 5-star trains from Xining to Lhasa in Sept 2010. Where can I find pricing and time tables?
Thank You
Answers (1)
Answered by Mr.Sandy | Jan. 04, 2010 21:35

0

0

Reply
Here is the price and timing for all train from Xining to Lhasa:
www.travelchinaguide.com/china-trains/display.asp?from1=Xining&tp=1&to1=Lhasa&Submit32=SUBMIT
Choose night train, then you can see Ge'ermu, Yuzhu Peak and alpine lake in daytime the next day.

Asked by Ms.Theresa from SINGAPORE | Jun. 28, 2009 22:38

Reply
Hi, I am planning to visit Lhasa on 25th Jul till 3rd Aug. i was told that we are not allow to arrive in Lhasa without buying the tour packages and engaging one of the tour guide from them.Pls explain why? can i just ask the tour agency to arrange the tickets and the TTB permit ? as for the tour packages and tourguide, we can decide upon arrival in lhasa. please tell me which company can arrange the tickets and TTB permit without selling the tour packages. You great help will be highly appreciated. Thanks!
Answers (1)
Answered by Ms.Yuan from CHINA | Jun. 30, 2009 05:03

0

0

Reply
That's because overseas tourists are not allowed to visit Tibet as an individual. They should join a group tour to go there. Travel Permit is necessary. If you go to the border area, you need a frontier travel permit as well.
Asked by Mr.SRK from USA | Mar. 30, 2009 17:23

Reply
I would like to go to Tibet as soon as May. Can anyone suggest the best way to get there?
Answers (3)
Answered by Mr.Roger | Mar. 30, 2009 20:23

0

0

Reply
Where will you leave for that place? It seems that if you come from America and firstly arrive at Shanghai airport, then you could fly to Chengdu where the most frequent flights to Tibet is supplied.
Of course, there are trains from Shanghai, Beijing, Xi'an and Chengdu to Lhasa, but it is some difficulties for you to book a ticket and take the long-term journey.
Answered by Mr.SRK from USA | Mar. 30, 2009 23:35

0

0

Reply
Thanks Mr. Roger. I am coming from Portland, OR, and am hoping not to have to pay for an expensive commercial tour. Is there any other way to see the area than one of these overpriced tours? Thanks.
Answered by Mr.derek from CHINA | Apr. 03, 2009 00:09

0

0

Reply
Actually,there're many other tibetan areas where have beautiful scenery except Tibet,such as Sichuan province,Gansu province,Qinghai province and so on.
For detail informations,you can Google them.