Shigatse Weather - Best Time to Visit

When to Go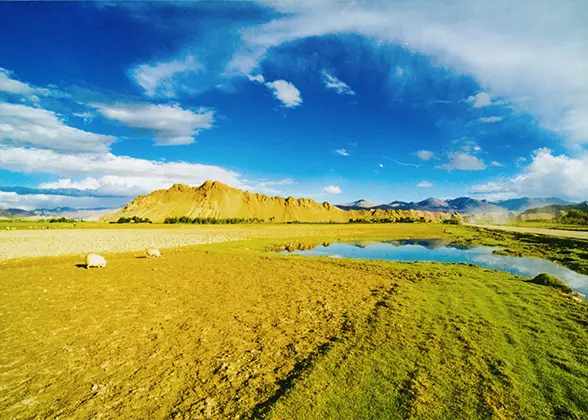 Shigatse Weather in Summer
Shigatse has a semi-arid, plateau temperate, monsoon climate. Temperatures range from a high of 23

C (73.4

F) to a low of -25

C (-13

F) with an annual average temperature of 6.3

C (43.34

F). From November to April, the weather in Shigatse is not suitable for traveling for the temperature is quite low. June to July is considered the temperate rainy season. During this period, it rains much at night. If you plan to visit Shigatse specifically to see Mount Everest, April through June is the best time to visit.

Due to its high elevation, the climate of Shigatse is quite hard. The weather is often very dry, due in part to the long hours of sunshine. The ultraviolet radiation is quite strong and visitors should be prepared with a variety of sunscreens, sunglasses and lip-balms to protect them from the rays. Thus, the sunburn prevention lotions, sun blinkers (which are better if they can prevent the snow-blind) and lipsticks are quite necessary. The temperature difference between the daytime and nighttime is extreme. During the day, especially at noon, the high temperature may cause sunstroke while the low temperature at night may contribute to people catching colds. Accordingly, warm and windproof clothes are highly recommended. Visitors should take the climate and location into consideration prior to traveling to Shigatse and medications for altitude sickness and cold remedies should be included in any travel kit.

7-Day Shigatse Weather Forecast
-

Festivals
Every year in Shigatse, there are many festivals honoring local history and culture. The festivals are always full of local characters and if you are lucky enough to meet some of them, you will better understand this remote and mysterious land.

The Buddha Unveiling Festival is held every year from May 14th to May 16th (of the Tibetan calendar) at the Tashihunpo Monastery. Portraits of Buddha from the three periods, Amitabha, Sakyamuni and Maitreya, are shown, one on each day in sequence. These huge portraits, made of colorful damask, are about 900 square kilometers (about 1076 square yards). Displayed on the Buddha unveiling platform, which at 32 meters (105 feet) high is the highest building in Shigatse, they can be seen from all over the city. The festival draws both local people and followers of Buddha from afar.
| | |
| --- | --- |
| Buddha Unveiling Festival | The Sorcerer's Dance Festival |
The Sorcerer's Dance Festival is held annually in early August (of the Tibetan calendar). In order to dispel evils, the respectful lamas dance the Sorcerer's Dance in Tashihunpo Monastery. It is quite a magnificent occasion featuring a band consisting of over 100 people. The dance itself is a collaboration of a number of traditional dances including the yak and peacock dances. There are 16 performances on the first and second days. After the dancing ends, people rush to a pile of fried flour food positioned on one side of the dance square. It is said that the more food one gets, the luckier one will be. On the third day of the festival, the Tibetan opera is performed and examples of various folk arts are on display.
- Last updated on Apr. 08, 2021 -
Questions & Answers on Shigatse Weather
Asked by william from UK | Oct. 19, 2017 14:09

Reply
We are visiting Shigatse and EBC in November. what temperatures will we have
We can find temperatures for Lhasa but not around towns/villages around EBC
Answers (1)
Answered by Liela from USA | Oct. 19, 2017 21:05

0

0

Reply
There would be many sunny days and it would be 10C below zero to 15C. The temperature difference is big. So you need to take your warm clothes, like sweaters, coat and jeans.
Asked by Elaine from MALAYSIA | Aug. 23, 2016 21:02

Reply
Going on sept is it the good time for travel around Shigatse?
Answers (1)
Answered by Eveline from FRANCE | Aug. 23, 2016 22:23

0

0

Reply
Yes, September would be a nice time to tour around. The temperature may range from 45 F to 70 F in that month. There will mainly contain cloudy days. Besides, the temperature difference would be a little bit big in the day and night. You can prepare thick long sleeved shirts, thin sweaters, jeans and boots. Have fun!
Asked by Mrs.thompsson from AUSTRALIA | Apr. 26, 2011 18:06

Reply
I am visiting lhasa shigatse in Mid May 2011..........Any hints re weather wise clothing........

Thanks
ET
Answers (1)
Answered by Ms.Cindy | Apr. 26, 2011 20:05

1

1

Reply
The temperature differs much in day and night from 3~20C. It may also has rain sometimes. You need to pack both warm clothes and cool clothes. Better bring an umbrella with you.