Code: TB07
Lhasa, Shigatse and Yadong
On the first day, upon arrival in
Lhasa
, please take a good rest to adapt yourselves to the high altitude. You will stay at the 3-star Diren Hotel. This hotel is located in the city center, which is 5 kilometers from the railway station and 45 kilometers from the airport, so it is very convenient for transportation.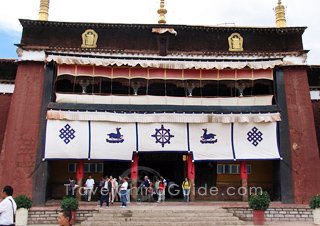 Palkhor Monastery, Gyangtse
Your adventure will start from Lhasa city on the second day. After climbing over the Gambala snow mountain, which has an altitude of 4,990 meters, you will overlook the Gambala radar station, and then drive to the highest fresh water lake -
Yamdrok Yumtso Lake
. It is one of the three largest sacred lakes in Tibet, and is located between Lhasa and Gyantse. The lake is named after its beautiful turquoise color and covers an area of 638 square kilometers. The soul of Tibet is believed to reside here.
Karuola Glacier is about 71 kilometers (about 44 miles) from Gyangtse County. You can even see this amazing glacier from the road beside it. Karuola Glacier is about 5,600 meters north of the main peak of Karuola Mountain. Due to smoke pollution from motor vehicles, the entire glacier is now divided into black and white layers, which gives a distinctive beauty to this masterpiece of nature.
Going south for 230 kilometers, you will arrive at the
Palkhor Monastery
. This monastery is a good example of typical Tibetan Buddhist monastery architecture, combining stupas and temples, with temples in the stupa, and stupas in the temple. The stupas and temples coexist harmoniously and bring out the best in each other. Its architecture is representative of a typical style of monasteries that were built during the thirteenth to fifteenth century in the Later Tibetan area. It is also a unique monastery because of the excellent condition of the temple and stupa and is reputed as a monument of architecture from that period. Palkhor Monastery lies at the downtown of Gyangts County. You may also walk along the stone road if you see the white stupa or white walls, and you'll find the monastery not far away. It is open from 09:10 to 16:00 and the admission fee is RMB 40 Yuan per person.
Pala Manor, Gyangtse
If you want, you may also take a look at the
Pala Manor
. Pala Manor is located in Southeast of Gyangze, in the Banjorlhunbo Village of Jangra Town, 4 kilometers southwest of Gyangze County. From Jingshan Square in Gyangze, you can take a motor tricycle to get there with 30 minutes' drive. Pala is the short name of Pajuelakang family, which was one of the five Dipan families after Dali Lam. During the over 300 years ups and downs of the Pala family, there were five persons assigned to be the local officials and played an important role in politics. The admission fee for this manor is RMB30.00 per person.
Afterward, drive to the second biggest city in Tibet -
Shigatse
, you will stay overnight in this city. We recommend the 3-star Shandong Mansion (Address: no. 5 North Beijing Road, Shigatse; Tel: (0892 8826139), but please note that there is no heating system at this hotel.
After one night's break, on the next day, continue your tour to Yadong. On the way there, you may visit the Zhuomulari Snow Mountain and Duoqingcuo Lake, this lake is considered to be the most beautiful lake in the world. Upon arrival in Yadong, you may take a bath at the Kangbu Hot Spring. It is said that this spring can treat all the various illnesses.
Your fantastic tour will end on this day, you may continue your tour to other places or drive back to Lhasa as your wish.

Recommended Itineraries including Lhasa and Shigatse:
Devout Buddhist Tour
: 7 Days, Lhasa - Gyangtse - Shigatse - Lhasa
Expedition to the challenging Roof of the World
: 10 Days Luxury & Standard of Lhasa - Gyangtse - Shigatse - Dingri - the Everest Base Camp - Dingri - Shigatse - Lhasa

More Hiking Routes:
Tsubu Monastery
: Taking a side trip to the Tsubu Monastery
Journey to Sichuan
: 6 days to learn the local customs of the remote Tibetan areas
Sichuan-Tibet Overland Adventure