Shigatse Transportation
Before 1950s, transportation in Shigatse remained somewhat primitive. Residents relied on animals such as the yak as their main mode of transportation. There were no highways, only narrow winding trails extending throughout this area. This made it difficult for residents to get in touch with the outside world. However, subsequent development has greatly improved transportation in and around this area. Today Shigatse is the transportation center of Tibet. The China-Nepal Highway connects Lhasa with it and then stretches into Nepal. With the No.318 National Highway, Shigatse-Yadong Highway and Lhasa-Purang Highway passing by, the area is now connected to an extensive and efficient network of highways, and its 18 districts are interlinked. Without ready access to water and air transportation, the highway plays a very important role in the economy and day-to-day life there.

Shigatse Heping Airport is located in Jiangdang Township, Shigatse Region, about 43 kilometers (26.7 miles) to downtown area. It is the fifth civil aerodrome of Tibet (The other four are Gonggar Airport of Lhasa, Bangda Airport of Qamdo, Mainling Airport of Nyingchi and Kunsha Airport of Ngari). At present, the only airline here is the two flights every week from and to Chengdu. Shigatse Airport is 3,782 meters above sea level, make it one of the highest airports in China. Passengers can take flights to get here and then take easy access to attractions like Mount Everest, Tashilhunpo Monastery and Sagya Monastery.
Beside of this Heping Airport, the Gonggar Airport (LXA) in Lhasa is also a good destination choice. Connecting airports are located in Beijing, Shanghai, Kunming, Xining, Xi'an, Lanzhou, Guangzhou, Chengdu and Chongqing. As Shigatse lies about 300 kilometers (about 186 miles) away from Lhasa, you may arrive in Lhasa and then take a long-distance bus to the city. The journey takes about four hours. Another option is to take a bus there directly from the Gonggar Airport.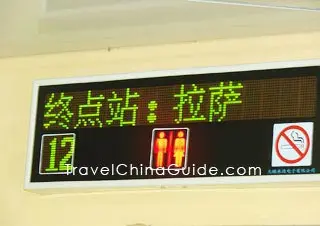 By train
Train
Passengers can now travel by train to Shigatse Railway Starion via the Lhasa-Shigatse Railway, which was put into use on August 16th, 2014. The duration is about 2.5-3 hours. Ticket fare is CNY 169.5 for a soft sleeper, CNY 111.5 for a hard sleeper, and CNY 40.5 for a hard seat. In the future, Lhasa-Shigatse Railway will be extended to Nepal, shaping the China - Nepal Railway. It will make a quick rail travel between the two countries possible.

The Lhasa North Passenger Transport Station offers many options heading to Shigatse:
Fare
Time
Mid-Class Bus
CNY 51(per person)
09:00 every day
Luxurious Tourist Bus
(Two-day trip and return line includes the Tashihunpo Monastery and Yamdrok Yumtso Lake)
CNY 160(per person)
09:00 every other day
CNY 280 (per person)
(includes bus fare , admission fees, accommodation, dining and guide)
Chartered Car (Toyota 4500)
CNY 3000
----
In Lhasa Bus Station, the vehicles heading for Shigatse is in three classes:
Fare
Time
Luxurious Car (Toyota, Santana and Zhonghua)
CNY 100
----
Mid-Class Bus
CNY 65
----
Normal Bus
CNY 50
08:30,09:30,10:00,10:30,11:00,11:30,
12:00,12:30,13:00,13:30 every day
Shigatse Bus Station is located on Jiefang Road. Here you will find vehicles heading for Lhasa, Zhangmu, Dromo, Ngari and Nakchu.

There is no city bus here. Since the city is not large, you can easily get around on foot - the best way to truly appreciate the streets, buildings and markets. Pedicabs and tricycles are also available. The fare for pedicabs and tricycles is about CNY 2~3 for one person. Keep in mind, though, that these will only take you within the city limits.

Taxi
Taxis are an economical choice for transport if you are traveling there with 2~4 people. The daytime fare is only CNY 5 regardless of where your destination is (within the city). After 20:00, the fare is CNY10 per trip.
| | |
| --- | --- |
| By pedicab and taxi | By chartered car |
Nowadays, more and more people come to the region to see the world's highest mountain peak, Mount Everest, in Tingri County. Chartering a car is the most efficient and dependable way to get to the Everest Base Camp. Cars for hire are much more easily found in Lhasa than Shigatse. They are available in the square outside Tashihunpo Monastery or in the Shigatse Bus Station. You can bargain with the driver directly. Reference prices are as follows: During July and August, the fare for a Toyota 62 should be no more than CNY 2300 for three days, and Toyota 4500 should cost around CNY 2800 for three days. However, in late August, fares will increase dramatically.
- Last updated on Jul. 18, 2022 -
Questions & Answers on Shigatse Transportation
Asked by Ronni from QATAR | Feb. 27, 2016 23:23

Reply
Is there any direct fight from Kathmandu to Shigatse? How much does it cost?
thanks
Answers (1)
Answered by Paco from SPAIN | Feb. 28, 2016 20:08

0

0

Reply
I am afraid that there is no direct flight. So you may fly to Lhasa first (about 1.5 hours). Then, take a train to Shigatse (about 3 hours). The flight tickets vary greatly according to seasons. For the train ticket, you need to pay CNY 40.5 for a hard seat; CNY 111.5 for a hard sleeper; CNY 169.5 for a soft sleeper.