Lhasa-Shigatse Railway

Open Date: August 16th, 2014

Span: 154 miles (248 km)

Speed: 75 mi/h (120 km/h)

Travel Time: about 3 hours

Stations:
Lhasa
, Qushuixian, Nimu, Renbu, and
Shigatse
As an extension of Tibet Railway, this rail in the works may reach Gyirong County near the border of China and Nepal, and be a part of
China - Nepal Railway
by year 2020. Another railway, the Shigatse-Yadong Railway may also be near completion by that year.
Lhasa to Shigatse Train Schedule
(Last Update on Jun 22, 2021)
| Train No. | Departure - Arrival | Travel Time |
| --- | --- | --- |
| Z8801 | 08:25 - 11:20 | 2h55m |
| Z8803 | 15:15 - 18:02 | 2h47m |
Shigatse to Lhasa Train Schedule
(Last Update on Jun 22, 2021)
| Train No. | Departure - Arrival | Travel Time |
| --- | --- | --- |
| Z8802 | 12:00 - 14:37 | 2h37m |
| Z8804 | 18:40 - 21:32 | 2h52m |
Ticket Fare (CNY)
(Last Update on Jun 3, 2019)
Route
Soft Sleeper
Hard Sleeper
Hard Seat
Upper Berth
Lower Berth
Upper Berth
Middle Berth
Lower Berth
Lhasa
Qüxü
95.5
101.5
63
68
72
11
Shigatse
169.5
174.5
111.5
118.5
122.5
40.5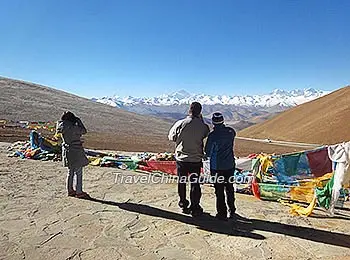 Snow Covered Mt. Everest
Scenic Railway Route
Along Lhasa-Shigatse Railway, passengers will sense as if that they are traveling in an old master oil painting because of the fairy tale landscape. Passengers can view up close Lhasa River- the "Ganges" of Lhasa and Tibet, and the
Yarlung Tsangpo River Canyon
- which rivals all world renowned canyons. Passengers will pass through Nimu County- the home of melons and fruits, Renbu County rich in mineral resources and Nyangqu River wetland where one comes upon birds and animals in their natural habitats.
Arriving in Shigatse, the second largest city in Tibet, passengers will be amidst clear lakes, beautiful grasslands, grand monasteries and ancient temples, washed with unique culture and customs. They include
Tashilhunpo Monastery
and
Sakya Monastery
. Located about 186 miles (300 kilometers) away from Shigatse, is the world's highest peak -
Mt. Everest
(Mt. Qomolangma). If one's physique allows, one should at least pay a visit.

Read more:
Shigatse Travel Guide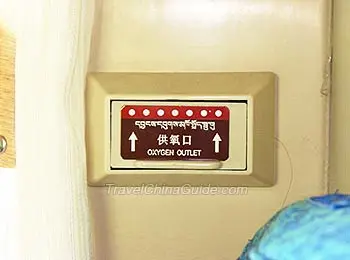 An Oxygen Outlet inside the Train
Characters of the Railway
1. The railway operates at 11,811-13,123 feet, or 3,600-4,000 meters above sea level, all coaches are equipped with oxygen generators for passenger use. Meantime, the glass of the carriage is uvioresistant.
2. The railway passes through high geothermal energy territory, which was challenging for construction crews. Sand storms presented another major challenge. These were dully overcome.
3. To be environmental friendly, the railway has skirted around the nature reserves as much as possible; most of the railroad has been elevated to allow animals migratory passage; the carriages are heated by geothermal energy, solar energy and electricity.
4. To avoid the dangerous section of Yarlung Tsangpo River, engineers have tunneled through mountains. The longest is 6.5 miles (10.4 kilometers).
5. The complex terrain, environmental protection requirement, and uses of tunnels make the railway China's most expensive, over CNY50,000 per meter (1 meter is about 0.6 mile).
- Last modified on Sep. 12, 2019 -