Shigatse Travel Guide
Shigatse Facts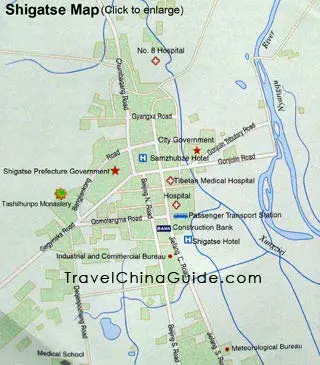 Click the above map to enlarge it,
or go for more Shigatse maps
Chinese Name: 日喀则 (rì kā zé)
Population: 870,700
Area: 182,000 square kilometers (about 70,270 square miles)
Location: in the southwest of Tibet, southwest China
Administrative Division: 1 municipal district (Sangzhuzi), 17 counties (Jiangzi, Bailang, Lazi, Sagya, Gangba, Dingjie, Dingri, Nyalam, Kangma, Yadong, Buren, Nanmulin, Xietongmen, Jilong, Angren, Saga, Zhongba)
Area Code: 0892
Zip Code: 857000
GDP (2019): CNY 27.949 billion (USD 4.051 billion)
Nationalities: Tibetan, Han, Hui, Mongolian
Tibet's Second-Largest City Famous for Everest and Majestic Monasteries
Shigatse, also named Xigatse, means 'the fertile land'. It sits in the plain at the confluence of the Yarlong Tsangpo and Nyangchu Rivers, where Tibet's most fertile land is to be found. It borders Ngari to the west, Nagqu to the north, Lhasa and Shannan to the east and shares boundaries with Nepal, Bhutan and India. It is about 276 kilometers (171 miles) from Lhasa. The city has a history going back more than 600 years and it is the traditional seat of the Panchen Lama, one of the spiritual leaders in Tibet.

Shigatse has become one of the most attractive tourist destinations in Tibet due to its ancient culture, majestic monasteries, magnificent natural landscape, and superior geographical location. Going upstream from Lhasa along the Yarlung Zangbo River and passing through the Yamzho Yumco Lake, you will enter the Shigatse region. Continue to the south and you will reach a beautiful glacier world and the world's highest peak Everest. It is 150 kilometers (about 93 miles) away from the Sakya Monastery. Then go west to the Zhangmu Port, the gate to Nepal, where you can purchase exotic commodities from Southeast Asian countries.
As one of the world's highest cities with beautiful high plateau scenery, the area is also a hot spot for Chinese tourism. Its long history gives this city a strong cultural heritage, especially in respect of Buddhism. The approximately 600 year-old majestic Tashilhunpo Monastery has a magnificent architectural style with a golden roof and resplendent buildings. Dozens of monasteries belonging to different sects enhance the atmosphere of Buddhism. Various grand festivals like Buddha Unveiling Festival in the monasteries each year give people a chance to admire the huge portraits of three Buddhas.
| | |
| --- | --- |
| Sakya Monastery | Tashilhunpo Monastery |
In terms of transportation, there are tourist buses heading for the nearby venues such as Lhasa, Zhangmu and Nakchu. No.318 National Highway and the China-Nepal Highway. These connect Shigatse with the outside world while opening up the outside world to people living here. Nowadays, the area is an important Tibetan communication hub and an air of modernization pervades the area. New industries including mechanics, chemicals and food production thrive here. Meanwhile, the traditional handcrafts have been encouraged and expanded. Products such as Tibetan knives as well as items of silver and gold are sought after throughout China and are exported abroad.
See also Shigatse Railway Station
| | |
| --- | --- |
| Mount Everest | Rongbuk Temple |
The average elevation here is in a range of 3840 meters (about 12598.4 feet) - 4464 meters (about 14645.7 feet), which endows cool and even cold weather to the area. In the high plateau, the climate is not very pleasant due to the frequent wind and dry atmosphere. However, it is not bad a place for summering.

History: Before the 1950s, the region remained in a primitive state in terms of its economy and its people's lifestyle. Following reformation and the opening up to the modern world, a series of highways were built up.



Local Highlights: In the city, hotels and motels of different classifications satisfy visitors' needs. Although the accommodation in this remote area cannot be compared with those in modern cities, they are still important and plentiful.Public amenities such as the post office and banks do much to facilitate travel in Tibet.

Related Hiking Itineraries Information:
Shigatse Sightseeing: 3-day Visit
Shigatse In-depth: 3-Day In-depth Exploration
Shigatse Exploration: 2 Days Monastery Tours




Further Reading:


Dinning

Shopping
- Last updated on Jul. 18, 2022 -
Questions & Answers on Shigatse Travel
Asked by H.kuwat from INDONESIA | Jun. 22, 2014 12:05

Reply
How to obtain Tibet permit ? .can I get in my country !
Answers (1)
Answered by Penny from USA | Jun. 22, 2014 22:59

0

0

Reply
The travel permit needs to be get through Chinese tour agency.

Entering Tibet is only allowed by join tour group. After you join one, the tour agency will help you to get the permit easily. Otherwise, you cannot get that.

You cannot apply one in your own country on yourself.
Asked by H w Kuwait from INDONESIA | Jun. 14, 2014 14:10

Reply
Hi .please tell me .the easiest way to go shigatse from Shen zhen.hongkong or zhuhai ?.thanks
Answers (1)
Answered by Gorden from USA | Jun. 16, 2014 04:46

1

0

Reply
The easiest method is to fly to Chengdu from Shenzhen and then fly to Shigates
Asked by Surendra Ghimire from NEPAL | Mar. 30, 2014 22:20

Reply
what is minimum cost of lodging and fooding in shigatse?
Answers (1)
Answered by Susan from USA | Mar. 31, 2014 04:48

0

0

Reply
It is around 100 to 150 for lodging.
Asked by T S Bista from NEPAL | Jul. 30, 2013 08:53

Reply
What would be the better route to Shigatse air or land from Nepal to escape from altitude sickness?
A group of more than 150 business people visiting from Nepal during September this year to participate in a fair. But most of them are worrying about altitude sickness. Therefore, I need some suggestions form the altitude experts to advise all visiting delegates.
Answers (5)
Answered by Miffly | Jul. 30, 2013 21:24

0

0

Reply
You can land from a comparatively lower altitude place than the destination to get accustomed to altitude problem and then fly to reach there.

When I went there, I went to Qinghai Province for some days and then head for Lhasa.
Answered by miffy | Aug. 01, 2013 22:15

0

0

Reply
Thank you for your answer. But my concern is when we go to S by land we have to cross more than 5ooo meter elevation on the way while most of the delegates are accustomed of living at 1400 meters. we will go by bus which will cross the highest elevation on the way after 3/4 hours of driving and there are other heights of less than 5ooo meters and higher than S(3800) our bus will reach S after 10 hours crossing all heights of less than 5000 meters and more than1500 meters. So, my question is: Which route would be helpful for us to use? Directly by air to Lhasa which is at an elevation of 3500 meters and than four hours by car or by land sitting in a bus and crossing all elevations to Shigatse? Please answer Miffy.
Answered by Miffly | Aug. 02, 2013 02:31

1

0

Reply
It is suggested to fly tro Lhasa first. Then reach the destination by car. You'd better take some medicines in advance in case of any discomfort.
Answered by Miffy | Aug. 03, 2013 01:19

1

2

Reply
Dear Miffy,

Thank you very much for your answers of my two questions. I am satisfied by your second answer and follow your suggestions. This is the answer to suggest to all my business delegates.

Now, my personal query. I visited Lhasa (3400 meters) in 2005 by air. after travelling by a car to the hotel, I walked with my friends about half a km to a restaurant for meal. While sitting in a chair waiting for my meal I felt drowsiness and my friends took me to a water tape and shake my head with water then the restaurant owner provided me a bowl of garlic soup and then a large glass of lemon water which released me from my drowsiness and went back to my hotel and after that nothing happened for rest of my stay (eight days). In 2009 after landing in Lhasa airport I went Shigatse by car (four hours) then suddenly after spending 4/5 hours in Shigatse I fell unconscious and hit head to a door and fell down on the floor for a while then return in normal stage and all body vibrated for 3/4 minutes feeling cold I covered my body by two quilts and came to normal stage. After all this happening nothing happened for 8 days stay in Shigatse. I explained this because once again I am visiting Shigatse and would like to have your valuable advice for my precautions. So, WHAT WOULD YOU SUGGEST ME BEFORE AND AFTER MY ARRIVAL IN SHIGATSE?

I hope above history will not bother you. Thanks a lot in advance.
Answered by Miffly | Aug. 07, 2013 21:02

0

0

Reply
Just as I suggested above, you'd better take some medicine in advance in case of any discomfort. Around one week before your departure, it is suggested to have more fruit and vegetables, which is also suitable for your early arrival at your destination.

You should not move a lot upon your arrival and if possible, don't have a shower or bath in the early two to three days to adjust to the local environment.

Well, it is suggested not to uptake oxygen once there is little discomfort, or it would be hard to adjust to the altitude.