Code: TB30
Shigatse Monasteries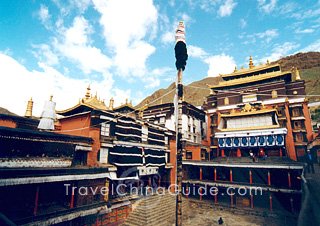 Tashilunpo Monastery in Shigatse
Shigatse
is the second biggest city in
Tibet
. In Tibetan, it means "the best manor". Shigatze is situated at south Tibet, located at the intersection point of
Yarlung Zangbo River
and Nianchu River, bordered on Nepal, Bhutan, Sikkim and so on. The Total area of this city is 182,000 square kilometer and the existing population is 630,000. Continue to travel southward from Shigatse, you may arrive at the world first peak
Mount Everest
. The natural scenery of Shigatse is fantastic, and the cultural landscape is rich. There is no airport in Shigatse city, there are 400 kilometers from Lhasa airport to Shigatse, upon arrival in Lhasa, you may take a long-distance minibus at the Lhasa western suburbs bus station, the ticket fare is CNY50.00 net per person and it will take about 4.5 hours. The city of Shigatse is not very big, you may take the pedicab at the rate of CNY2.00-CNY3.00 net per person, or the taxi at the rate of CNY10.00 net. There are kinds of different style hotels in Shigatse, the best one is the 3 star Shigatse Hotel (No. 13 Jiefang Middle road), and the standard room rate is between CNY200.00 net - CNY300.00 net. The other one is the Sangzi Hotel, which is located in the city center, the room rate is CNY100.00 net - CNY200.00 net, and there is also a big bazaar nearby.
Tibetan lamas
On the first day, you can take a tour to the Natana monastery and Kang Gyan monastery. Natana monastery is located at 20 kilometers southeast of Shigatse city. It was built by Dongton Lodruta in 1153 and became the biggest scripture printing house in Tibetan history. Once there were original scriptures of Kajur and Danjur. The admission fee of Natana monastery is CNY40.00 net per person. In the afternoon, continue your tour to the Kang Gyan monastery, Kang Gyan monastery is located at Chasu Village of Sagya County in Shigatse and lies 3800 meters above sea level. It is 45 kilometers away from Shigatse. This monastery was built by Panchin Sangpo Tashi in 1477. Up to now, it has a history of 547 years. There were 8 chapels, one Changting hall, two Chasang, five Mitsan and 300 monks. This monastery believes in Geluk sect. The admission fee of the Kang Gyan monastery is CNY25.00 net per person.
On the second day, visit the Phuntsok Ling monastery and Chonang monastery. At 4100 meters above sea level, Phuntsok Ling Monastery is situated at the seat of Phuntsok Ling Village Government. This monastery believed in Chonang Sect, but during the reign of Dalai Lama, it became one of the 13 changing sect monasteries. In the afternoon, go ahead to the Chonang monastery. Chonang Monastery is situated at the foot of the Opuching Mountain in Phuntsoling Village in Shigatse. At 4600 meters above sea level, this monastery was built by Gonpo Tuk Jecsundrop in the 12th century. It has a history of more than 800 years. After visiting these two monasteries, your mysterious
Tibet tour
will end here.

Recommended Tibet Itineraries with Cheap Price:
Tibet Buddhism Tour
: 7 Days, Lhasa - Gyangtse - Shigatse - Lhasa
Tibet In-depth Tour
: 20 Days, Lhasa - Shigatse - Lhatse - Saga - Paryang - Manasarovar Lake - Tarchen - Mt. Kailash - Tarchen - Tsada - Seng Ge Tsangpo - Gertse - Tsochen - Lhatse - Shigatse - Lhasa

More Hiking Routes:
Grassland Relaxation
: 2 Days of South Gansu (Gannan) Grassland Relaxation