Code: TB31
South Gansu Grassland
For the self-drive route: the National Highway 213 will lead you to Luqu, Langmu Temple in Gahai Town.
There is no railway crossing
South Gansu
, and only National Highway 213 will traverse this province. Hezuo city is the capital of South Gansu and as an important hinge on the Sichuan-Tibet highway; lots of the coaches to
Lanzhou
,
Xiahe
and
Jiuzhaigou
will pass this small but stunning city.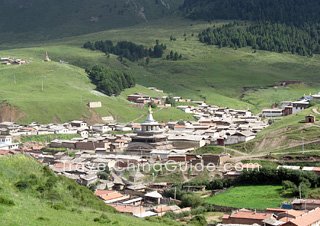 A panorama of Langmu Temple, Lanzhou
Summer is the best season for the grassland tour. On the first day, take a bus from the south bus terminal station in Hezuo (Telephone: 0941-8212422) to Luqu. Zecha Stone Forrest is a must-see sight there. This stone forest is special silica stone scenery, with star-studded weird rocks and odd summits in diversified forms. The notable highlight "Stone stretching sky" is so majestic and unique to attract numerous tourists. It is located in the Larenguan village, Luqu County.
The afternoon excursion is advised in Gahai, which is a natural migratory-birds reserve. It boasts for the largest number in most variety. Gahai Grassland is also one of the fertile grassland in Asia. It is situated in the Gahai Village Luqu County.
Langmu Temple, Lanzhou
On the second day, a visit to special Buddhist monastery Langmu Temple will show you Tibetan-style architecture. You will see Celestial Burial Platform. You can also enjoy the great fun of riding a horse and a hot-spring shower. The monastery is tranquil in usual, but when it is Jan 13th in the Tibetan-calendar, there will be a basking Buddha activity. This temple is golden colored roof and red wall, well ornamented. The location of Langmu Temple is even and flat, much grass and rare trees, clear sky and a little bit hot. This temple stands in Luqu County, which face to Geerdi temple, separated by Bailongjiang River. You might also stroll around the Luqu County to experience the plain folk custom. Most of the residents' houses are made of compact mud. A promenade along the riverbank of Bailongjiang River is also a stunning choice.
Tip: There are various kinds of typical Tibetan food in the South Gansu, such as the silverweed cinquefoil rice, the sausage, the hand-grasping meat, the glutinous rice cake, the yogurt, the Tibetan barley liquor, the tea with milk. Plenty of Sichuan restaurants scattered in Gannan as well, which will cater to some foreigners' appetite.
For the hotel accommodation in Hezuo city, the three-star Xiangbala Hotel is a recommended one, located in the People Avenue, the telephone number is 0941-8213222.

More Tibet Hiking Itineraries:
Discover Linxia and Xiahe
: 4 Days Visit of Linxia and Xiahe