Code: BC-LH04
China Nepal Friendship Highway
Tour Itinerary: 13 days Lhasa - Chushu (Qushui) - Kampala Pass (4794M) - Nakartse (Langkazi) - Kanola Glacier - Simila Mountain - Gyantse (Jiangzi) - Shigatse - Lhatse (Lazi) - Sakya - Thang La Pass - Old Tingri - Lunjang - Nam-La Pass - Zemukh village - Rongbuk Monastery - Everest Camp - Zhaxizong - Xiegeer ( New Tingri) - Shigatse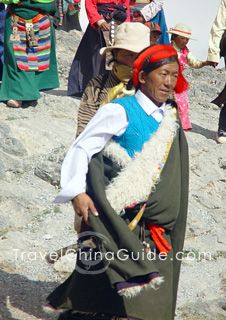 tibetan man
On the first day, head for Chushu (Qushui), about 63 kilometers. The initial path is flat and even, besides the Acute Mountain Sickness (AMS), you might ride at an average rate of 20 kilometers per hour. You can easily find a hostel in Chushu and have a good rest.

On the second day, overcome the severe challenge Kampala Pass (4794M). You need to climb up for 20 kilometers upgrading path while with 1000 meters altitude rising. Acute Mountain Sickness (AMS) feazes your body and will and the up slope path makes you particularly strenuous. Cross a toll station, and hand in ¥40.00 per person. You can see the magnificent Lake Yamdrok(Yamtso) from the peak of Mt. Kampala. Have a brief visit of this holy lake, and you will continue to ride for 12 highway keeper's house to lodge there.

On the third day, go through Nakartse (Langkazi) (4454m) for 20 kilometers and proceed to 18 highway keeper's house. It covers about 61 kilometers.

On the fourth day, go through Kanola Glacier (5042m), get over Simila Mountain (4368m) and reach Gyantse (Jiangzi), which is a small and interesting county. You can stay there and visit PelkorChode Kumbum (¥40.00) and Gyangtse Castle (¥30.00).
Pakor, Katmandu
The above route is the first part of China Nepal Friendship Highway with most breathtaking sight-seeing, you are suggested to ride from Lhasa to Gyantse for approximately 4 to 5 days to cover 251 kilometers.

On the fifth day, it is an easy and comfortable day. You will ride 96 kilometers on some gentle rising and falling trail and almost a day's flat route. Upon arrival in Shigatse, the second largest city in Tibet, you are suggested to have a full dinner and draw sufficient money with you, as fewer banks can be found in the following itinerary. You might visit famous Tashi Lunbu Monastery (¥55.00) and Shalu Monastery (¥40.00).

On the sixth day, you need to get up early and ride for about 158 kilometer to arrive in Lhatse (Lazi). It is a tiring day and also the longest day in the itinerary. If you are not energetic enough, you can also divide it into two days, and there is a small county on the way and you can board there.

On the seventh day, you are supposed to ride from Lhatse to Sakya for 74 kilometers. you might visit notable Sakya Monastery (¥45.00). Find a local hostel and stay overnight there.
Ruins of Guge Kingdom, Tsada
For the route from Shigatse to Sakya, you will get over Lagpa La Pass (5220m), the highest pass along the route. You might also meet terrible windy weather, combining with piercing sand and dirty dust together with up slope, thus professional equipment and well preparation is necessary.

On the eighth day, you are suggested to get over Thang La Pass (5200m), the second highest Pass, and reach Old Tingri.

On the twelfth day, you can ride from Everest Camp to Xiegeer ( New Tingri) via Zhaxizong.

On the thirteenth day, you might take a regular bus to return Shigatse and your memorable China Nepal Friendship Highway riding ends here.