Shigatse Shopping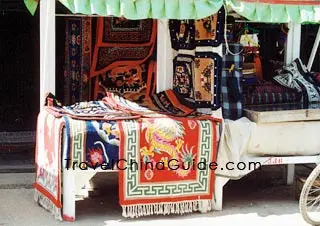 Rugs for sale
Shigatse is an excellent place to both see and purchase intriguing handcrafts. The traditional handcrafts representative of the Tibetan culture are favorite souvenirs for visitors.

There are many delicate handcrafts in Shigatse including: the Tibet knife, Tangkar, cushion and golden and silver wares. The Tibet knife is a necessity in a Tibetan's life. The steel-made knife is of great importance not only for its practical use in daily life but also for its artistic value. The most well-known of the Tibet knives come from Lhatse in Shigatse. The handle is often made of ox horn, ox bone or wood and some of the more exquisite ones are entwined with silver or copper filigree. The sheaths are typically covered with brass, white copper or silver carved with animals and plants. Some of the sheaths are even gilded or inlaid with jewelry.

A Tibet knife, to a certain degree is a symbol of Tibet and would make a wonderful keepsake of your trip. (Tips: knives are not permitted to be carried aboard a plane; even the consignment with luggage is prohibited. However, it is only possible to have your knife posted home.)

Thangka is a type of scroll painting done on damask or cloth and it is an excellent representation of Tibetan art. Featuring Buddhists, folktales and fables, Thangka is full of religious symbolism. Thangka are typically used as decorations, however they are collector's items as well. Another beautiful handcraft is the 'cushion' which is a type of Tibetan carpet. Cushions from Shigatse are the most well known for their design and color. There are various patterns like the traditional dragon, phoenix, sea, cloud and plants. With a size of 1.8 meters (6 inches) long and 0.9 meters (3 inches) wide, the cushions are usually sold in pairs and are a wonderful decoration for your house.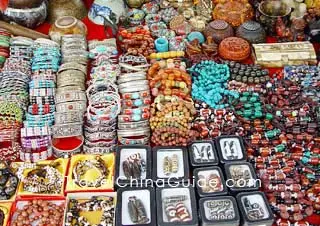 Tibetan adornments
The golden and silver wares have quite a long history in Shigatse area. These wares are famous both for their exquisite workmanship and unique design. Most of these wares are in the form of jewelry and ornaments like rings, earrings and necklaces. You may also find some household items including vessels like flagon, chopsticks and plates as well as some religious items like prayer wheels.

In the northern section of Shigatse City, there is a bazaar. Various goods for daily life are sold here and this is an excellent place to purchase supplies if your next destination is a distance away. If you want to buy handcrafts, the village of Zhaxijicai located in the southern part of Shigatse City is a good place to shop as the village is famous for its exquisite handicrafts. The Tibet knife, golden and silver wares, and jewelry are all available here.
- Last updated on Jun. 28, 2019 -