Shigatse Dining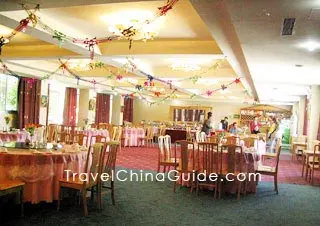 Shengkang Restaurant
Shigatse food, the typical Tibetan food, is similar to what you find in any area of Tibet. Tibetan food reflects the character of the people in this vast and remote area, simple and practical without any pretensions. It is simple because the material is mainly dairy products and beef and mutton; and practical because these foods are full of nutrition and calories so that they can provide enough energy. Because of the high elevation and cold weather in most areas, food with plenty energy is very necessary.

Tibet is a vast autonomous region with a small population. The distance between any two towns or settled areas is usually quite considerable. It is hard for people to get supplies during a trip. Thus foods that can be preserved and are convenient to carry are very popular, such as air-dried beef and mutton. Unlike the spicy Sichuan beef jerky, air-dried beef and air-dried mutton are left with their original taste without any added flavoring. They are quite chewy and reveal the beef or mutton flavor in the chewing. Tsampa (roasted barley flour mixed with butter) is another staple for people traveling long distances. It is made of roasted highland barley flour and homemade cheese. With plenty of calories and nutrition, the traditional tsampa is always popular in this area. And with the fragrance of barley and strong taste of Tibet butter, it is favored by more and more people. Actually, these are the daily foods of all families in Shigatse. You can also enjoy them in most of the restaurants there.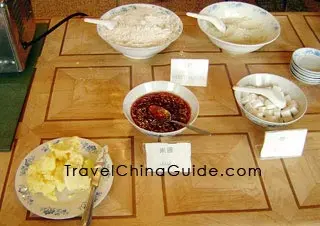 Tibetan seasonings
(jam, sugar, barly powder and butter)
The above mentioned foods are two of the 'Four Treasures' of Tibetan food, air-dried beef or mutton, tsampa, Tibet butter, and tea. It is said that tea is to Tibetan people is what water is to fish. The most common teas here are yak butter tea and sweet tea. They are the traditional drinks of this high land. Yak butter tea is made of Tibetan butter, tea and salt. First, you pour the boiled tea into a bucket; then add the butter and salt and keep churning to mix them properly. The tea is then ready. It has a strong smell of milk, and tastes quite special, with a salt and sweet flavor. In Tibet, it is the best substitute for fruit and vegetables because of its high vitamin content. Sweet Tea is much like the tea with milk in western countries. The materials are quite simple: black tea, milk and sugar. Depending on individual taste, you can also add coffee or butter. In Shigatse, tea houses are very common, and almost all of them serve butter tea and sweet tea. It is quite easy for you to try them anywhere.

In Shigatse, as in the rest of the high region, plentiful beef and mutton are the main foods of daily life, and they are served up in many different dishes. The most representative one is boiled mutton or beef, also known as mutton or beef eaten with hand. Actually, it is popular not only in Tibet, but also in Xinjiang and Ningxia. The mutton or beef is cut into chunks and boiled, without any spicy flavoring, and eaten with a sauce made of garlic, parsley, green onion and vinegar. It tastes quite wonderful and has a light flavor. In addition to the food and drink mentioned, there are many other treats there, like barley wine. It is made of the highland barley, usually with low alcohol content. It tastes sweet and slightly sour. Because it is light in alcohol, the wine is also preferred by children and women so that it is a must for festivals or banquet in this area.

Not everyone takes to the taste of Tibet food. Thus, nowadays in Shigatse, there are more and more Sichuan style restaurants. They serve Sichuan cuisine like hotpot and fried dishes. The price of dishes in these restaurants is very affordable, but maybe the taste can not be in a par with most restaurants in other modern cities in China. Most of the restaurants of Sichuan style as well as Tibetan style are located in Jiefang North. Road and Qomolangma Road.

The night market in the downtown is a wonderful place. It lies near the city bus station. Various tasty dishes are served here: hotpot, fried dishes and brochettes.

Tips: Local people do not eat the meat of donkey, dog or horse.



Recommended Restaurants:
Guo Ji Rou
Address: No.14, Qomolangma Road, Shigatse City
Yinlong Chinese Food Town
Address: No. 23, Shanghai Road (Middle), Shigatse City
Jinzuo Reataurant
Address: No.28, Gesanglakang, Shigatse City
Samzhubze Hotel
Address: No.2, Gonjolin Road, Shigatse City
Shigatse Hotel
Address: No.13, Jiefang Road (Middle), Shigatse City
- Last updated on Jul. 18, 2022 -