Shigatse Travel Tips

Fast Facts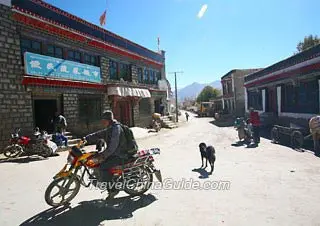 A Local Shop

Area: 3875 square kilometers (about 1496 square miles)

Population: 98,700

Area Code: 0892

Zip Code: 857000

Emergency Numbers:
Fire: 119
Police: 110
Ambulance: 120

Useful Numbers:
Local Number Inquiry: 114
Weather Forecast: 121
Foreign Tourism Administration: 0892-8822218
Public Security Office: 0892-8822241
Tourism Complaint: 0892-8990444

Banks:
Bank of China
Shigatse City Branch: No.17, Jiefang Road (Middle)
If you intend to travel in the area, you should plan to exchange any money you might need at the Bank of China in Shigatse for the next closest branch is quite far away.

Post Office:
The Shigatse post office is located at the southwest corner of the intersection of Qomolangma Road and Beijing Road.

Hospitals:
Shigatse People's Hospital
Address: No.5, Shanghai Road (Middle)

Shigatse Tibet Hospital
Address: No.3, Shanghai Road

Nightlife
Compared with modern coastal cities in China, Shigatse is still underdeveloped. As for nightlife, it is certainly not comparable to other big cities. Unlike the stores in other cities, most of the shops in Shigatse City are closed at 18:00. Thus, there are few places for you to pass your time at night. However, the night market in Jiefang Road (Middle) would be a good choice. It is quite a lively place. Various foods in different styles are served, like hotpot, fried dishes and brochettes. Your appetite can be well satisfied here.
Nightlife in Shigatse is getting more prosperous. Shops along streets are still busy at midnight. There are few places of entertainment: four mass art centers, two cinemas and some others. Shigatse is much attractive in its own folk arts. People there will spend four new year's days annually and the Tibetan New Year's Day is the grandest one. This is a charming place especially for its folk songs and dances. Tibetan opera also originated from this area. Compared with the modern entertainments, these must be better and wiser choices.
- Last updated on Apr. 06, 2021 -