Code: TB25
World's Highest Peak Trekking
Route: 4 days trekking of Old Tingri - Lunjang - Nam-La Pass - Zemukh village - Rongbuk Monastery - Everest Camp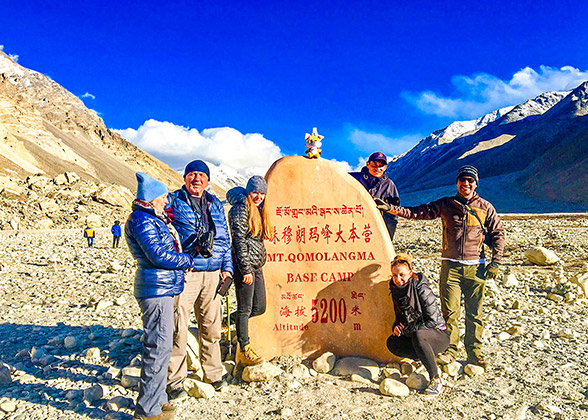 Mt. Everest hiking
Photo by our client Mr. Max Garrick

Overview: Trekking in the Everest region gives you the opportunity to fulfill a dream while taking in some of the best breathtaking scenery in the Himalayas with world's highest peak. However, a few people can realize their dream, and fewer can trek in the Everest region; fewest lucky people are able to enter in the Everest Camp. There are approximately 70 kilometers from Old Tingri to the Everest Camp. As there is seldom any village for lodging on the way, we kindly suggest you purchase a tent in Tingri for camp. We would like to suggest the following 4 days trekking tour, regarded as one of the best trekking route in Everest Region.

The trekking tour starts in Old Tingri, which is a small county. You are suggested to buy some food and water there. An arduous walking day about 4.5 kilometers and 4 hours of trekking is needed. You will pass through Lunjang as your head south towards Everest in the distance. The high flat plain typical of Tibet allows for gradual elevation gains during the day. A water-powered barley mill is passed along the way.
On the second day, the destination is Nam-La Pass, where the altitude is 5100m and you will need 6 hours for trekking. As you continue to up the valley, the Everest disappears behind the mountains and as the trail turns to the southeast and begins to climb to the pass. Camping at the beyond Nam- La.
Mt. Everest hiking
Photo by our client Mr. William C. Weinaug Jr
On the third day,continue to proceed along the way towards the main road by passing Zemukh village, connected with the main road and continue on to the
Rongbuk Monastery
; the admission fee is CNY35.00. With an altitude of 5,030 meters it is the highest monastery in the world. It is said that the Rongbuk Monastery had been built as early as the time of the Fifth Dalai Lama in 1902.
Mount Everest
, which stands 8,848 meters (29,021 ft) above sea level, is often referred to as 'the third pole on earth'. Stay overnight at Rongbuk Monastery.
After a good rest in Rongbuk Monastery, you will arrive in the Everest Camp (the admission fee is RMB180.00) on the fourth day. It takes 2 to 3 hours to covering 8 kilometers to the Everest Base Camp. Sightseeing the beautiful Mt.everest, back to the Rongbu monastery on foot. Stay overnight in the monastery.
Important note: Trekking Permits in Tibet There are two requirements for foreign tourist's tour in Tibet. One is the
Chinese Visa
, which you can apply for in
Chinese Embassy
in your place. Another is the
Alien' Travel Permit
, which issued by Tibet Tourism Bureau. There are no independent trek tours allowed in Tibet. You should join an organized group or have the local travel operator arrange a trek tour for you.

Recommended Tibet Itineraries with the Visit to Everest Camp:
Mt.Everest Challenging Tour
: 10 Days, Lhasa - Gyangtse - Shigatse - Dingri - the Everest Base Camp - Dingri - Shigatse - Lhasa

More Hiking Routes:
Tibet Tour:
Trekking along the Oracle Lake Lhamo Latso
Xining Outskirt Excursion
: to visit Dongguan Great Mosque, Ta'er Monstery
Tour in Meili Snow Mountain
: Travel to the border mountain of Yunnan and Tibet