Gold, Silver and Copper Crafts Factory and Gyangtse Carpet Factory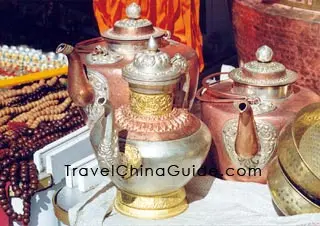 Gold, Silver and Copper Crafts
Located in Zhade Road in southern Shigatse City, Shigatse Gold, Silver and Copper Crafts Factory mainly produces gold and silver ware including over 100 kinds of images of Buddha, Buddhist pagoda, ewers, cups and bowls. In 1987, it is renamed Zhaxi Jicai Gold, Silver and Copper Crafts Factory. It largely produces articles of daily use, and processes ethnic ornament, religious use and tourist products.
Equipped with strong technical force and sophisticated technology, it has forging, carving and casting departments. Its products are of strong ethnic flavor, religious flavor and local flavor. The patterns they carve on the products such as hills, waters, plants, birds and beasts are vivid and exquisite. Visitors from home and abroad often attract by their simple design, graceful lines and elegant manner.
Gyangtse Carpet Factory
With their excellent practicability and imposing beauty, Tibetan carpets have become a world-class brand eponymous with those of Persia and Turkey as the three most famous carpets in the world. Gyangtse, located in the Shigatse Region of Tibet, wins the highest reputation for the quality of the carpets manufactured.
With over 600 years of carpet production history, Gyangtse is well-known as the 'Hometown of Rugs'. The Gyangtse Carpet Factory was originally built in 1973. In addition to carpets, it has produced more than 100 kinds of rugs for different uses, including cushions, mattresses, tapestries and backrests. Among these, rugs that are smaller than 18 square meters (21.5 sq yd.) are the most popular.
Made from the pure Tibetan wools that are especially thick, strong and resilient, the heat-preserving, waterproof and durable carpets are a necessity for the cold plateau climate there. They are very delicately made and always feel soft to touch. The color is gorgeous and does not easily fade. The patterns and flowers are especially beautiful. The traditional designs mainly replicate the murals in temples, including dragons, phoenixes, flowers, grasses, birds, animals and landscape pictures. Recently, embroideries of some great projects such as the
Potala Palace
,
Mount Everest
and
Great Wall of China
have been added. So it is no wonder many of them are collected and displayed as curios.
One brand of Tibetan Carpet produced by the Gyangtse Carpet Factory has become Tibet's second winner of the 'Chinese Brand' award after Lhasa's Beer and the factory has been appointed as the national key enterprise for carpet exports.
- Last updated on Apr. 08, 2021 -
Questions & Answers on Gold, Silver and Copper Crafts Factory and Gyangtse Carpet Factory
Asked by Mr.Jon from USA | Nov. 27, 2008 03:35

Reply
By the way, remember to bargin with the local vendors!
Answers (3)
Answered by Mr.Rick Butler from NEW ZEALAND | Nov. 27, 2008 04:01

1

0

Reply
Can the sellers speak English? Without a local guide, I think the communication will be in trouble.
Answered by Mr.Jon from USA | Nov. 27, 2008 04:03

0

0

Reply
Some of them can speak English, but with strong local dialect, I think you'd better learn some simple Chinese to help.
Answered by Just Trying to Help | Dec. 31, 2011 21:19

0

0

Reply
They don't speak Chinese very well in Tibet. They speak Tibetan. Best to have a trusted Tibetan guide do your bargaining or you may come away with a piece that is not what you thought it was.
Asked by Mrs.GL | Nov. 27, 2008 03:13

Reply
Very beautiful vessels. How much does it cost? I mean the approximate value.
Answers (1)
Answered by Mr.Xupeng from CHINA | Nov. 27, 2008 04:05

0

2

Reply
I can not tell you the detailed information of these silver vessels, as it all depends on what size you will buy and the level of crafts.