China Railway Infrastructures
China railway infrastructures include railway tracks the train running on, bridges and tunnels the tracks traversing through, train stations passengers getting on and off, and trains accommodating passengers.
Thanks to years' construction on the vast and complex terrain, China has acquired advanced technologies of building railway infrastructures, and has finished many world-famous projects like
Tibet Railway
, bullet trains as fast as 605 km/h (
376mph)
, and Danyang - Kunshan railway bridge with a length of about 160 km (100 mi).
Railway Lines
By then end of 2022, there have been more than 155,000 km (96,300 mi) of rail track in operation in China, among which over
42,000 km (26,100 mi)
are high speed lines. Most lines adopt the standard specification on the track gauge, 1,435 millimeters (4 feet 7 inches) width, which is used by word's 60 percent countries. This specification unification is good for normalized operation of the whole rail system on this planet.

Further Reading:
China Railway Network
High Speed Rail Network
| | |
| --- | --- |
| Rail Tracks | Platform of Shanghai Station |
Trains
Generally speaking, there are two types of trains running on China's rail lines; high-speed and ordinary. The high-speed trains, prefixed with C/D/G are usually in white or silver; while the ordinary trains,, prefixed with Z/T/K/L/Y/S or only numbered with digits, are usually in blue, red or green with a little white or yellow. However, all ordinary trains will be gradually painted into dark green, with a light yellow strip crossed in the middle. Most of them are powered by electricity; only a few are dragged by
diesel locomotive; and the steam locomotives can hardly be seen.

Further Reading:
China Train Types
Bridges, Tunnels and Ferries
Due to the diverse landform in China, the bridges, tunnels and ferries are massively utilized in the railway construction, especially in the terrain such as rivers, valleys and straits.

Bridges
By far, there are over 47,000 railway bridges open to the traffic in China; and about 900 of them are long span ones (It is regulated that bridges over 546 yards, 500 meters, long can be regarded as long span bridges). Among them, the longest is the Danyang-Kunshan Bridge, served as a section of
Beijing-Shanghai High Speed Railway
, with a total length of 165 km (
102 mi)
.

Tunnels
There are three kinds of tunnels applied in the rail work construction, including through-mountain, through sea and river, and city underground tunnels; among which the mountain tunnels occupy the most proportion. Most tunnel projects are clustered in Sichuan, Shaanxi, Yunnan and Guizhou Provinces. The tunnels in the Chengdu-Kunming line are about 342 km (
212 mi)
, occupying 31.6 percent of the total length of the line. Another tunnel along Xiangyang-Chongqing line, with a length of 282 km (
175 mi)
, takes up 34.3 percent of the total length. According to recent statistics, there are about 6,102 tunnels in total in China mainland. For now,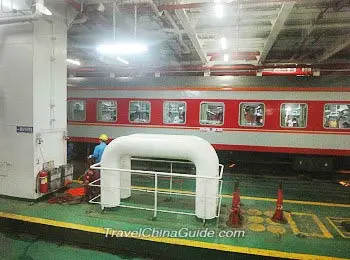 Yuehai Railway Ferry
the longest one is the Xinguanjiao Tunnel along Tibet Railway with a length of 32.6 km (
20 mi
); the West Qingling Tunnel along Lanzhou-Chongqing line takes the second place with a length of 28.2 km (
17.5 mi)
.

Ferries
To be simple, the ferry railroad refers to track constructed on ships which can accommodate trains to go across the rivers and straits. There is one most well-known cross-sea ferry line in China, the
Yuehai Railway
over Qiongzhou Strait. There will be also another cross-sea line through Bohai Sea Strait in the near futuere. In addition, there are densely covered rivers that blocked the rail work construction, so the river ferry rail begins to emerge. The notable one is the Jiangyin Ferry railroad over the Yangtze River with a length of 6 km (
3.7 mi)
linking Jingjiang to Jiangyin. It is the only ferry line in operation in
Yangtze River
.
- Last updated on Jan. 12, 2023 by Brenda Lian -
Questions & Answers on China Railway Infrastructures
Asked by Daryl from SINGAPORE | Dec. 02, 2016 08:37

Reply
Left baggage counter at Jiashan South Station
Is there any left baggage counter at Jiashan South express train station? Or other options nearby?
Answers (1)
Answered by AKIYANTO | Dec. 03, 2016 00:24

0

0

Reply
Every station has luggage left counter.
Asked by Martin Parker from UNITED KINGDOM | Aug. 09, 2016 03:40

Reply
Does the Chengdu Shanghai train stop at Ensi?
Answers (2)
Answered by Franco | Aug. 09, 2016 04:43

1

0

Reply
The high speed D tyoes stop at Enshi, normal rides do not have stop there.
Answered by Martin Parker from UNITED KINGDOM | Aug. 09, 2016 16:45

0

0

Reply
From Enshi was looking to go to Fengjia and Badong do you know this area and is it possible to jump on and off boats, don't want to do the big cruise boats, are there other boats besides the Hydrofoil?

Asked by Aarif Aarmani from UK | Mar. 18, 2016 08:54

Reply
How can I contact the head of China Railways?
Dear there,
Hi, I am interested in railways. I would like to know if Kashi in the West is connected with Beijing by high speed rail?
Thank you.
Aarif Aarmani
arif.armani

ymail.com
+447955861371
Answers (1)
Answered by Mr. Kevin from SINGAPORE | Mar. 20, 2016 01:18

0

1

Reply
Hi, guy! No direct rail between Kashi and Beijing. You could take a stop at Urumqi station.