China Steam Train
Steam trains are first-generation trains. Pulled by steam locomotives, they began running in China in 1876. In the latter half of 20th century, China was one of the few countries widely making and using steam engines in railway transport. With the development of new technologies, diesel and electric ones have gradually replaced the steam locomotives.

Does China still use steam locomotives? The answer is "Yes" but the number is very small. They are running short routes in mountainous southwest Sichuan and transporting coal in Sandaoling Coal Mine in Xinjiang. Some of the retired ones are exhibited in museums for the fans. There are also some Chinese steam locomotives in America for sightseeing purpose.
| | |
| --- | --- |
| | Wheels of A Steam Train |
They started running in 1958 to transport coal and supplies for coal miners. After the coal mine was closed, they were saved to serve residents living along the railway line. Recently they have become popular among tourists and a special sightseeing type has been put into operation. To enjoy a ride, one needs to go to Qianwei County, Leshan City, Sichuan Province.
Where else to see steam trains in China
In addition to the mountainous southwest Sichuan, the only other places allowed to appreciate the steam locomotives are museums. Below is a list of major ones:

Address: The museum has three branches. The steam locomotives are mainly exhibited in eastern suburbs branch on North Jiuxianqiao Road, Chaoyang District.


How to get there:
1. Take bus 403, 516 or 629 to the Huanxing Tiedao Stop, walk over the railway bridge, turn left and walk northward for about 1,000 yards (910 meters);
2. Or take bus 402, 418, 688, 973, or 851 to Nangao or Nangao West, walk westward and turn left at the first T-junction, then walk southward for about 500 yards (460 meters) and you will see it.

Shanghai Railway Museum

Address: No. 200, East Tianmu Road, Zhaibei District


How to get there:
1. Take subway line 3 or line 4 to Baoshan Road, then walk about 7 minutes along Baoshan Road and East Tianmu Road to get there;
2. Or take bus 13, 302, 318, 329, 502, 537 or 952 to East Tianmu Road North Shanxi Road, then walk westward for about 100 yards to get there;
3. Or take bus 18, 63, 308, 319 or 948 to East Tianmu Road North Zhejiang Road, then walk eastward for about 100 yards.

Qingdao-Jinan Railway Museum, Jinan

Address: East Section of Jingyi Road. It's to the south of Jinan Railway Station.


How to get there: Take bus 3, 9, 11, 18, 21, 34, 43, 78, 83, 84, BRT-5, K51, K90, K98, K156 or K302 to Jinan Railway Station and then walk there.

Yunnan Railway Museum, Kunming

Address: No. 913, Beijing Road. It's by the Kunming North Railway Station.


How to get there: take subway line 2 to get there; or take bus 3, 9, 23, 61, 70, 71, 85, 103, 105, 236, 919A to get there.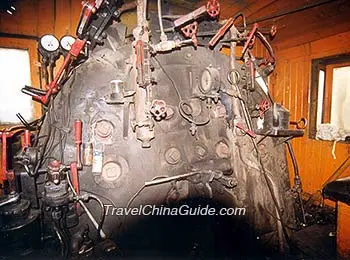 Steam Train Boiler
Hong Kong Railway Museum

Address: No.13, Shung Tak Street, Tai Po Market, Tai Po


How to get there: take MTR East Rail Line to Tai Po Market Station, then change to bus 25K to get there; or take bus 72, 72X, 73X, 74X, 75X or 271 to get there.

How steam locomotives work
A steam locomotive usually consists of a boiler, a steam engine and wheels. The boiler converts the fuel, usually coal, to produce heat and boil the water to make steam. The steam enters the engine, expands and moves the reciprocating piston. The reciprocating piston is connected with the wheels and the movement of the piston propels the carriages.
- Last updated on Apr. 08, 2022 -
Questions & Answers on China Steam Train
Asked by MilanoLarry from MILANOLAND | May. 25, 2018 06:16

Reply
There is no steam locomotives in HK Railway Museum
Don't waste your time going there. It is a very small museum with not much to see.
Answers (1)
Answered by Laura | May. 26, 2018 01:31

0

0

Reply
Oh, thanks for your information.