Jiayang Steam Train
Apart from getting to destination B from A, train travel in China can be really unique and interesting. In the remote mountainous area of Jiayang Mining Region, Leshan, Sichuan Province, visitors have a chance to do a time-traveling trip by an old-fashioned steam train.

The steam engine, the greatest invention of the 18th century, has, for many, already been replaced by advanced motive power machine. While steam engines have faded away from people's memory, the Jiayang Steam Train is still in normal operation. It was used to deliver supplies and coal for the Jiayang Coal Mine in the last century. After the coal mine was closed, it became an important transportation means for residents along its route and also became integrated into their daily life.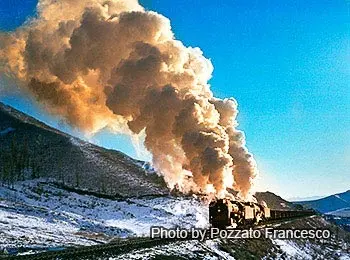 It runs 19.84 km (12.33 miles) from Shixi to Huangcun Mine station with 8 intermediate stops, which are Yuejin, Bee Rock (mi feng yan), Rape Flower Dam (cai zi ba), Fairy's Foot (xian ren jiao), Jiao Dam (jiao ba), and Plantain Ravine Town (ba jiao gou) stations. Moving or stopping are all commanded by the signals of whistle and flags. Each carriage is also installed with a manual break. Even telephones in stations are the outdated hand style. The railroad, only 762 mm wide, about half of the standard rail gauge (1,435 mm wide), traverses through the mountainous region and connects the villages along its route. Young students take the first train for school and get back home by the last one. When it's time to go to market or a fair, carriages are always filled with villagers, food, young piglets, poultry, and even cattle.
Types and Carriages
When more people learn about Jiayang, visitors come to experience the time-honored vehicle, so special sightseeing type is put into operation:
Common Passenger Type
There are three passenger trains every day. The small and shabby carriages rock severely and are always crowded, and you can not even find a place to stand in peak time. The carriage is dark and narrow, only 4 meters long and 2 meters wide. Passengers sit on two simple wooden boards by the window. There is no glass in the windows, so the carriages are noisy and full of ashes produced by the steam engine. If you really wish to experience this type, try not to go there on national holidays, weekends or the local market-day (the 1st, 4th and 7th day of each month). The ticket is not sold at the ticket office, but purchased after you get into the carriage. The price is CNY 1 per person for one stop, and CNY 5 per single trip (round-trip ticket is unavailable). It runs from Shixi to Huangcun Mine and stops at each station for only two to three minutes.
Sightseeing Type
A special sightseeing type has common and luxury carriages, both of which are comfortable and runs smoothly and quietly. It stops at attractions for sightseeing. The common sightseeing carriages are purplish red with wooden benches and tables, as well as wooden ceiling and floor. Each carriage has 21 to 37 seats. Luxury carriages are blue with modern facilities such as LED TV, stereo, air-conditioner, and LED lights, as well as wooden tables and benches with 37 seats. It runs from Yuejin to Huangcun Mine station at 10:30 daily and 13:00 at weekends and holidays, and stops at each station for sightseeing for about five to ten minutes.
Common sightseeing carriages are also joined to passenger trains and only stop at each station for two to three minutes, but the ticket is much cheaper than that of the special sightseeing type.
Prices
Tourist Project

One Station

Single Way

Round Trip

Special Sightseeing Type (including Chinese Tour Guide)

CNY 20

CNY 50

CNY 100

Carriages on 13:00 passenger train with Chinese Tour Guide

CNY 10

CNY 30

CNY 50

On 07:00 and 17:00 passenger Trains

CNY 10

CNY 10

CNY 20

Short Trip from Yuejin to Bee Rock

CNY 40 for a round trip (only available during holidays and festivals)

Type and Coal Mine Experience

CNY 150 (CNY 30 for children under 1.3 meters)
Time Table
Passenger Trains

First

Second (weekdays)

Last

Stations

Go↓

Return↑

Go↓

Return↑

Go↓

Return↑

Shixi

06:45

09:20

12:45

15:20

16:45

19:20

Yuejin

07:00

09:05

13:00

15:05

17:00

19:05

Bee Rock

07:17

08:48

13:17

14:48

17:17

18:48

Rape Flower Dam

07:32

08:33

13:32

14:33

17:32

18:33

Fairy's Foot

07:42

08:23

13:42

14:23

17:42

18:23

Jiao Dam

07:50

08:15

13:50

14:15

17:50

18:15

Plantain Ravine Town

07:55

08:10

13:55

14:10

17:55

18:10

Huangcun Mine

08:00

08:05

14:00

14:05

18:00

18:05
Sightseeing Trains

10:30

13:00 (weekends & holidays)

Stations

Go↓

Return↑

Go↓

Return↑

Shixi

Yuejin

15:30

Bee Rock

15:13

Rape Flower Dam

14:58

Fairy's Foot

14:48

Jiao Dam

14:40

Plantain Ravine Town

12:05

Huangcun Mine
Note:
1. The special sightseeing type departs from Yuejin Station; the vehicle for common passengers departs from Shixi station and adds sightseeing carriages at Yuejin station, so visitors should go to Yuejin station to buy sightseeing tickets.
2. There is one special sightseeing type runs daily at 10:30 from Yuejin station. It only stops at sightseeing spots where visitors can watch the engine produce steam. It takes about 2.5 hours for a round trip.
3. The second passenger train runs during weekdays and but not at weekends and holidays, instead, a special sightseeing type runs.

Attractions and Recommended Itineraries
Yuejin Station: The station is the terminal of Jiayang railway and also the site of one of mines of the Jiayang Coal Mine Company. There you can experience the unique mine culture and visit the nearby attractions, including a Russian Style Passenger Center, Jiayang National Mine Park Square, and Guanyin Stream Garden.
Liang Shui Tuo: It is a sightseeing spot along the railroad. Visitors will get off and go to a special platform to see the engine producing steam. On sunny days, you can also see beautiful rainbows.
Bee Rock: The rail at Bee Rock is smartly designed into huge herringbone shape for the vehicle to change its direction. At the outdoor engine museum there are exhibits of photos and old engines. It is also a hot movie set.
Eagle Beak: It is the most dangerous spot along the railroad.
Rape Flower Dam: In spring, rape flowers yellow the fields here, hence the name Rape Flower Dam. The rail traverses the fields and bends into a huge "C" shape, this old industrial product perfectly integrates into the idyllic terraces. Rape Flower Dam is not a sightseeing spot, but every year during the flower festival in March and April, visitors will stop for sightseeing.
Plantain Ravine Town: The old town was the mining area from the 1930s to the 1980s, where are many old buildings and sites, including Jiayang National Mine Museum, Zhongfuchang Old Street, Russian style residential houses, and English style loft.
Huangcun Mine: It was the extension pit of No.1 pit in Jiayang Coal Mine, where thousands of tons of coal were excavated here from the 1930s to the 1980s. Now it becomes an attraction for visitors to experience the working conditions and environment of miners.
Recommended Itineraries
1. One-day sightseeing trip: Taking 2 – 3 hours, this trip is good for the visitors who have limited time.
2. Two-day trip: Take the 10:30 sightseeing train to Huangcun Mine and visit Plantain Ravine Town in the afternoon and stay overnight there.
Travel Tips
1. You are advised not to go at weekends and holidays. If you wish to experience the common passenger train, you'd better not go on the local market days which are on the 1st, 4th, and 7th day of each month.
2. There are limited seats and spaces in the carriages, so you may not able to buy the ticket when you are there.
3. Wear your sunglasses and hat to protect you from the ashes.
4. For photographers, Plantain Ravine Town, Rape Flower Dam, Bee Rock, and Eagle Beak are all perfect spots to take pictures. Late February to early April is the best time as the fields are covered with colorful flowers. Although the sightseeing carriage is comfortable, common passenger type is better for photography works.
Transportation
From
Chengdu
: There is one daily direct bus from Chengdu Chadianzi Long-distance Bus Station to Jiayang mine area departing at 09:00. The bus trip takes about 3.5 hours and costs CNY 70 per person. If you miss the bus, you can also go to Shiyangchang bus station to take the regular bus to Jianwei County, and then connect with the bus to Jiayang (the locals call it Sanjing). The bus to Jianwei runs every 25 minutes between 07:40 and 17:25, and the bus trip takes 2.5 hours and costs CNY 65 per person. The bus from Jianwei to Jiayang runs every few minutes between 06:30 and 18:30, and the bus trip takes 45 minutes and costs CNY 4.5 per person.
From Leshan: There is a direct bus from Leshan to Jiayang leaving from Leshan Lianyun Bus Station at 14:30, and the bus fare is CNY 18.5. Regular buses from Lianyun Bus Station to Jianwei are also available, which depart every 10 minutes from 06:30 to 18:15. The bus reaches Jianwei in 1 hour, costing CNY 16.5. You can then catch a bus to Jiayang after arrival in Jianwei.
There are also regular buses from
Chongqing
and
Yibin
to Jianwei County, taking 5.5 and 1.5 hours respectively.
You can also drive your own car to Jiayang, and it takes about 3.5 hours from Chengdu, 5 hours from Chongqing, and 1.5 hours from Leshan.
Accommodation
There are some clean and nice hotels and hostels in Jiayang mining area, but you are advised to make early reservations if you go there at weekends, holidays and flower festivals. The room rate is about CNY 100 for a standard room.
Restaurants can be found in the attractions, and the Dongfanghong Restaurant in Plantain Ravine Town is recommended by many visitors. There are also farmhouse restaurants at each station, where you can have a taste of authentic local food.
- Last modified on Jan. 11, 2021 -
Questions & Answers on Jiayang Steam Train
Asked by jealgu from NETHERLANDS | Jul. 29, 2015 08:09

Reply
chinese names
I am hoping to visit jiayang somewhere next week. I am currently travelling in china with close to no mandarin skills. Can anyone provide me with the names of relevant places (qianwei, shixi, yuejin, plantine Ravine town, Jiayang) in chinese characters? That way I can point where I want to go, otherwise I do not know how to manage to get there (a car for the day is not in my budget).


Answers (1)
Answered by Kate | Jul. 29, 2015 20:46

2

0

Reply
In Chinese, Qianwei is "犍为". Shixi equals to "石溪". Yuejin is "跃进", plantine Ravine town means "芭沟镇" and "嘉阳" if for Jiayang.
Asked by Michelle Smith from AUSTRALIA | Jun. 29, 2013 01:18

Reply
Jiayang Steam Train
Are there day trips from Chengdu to the Jiayang Steam Train? Thank you
Answers (1)
Answered by Edward from USA | Jun. 29, 2013 03:36

0

0

Reply
I ever saw this kind of train on the Internet. It seems interesting. But i don't know where to ask for help.