Lhasa Gonggar Airport

Airport Code: LXA

Location: It is located in Gonggar County, Shannan Region, Tibet, about 98 kilometers (about 61 miles) south of Lhasa, at the south bank of the grand Yarlong Tsangpo (Brahmaputra) River.

Brief intro: Lhasa Gonggar Airport is one of the civil airports with the highest altitude (about 11,811 feet) in the world. As Damxung Airport was completed in 1956, Tibet, former forbidden zone for airway, was opened to the world. In 1965, Lhasa terminal station was established and Beijing – Chengdu – Lhasa flight first unveiled the mysterious 'third pole of the earth'.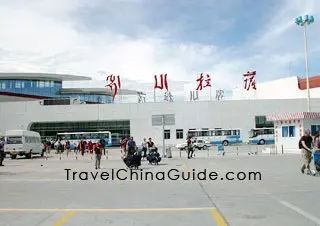 Lhasa Gonggar Airport
It has a 4,000-meter (about 4,374 yards) long airstrip, being the longest runway in China, which can handle many large types of big aircrafts landing and taking-off. After the renovation finished in 2004, newly expanded parking apron allows five A340 or seven Boeing 757 aircrafts. Domestic airlines using the airport can operate flights to Beijing, Chengdu, Shanghai, Guangzhou, Hong Kong, Chongqing, Xian, Xining, Kunming, Diqing and Chamdo Region. One international airline connects Katmandu and Lhasa. There are more than 40 flights a week and total passengers reach over 700,000, which is expected to be 1,100,000 in 2010 (enable to handle 1,300 passengers to check in per hour in rush period).

Facilities
The total area (containing old and new terminal building) reaches 25,000 square meters (about 6.2 acres). The hall for seeing off passengers is in the first floor of the new terminal building, together with the ticket office, sortation office of baggage and departure lounge for long haul flights. Departure lounge and shops can be found in the second floor. Four loading bridge will lead passengers here to their airplane.

Service Number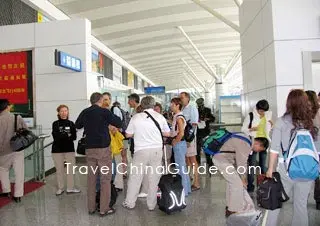 Airport inquiries phone: 0891-6182220

Transportation to Urban Lhasa
Once there is a flight, there will be shuttle buses waiting at the airport. Thanks for the bridge and tunnel construction on the way from Gonggar airport to downtown, it only take 40 to 60 minutes to shuttle between them.

Chamdo Bangda Airport

It is the first lateral airport in Tibet, and meanwhile, has the highest altitude and longest runway in the world. It was start to be built in 1993 and finished in October, 1994. Standing 4,334 meters (about 14,219 feet) above the sea level, the planes need a long runway to overcome difficulties brought by thin air. Wind with sand, hail, thunder storm and snow storm are also great challenge. At present, there are two airlines and five flights a week to Lhasa and Chengdu.

Nyingchi Milin Airport

Nyingchi Prefecture is regarded as the fertile land with mild climate in Tibet with nearly half of its land
area is covered by luxury forest, which is one of the largest virgin forests in China. Two nature reserves are built there. Completed in 2006, the airport can be one in forest, facing the convergence area of Yarlong Tsangpo and Niyang River in the north and backing mountains and trees in the west and east.

With an altitude of nearly 3,000 meters (about 9,843 feet), Nyingchi Airport has an advantaged position. It is 400 kilometers (about 249 miles) from Lhasa and only 120 kilometers (about 75 miles) from the mysterious Yarlong Tsangpo Canyon. It is a convenient air station for traveling in Tibet, because it is closer to Lhasa (compared with Bangda Airport) and without flight delay due to seasonal wind blowing with sand in Lhasa Gonggar Airport. Because of the complicated in geography and unsettled weather, aircrafts only landing and set off at forenoon and only 100 days of a year is suitable for navigation. At present, there are only about seven direct flights a week between Nyingchi and Chengdu.