Lhasa Gonggar Airport
Airport Code: LXA
Location:
It is located in Gonggar County, Shannan Region, Tibet, about 62 kilometers (38.5 miles) south of Lhasa, at the south bank of the grand
Yarlong Tsangpo (Brahmaputra) River
.
Brief intro:
The total area (containing old and new terminal building) reaches about 25,000 square meters (6.2 acres). The hall for seeing off passengers is on the first floor of the new terminal building, together with the ticket office, sortation office of baggage and departure lounge for long haul flights. Departure lounge and shops can be found on the second floor. Four loading bridges will lead passengers here to their airplane.
Lhasa Gonggar Airport is one of the civil airports with the highest altitude (about 3,600 meters) in the world. As Damxung Airport was completed in 1956, Tibet, former forbidden zone for airway, was opened to the world. In 1965, Lhasa terminal station was established and Beijing – Chengdu – Lhasa flight first unveiled the mysterious 'third pole of the earth'.
Airlines
Air China (CA), China Southern Airlines (CZ), China Eastern Airlines (MU), Sichuan Airlines (3U), Tibet Airlines (TV), West Air (PN), Xiamen Airlines (MF), Lucky Air (8L)
Lhasa Flights
At present, the airport operates 40 more air routes every week to both domestic and international cities. Hereinafter is the list: (listed in alphabetical order)

Domestic Cities: Beijing, Chamdo, Changsha, Chengdu, Chongqing, Dazhou, Diqing, Fuzhou, Golmud, Guangzhou, Guiyang, Hangzhou, Kangding, Kunming, Lanzhou, Lijiang, Mianyang, Nanchong, Nanjing, Nanning, Ngari, Nyingchi, Qingdao, Shanghai, Shenzhen, Taiyuan, Tianjin, Xiahe, Xiamen, Xian, Xining, Yushu, Zhengzhou

International City: Kathmandu
Transportation

Shuttle Bus
Passengers can take airport shuttle bus to the downtown area from the airport. The buses are catchable between 05:40 and 14:30 every 30 minutes. The duration is about an hour. The ticket price is CNY 30 per person. The hotline is +86 0891-6827727.
In addition, it takes CNY100 to travel between the airport and Shigatse by shuttle bus; it takes CNY50 to travel between the airport and Shannan.

How to get to
Polata Palace
from Gonggar Airport

Airport Shuttle Bus
Take airport shuttle bus to Civil Aviation Ticket Office first, and then walk about 5 minutes to Polata Palace.

Taxi
Passengers can take a taxi from the airport to Potala Palace. It takes about 45 minutes and costs CNY 130-150 per person.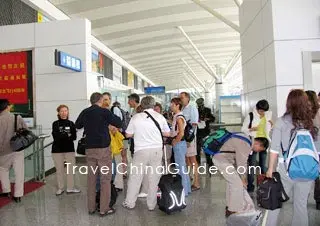 Chartered Bus
Passengers can also go to the Polata Palace by chartered bus. It may cost around CNY 250. The chartered bus can usually accommodate 4 passengers.
Facilities and Services

Cell phone Charging Stations: Travelers can find the cell charging stations on the second floor of terminal building.

VIP Room: VIP room is provided on the second floor of terminal building. TVs, computers, and free drink are available there.
Service Number
Airport Inquiry: +86 0891-6182220