Lhasa Transportation
Air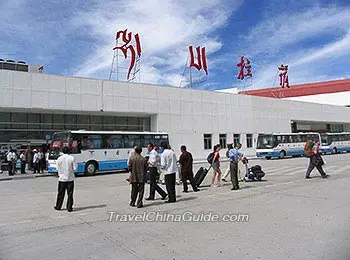 Lhasa Gonggar Airport
To get to Lhasa, most foreign visitors arrive by plane. Chengdu, Beijing, Xi'an, Chongqing and Xining are all the starting points. Visitors usually start from Chengdu in Sichuan, because Chengdu has about 20 flights per week to the Gonggar Airport of Lhasa which takes about 2 hours and costs about CNY 1,500. Now, there is also a daily flight from Beijing to Lhasa (about CNY 2,430). The flights from Chongqing (about CNY 1,630) have been readjusted to more than 20 flights every week. It is also possible to go from Xining (about CNY 1,610) and Xi'an (about CNY 1,650). With about 18 flights every week in Xi'an, taking the plane is more convenient for visitors. Also, several flights from Guangzhou (about CNY 2,500) in Guangdong Province and the direct flight from Lanzhou (about CNY 1,560) in Gansu Province are available now. Visitors in Nepal may fly here from Katmandu.

There are four airports in Tibet, Gonggar Airport of Lhasa, Bangda Airport of Chamdo, Mainling Airport of Nyingchi and Gunsa Airport of Ngari. Gonggar Airport is located in Gonggar County, about 65 kilometers (40.3 miles) south of Lhasa city. It takes about 1 hour and 10 minutes and costs approximately CNY 25 by shuttle bus to downtown area. If you have about 3-4 persons a taxi may be considered, about CNY 150 is a reasonable price.

Long-distance Bus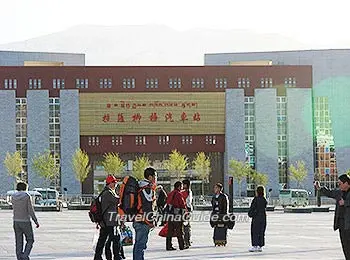 Lhasa Bus Station
Five highways stretching into the mysterious high land include Sichuan-Tibet Highway, Qinghai-Tibet Highway, Xinjiang-Tibet Highway, Yunnan-Tibet Highway and China-Nepal Highway. Only Qinghai-Tibet and China-Nepal Highway are open to foreigners at present. Qinghai-Tibet Highway starts from Golmud of Qinghai; it is 1,160 kilometers (720 miles) long and averages at 4,000 meters (13,120 feet) high. It runs along the Kunlun Mountains and vast grasslands which amaze people by their natural beauty. The China-Nepal Highway is another main road often used. It stretches for 900 kilometers (558 miles) from Kathmandu to Lhasa. The condition of most roads is so bad that visitors are advised to take Land Cruisers.



For specific information, please click Tibet Transportation.

Train
Going to Lhasa by train is another choice. The first section of the
Tibet Railway
between Xining Railway Station and Golmud Railway Station was put into use in 1984. The second section between Golmud Railway Station and
Lhasa Railway Station
began to operate on the 1st of July, 2006. With a total length of 1,956 km (around 1,215 miles), Tibet Railway is the longest plateau railway and also the highest in the world. Trains on the railway are well equipped. Signs inside the carriage are written in both Tibetan and Chinese Han language. Oxygen respirators are available too.
At present, there are seven trains between Lhasa and Guangzhou, Shanghai, Beijing, Lanzhou, Xining, Chongqing and Chengdu. They pass through many big cities and special sightseeing lines are opened via Qinghai Lake, Kunlun Mountains, Kekexili, the Three Rivers Resource Area, Northern Tibetan Grassland, Potala Palace and other famous sights in the plateau.

Major rail lines from Lhasa to:
| | |
| --- | --- |
| Lhasa Train Station | Entrance of Lhasa Railway Station |
Minibus
A minibus is the main form of transport in Lhasa. It is a quick and convenient way to get across town. Visitors can easily find minibuses around Beijing Road and they operate a fixed charge of CNY 2 per person. Generally the bus starts operation late in the morning and stops early at night due to the temperatures.
Bus No. 1 and 2 goes through the Norbulingka to the coach station.
Bus No. 3 and 5 run to the Drepung Monastery.
Bus No. 4 runs to the Sera Monastery.
Bus No. 91 runs between the city center and the Railway Station. Eight more public buses including No. 82 and 83 were open in 2007.
Taxi
It is easy to hail a taxi on the street in the city. Usually, it only costs CNY10-15 to travel in town by taxi.
| | |
| --- | --- |
| Flag-down Rate for First 3km (2mi) | CNY10 |
| Fare between 3-8km (2-5mi) | CNY2/km |
| Fare between 8-11km (5-7mi) | CNY1/km |
| Fare beyond 11km (7mi) | CNY1 per 500m (550yd) |
Reference Taxi Fare:
To Drepung Monastery: around CNY20
To Jokhang Temple: around CNY30
To Sera Monastery: around CNY30

Pedicab
Pedicabs are unique vehicles to get around downtown. A pedicab can carry two people and generally costs RMB 4 to 7. It is a more time-consuming journey than traveling by minibus but is an interesting and popular way to see downtown area.
Bicycle
If your schedule and health permit, riding a bike is another pleasurable way to look around the city. Bikes can be rented from many hostels along Barkhor Street. Generally, the rental for an ordinary bike is RMB 2 per hour and RMB 20 per day; for a mountain bike it is RMB 3 per hour and RMB 30 per day.

Further Reading:
How to Travel between Beijing and Lhasa
- Last updated on Jul. 18, 2022 -
Questions & Answers on Lhasa Transportation
Asked by F.M. | May. 26, 2016 11:41

Reply
Landscapes along the way to Lhasa
Hi. I've heard that there are great landscapes in the way to there from Xining by train. I would like to know if it would be better to catch the train from Xining in the evening or in the morning, so I can enjoy the best landscapes during the trip.
Thanks.
Answers (2)
Answered by Jenny from USA | May. 27, 2016 01:56

1

0

Reply
To enjoy the best landscapes, you are advised to take the train departing the evening. There are two departures at night. The trip takes about 21 to 22 hours.
As I know, foreigners must obtain Tibet Travel Permit to visit the area. Also, they need to join a tour and they cannot visit alone. I happen to know that TravelChinaGuide can organize such tours. You can contact them through tours

travelchinaguide.com. Have fun!
Answered by F.M. | May. 27, 2016 05:03

0

0

Reply
Thank you Jenny.
Asked by marti from SOUTH AFRICA | May. 21, 2016 11:36

Reply
i would like to go to tibet. is there a change in the rules.can i go on my own and do my own?
Answers (1)
Answered by Grace from ICELAND | May. 21, 2016 22:03

0

0

Reply
No, you cannot have an independent tour on your own. You still need to join a tour organized by authorized travel agency though only yourself is in the group. They will help to apply for the travel permit for you.
Asked by Mohamed from EGYPT | May. 26, 2014 01:07

Reply
Can i take the bus from the Lhasa airport airport..to the city by my own?
Answers (1)
Answered by Ted from GERMANY | May. 27, 2014 02:16

1

0

Reply
I'm afraid not. Foreign travelers are not allowed to take individual travel in Tibet; instead, they have to join a tour through a Chinese travel agency. Therefore, upon landing, they will check if you are in certain tour very carefully. Don't dare to take a risk!
Asked by DT from SG | Apr. 18, 2013 17:39

Reply
Foreign visitor using public transport in Lhasa city and airport shuttle possible?
I (non China citizen/ resident) am going with a group of 10, and I will arrive earlier than the others in the group due to different mode of transportation taken, but all of us arrive on the same day. So, I have some free time in the late morning and whole afternoon, and wish to visit some tourist attractions.

(1) Is it possible for me to take the airport shuttle to Lasa City Centre on my own, without the guide's pick up? I understand that the airport shuttle costs Y40 one way, but airport pick up is Y400, which is too expensive for 1 pax.
(2) I wish to visit Norbulingka, Tibet Museum and maybe Drepung Monastery or Tibetan Medicine Hospital on my own, without a guide. Is it possible for me to visit these attractions without a guide?
(3) Can I use a public bus as transportation to go to the above mentioned places? If yes, please advise the bus # and est cost per bus ride.

Thank you for your honest and correct answer, as I have received contradicting answers re the above matter.
Answers (1)
Answered by Grace from USA | Apr. 18, 2013 20:35

0

0

Reply
1. I heard that a foreign tourist is not allowed to travel there alone. So you may have to have a tour guide to picke you up and travel as your company. As for the details, you can confirm with your tour guide or travel agency.

2. For the attractions, you can surely visit by your own. But to have a good visit and know better of them, it is suggested to have a guide in case of the language barrier.

3. I heard the local bus no. 2 can take you righ to Norbulingka, which is close to Tibet Museum and you can walk between. Both of them is not far from the city center and a taxi can easily take you there within 10-15min. Tibet Tradional Hospital can be easily reached from Norbulingka by taking a motorcycle or taxi. If you have a guide, you can also walk there under his or her guidance.