Beijing - Lhasa Train
Up to now, there is only one pair of trains running directly between
Beijing West Railway Station
and
Lhasa Railway Station
, Z21/ Z22, along Beijing Lhasa Railway.
Due to the influence of permafrost, the top speed on part of this railway has been lowered to 62mph to 75mph. Thus, for this 3,757 kilometers (2,335 miles) long trip, it usually takes around 40.5 hours on the way. Although the trip takes a long time, the beautiful scenery along the
Tibet Railway
is absolutely a worthy reward.
Beijing to Lhasa Train Schedule:
(Last Update on Apr 25, 2023)
| Train No. | Departure - Arrival | Travel Time |
| --- | --- | --- |
| Z21 | 19:55 - 12:29++ | 40h34m |
See more
Beijing Schedule
Lhasa to Beijing Train Timetable:
(Last Update on Apr 25, 2023)
| Train No. | Departure - Arrival | Travel Time |
| --- | --- | --- |
| Z22 | 15:50 - 08:28++ | 40h38m |
See more
Lhasa Schedule
Notes:
1. The timetable listed above is for reference only. You can search for the real-time schedule by the tool on top of this page.
2. "++" means the third day.
Ticket Price of Beijing - Lhasa Train
(Last Update on Apr 25, 2023)
Soft Sleeper
Hard Sleeper
Hard Seat
CNY 1,193
USD 175
CNY 769
USD 113
CNY 360
USD 53
The trip starts from/ ends at Beijing West Railway Station and Lhasa Railway Station. Travelers can reach/ leave Beijing West Railway Station easily by subway
line 7
and
line 9
; other city buses and airport shuttle bus are also available. The Lhasa Railway Station can be reached by bus No. 1, 9, 14 and 30.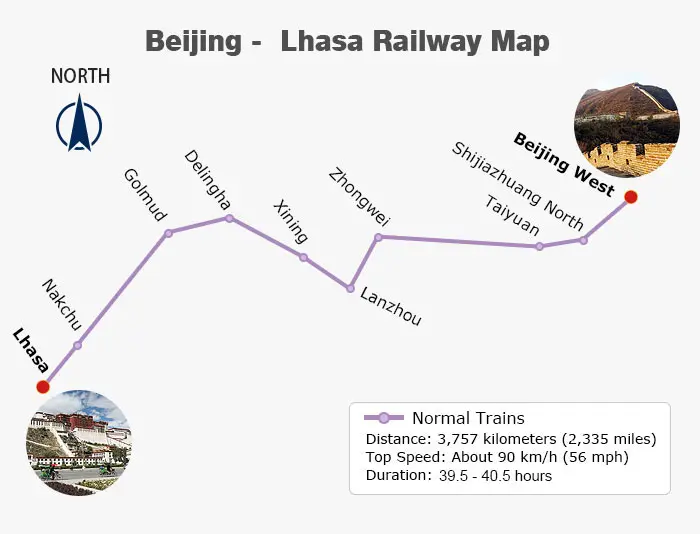 Beijing - Lhasa Railway Map
The tickets of Beijing to Tibet train are always under great demands, thus it is advisable to book the trip in advance. Also, for a long distance trip like this, a soft sleeper or a hard sleeper is highly recommended which allow a more comfortable trip.
All the international travelers who want to visit Tibet need to obtain a
Tibet Travel Permit
first in advance which is issued by the Tibet Tourism Bureau (TTB). No matter for train or flight, passengers need to show the original Travel Permit before boarding.
Major Cities along the Way:
Lanzhou
Lanzhou is the capital of Gansu Province, also a famous city on the
Silk Road
with the
Yellow River
flowing through. Here, there are another four trains to Lhasa: Z323, Z265, Z21 and Z165.
Xining
The largest lake of China,
Qinghai Lake
is located there. During this rail trip, travelers will be able to view a part of this marvelous place through window and will surely be enchanted by its beauty.
Golmud
Hoh Xil National Nature Reserve is located there, which is the home to many wild animals, including Tibetan antelopes, yaks, and Equus kiang. When running through Golmud-Nakchu, you may try your luck to see if you can find them. This probably will become a highlight of your rail travel to Tibet.
For travelers who are tight in schedule, flight would be better option. The flight price is usually much higher, but the duration is only 4.5 hours, or 6.5 hours if it has a stopover in Xining, Xi'an or Chengdu.

Read more:
How to Travel between Beijing and Lhasa

Major Rail Lines from Beijing to:

Major Rail Lines from Lhasa to:
- Last updated on Apr. 25, 2023 -
Questions & Answers on Beijing - Lhasa Train
Asked by Mak Ping Onn from AUSTRALIA | Mar. 01, 2023 02:09

Reply
Soft Sleeper Class
I am a 72-years old man travelling solo. What are the seat/bed in a Soft Sleeper? Can the whole Soft Sleeper be occupied by one person?
Answers (1)
Answered by Ivy | Mar. 01, 2023 19:02

0

0

Reply
There are four sleepers in each soft sleeper cabin, two on each side. You can buy 4 tickets to occupy the whole cabin as long as they are available. Here are some photos of the soft sleepers:
www.travelchinaguide.com/china-trains/soft-sleeper.htm
Asked by Harding from LATVIA | Sep. 10, 2019 23:27

Reply
Hello, I want to buy two tickets from Beijing to Lhasa with you.
I am wondering can I buy tickets in advance with you without our Tibet Travel Permit? Our local tour did not give us the permit yet but I am afraid the ticket could sold out if we do not book early.
Answers (1)
Answered by TravelChinaGuide | Sep. 12, 2019 04:22

0

0

Reply
Thank you for your inquiry.

We are pleased to offer ticket booking service for you. For ticket booking, we only need your passport information, we do not need your travel permit. However, please make sure you will have the permit when taking the train, otherwise you cannot board even with ticket in hand. Hope for your kind notice.

Asked by Eason from UNITED KINGDOM | Apr. 02, 2019 16:57

Reply
Hello, I want to confirm that you can deliver real paper tickets to our hotel right?
I will stay in Beijing in 4 days before we head to Lhasa for our tour. So by using your delivery service, we will have real paper tickets at hotel and we do not need to do anything else like ticket swap? I can send you my passport photo to buy the ticket?
Answers (1)
Answered by TravelChinaGuide | Apr. 03, 2019 19:05

0

0

Reply
Thank you for your inquiry.

We are pleased to offer booking and delivery service. We will deliver the real paper tickets to your hotel in Beijing which can be used for boarding directly. You do not need to print ticket at station by yourself. For ticket booking, we need detailed passenger information. You can send us the passport copy of all passengers.

Asked by Verna | Oct. 26, 2018 02:49

Reply
What does this "++" after arrival time mean?
Answers (1)
Answered by Joyce from USA | Oct. 28, 2018 17:07

0

0

Reply
It means this train will reach the final destination on the third day. For example, if you depart on Nov 1 at 8pm, you will reach Lhasa at 12:40pm on Nov 3.
Asked by JOYJIT SIL from INDIA | Jul. 05, 2018 14:06

Reply
1 cny= ? Inr
Answers (1)
Answered by Marian | Jul. 05, 2018 22:45

0

0

Reply
about INR10.35 at this time