Beijing-Guangzhou High Speed Train
The Beijing-Guangzhou High Speed Railway, short for Jingguang High Speed Railway, cut the duration between the two cities to about 8 hours.
As an important north-south rail line of
China high speed railway
, it connects
Beijing West Railway Station
and
Guangzhou South Railway Station
with a total distance of 2,298 km (1,428 miles). It is the longest high speed railway in the world, going through 28 China cities, including Shijiazhuang, Zhengzhou, and Wuhan. The speed was designed to be 350 km/h (217 mph), but it is down to 300 km/h (186 mph) in real operation.

Schedule
Beijing to Guangzhou High Speed Train Schedule

(Last update on April 12th, 2017)

Beijing Schedule
| Nos. | Duration |
| --- | --- |
| G71, G79, G65, G67, G69 from 07:27 to 13:04 | 8h1m-10h5m |
| D901*, D903*, D909*, D923* from 20:10 to 20:35 | 10h8/10h18m |
Guangzhou to Beijing Bullet Train Timetable

(Last update on April 12th, 2017)

Guangzhou Schedule
| Nos. | Duration |
| --- | --- |
| G72, G66, G68, G80, G70 from 08:27 to 12:50 | 8h-9h54m |
| D924*, D902*, D904*, D910*, D928* from 20:10 to 20:30 | 10h41m/10h48m |
Note:
1. "*" They are overnight sleeper trains only available every Friday, Saturday, Sunday, and Monday. Free dinner is offered onboard. In addition, one passenger is allowed to book a whole compartment on these carriages, and women-only compartments are set for female passengers' convenience.
2. The above timetable is for reference only. Please use the search tool on top of this page for the most up-to-date schedule.

Ticket Price (CNY)
G Trains
D Trains
Business Class Seat
First Class Seat
Second Class Seat
Soft Sleeper
Second Class Seat
2,724
1,380
862
1,190
709
Note: The above soft sleeper fare is the full price of lower berth. Discounts may be available in low seasons. Please search for the real-time price by the tool on page top.
High Speed


Locomotive

Beijing-Guangzhou High Speed
Railway Map (Click to enlarge)

Sections
Jingguang High Speed Railway consists of four sections: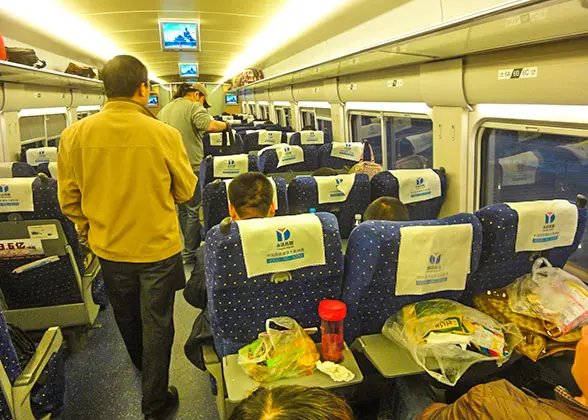 Second Class Seat

Beijing-Shijiazhuang-Zhengzhou Section:
This section has a length of 693 km (431 miles), going across 14 stations, including Beijing West, Zhuozhou East, Gaobeidian East, Baoding East, Zhengding Airport,
Shijiazhuang
, Gaoyi West, Xingtai East, Handan East, Anyang East, Hebi East, Xinxiang East, and Zhengzhou East. With its operation, the travel time has been reduced to 1 - 2 hours from Beijing to Shijiazhuang and 2.5 - 4 hours to Zhengzhou.

Zhengzhou-Wuhan Section:
With its operation, the travel time between Wuhan and Zhengzhou has been reduced from 4 - 8 hours to about 2 - 3.5 hours. Additionally, it takes only about 4 - 6 hours between Beijing and Wuhan via the high speed rail. It runs for 536km (333 miles) with 8 stations, namely
Zhengzhou East
, Xuchang East, Luohe West, Zhumadian West, Minggang East, Xinyang East, Xiaogan North, and Hengdian East.

Wuhan-Guangzhou High Speed Railway
:
This section is 968 km (601 miles) in length via 16 stations, including
Wuhan
, Xianning North, Chibi North, Yueyang East, Miluo East,
Changsha South
, Zhuzhou West, Hengshan West,
Hengyang East
, Leiyang West, Chenzhou West, Shaoguan, Yingde West, Qingyuan,
Guangzhou North
, and Guangzhou South. Travel time has been shortened from 11 - 19 hours to 3.5 -5 hours or so between the two cities.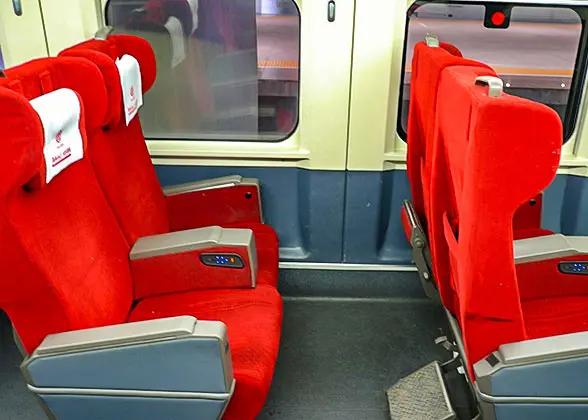 First Class Seat

Guangzhou-Shenzhen High Speed Railway
:
This line connects Guangzhou South Station and
Shenzhen North Station
. It can finish the 102 km (63 miles) trip in about half an hour. There are another 4 stations along this section, including Qingsheng Station, Humen Station, Guangmingcheng Station and
Futian Station
.

Beijing-Guangzhou Train vs. Flight
Considering economic issues, it is better to choose the bullet train for a comparatively short journey and take a flight for a long journey. For example, the rail journey from Beijing to Zhengzhou only takes about 2 hours and the price for a second class seat is CNY310, usually cheaper than a flight. However, flight is recommended for the trip from Beijing to Guangzhou if discounted air ticket is available, since the duration is only about 3 hours; if traveling by high speed rail, it takes at least 8 hours and costs CNY862 for a second class seat. However, the overnight bullet trains are good choices to save daytime and hotel expense although they take 10-11 hours on the way.

Normal Trains along the Way

Beijing to Guangzhou Train

: K599, Z35, Z97, Z201

Guangzhou to Beijing Train

: Z202, K600, Z36, Z98

Duration: 21.5-30h

Ticket Price: CNY1,445 for luxury soft sleeper, CNY784 for soft sleeper, CNY456 for hard sleeper, and CNY251 for hard seat.
Compared with bullet ones, they run at a much lower speed of 99 mi/h (160 km/h) or 75 mil/h (120 km/h) and take longer time on the way. In the case, you'd better book a sleeper, so that you can have a good rest to travel energetically upon arrival.

Major Rail Lines from Beijing to:

Major Rail Lines from Guangzhou to:

See also:
8 Most Scenic Train Rides in China

Beijing-Guangzhou Flight
: Real-time schedule and ticket booking.