Beijing West Railway Station
Beijing West Railway Station is 5 miles (8 km) from the Forbidden City, 7.5 miles (12 km) from Beijing Railway Station, 22 miles (36 km) from the Capital International Airport, and 31 miles (50 kilometers) from Daxing International Airport. The station is also an eligible transit port for 144-Hour Visa-Free Transit

Address: East Lianhuachi Road, Fengtai District

Beijing West Railway Station Schedule and Ticket Booking
Most trains travelling between south central, southwest, northwest and south China are boarded here, including:
Beijing-Hong Kong trains
and those to/ from Guangzhou, Shenzhen, Wuhan, Xi'an, Lanzhou, Zhengzhou, Chengdu, Chongqing, Taiyuan, Xiamen, Guilin, Urumqi and Kunming, either ordinary type or bullet type. They also include China's southern most popular cities: Sanya and the highest city Lhasa, respectively via
Yuehai Railway
and
Tibet Railway
.

Major Rail Lines from West Station to:

High Speed Train Schedule


See detailed Beijing Train Schedule
(Last Update on Aug 2, 2023)
To
Trains
Duration
Ticket Fare (CNY)
First/ Second Class Seat

Guangzhou South

G335, G77, G79, G337...
6 departures from 07:26 to 14:00
7h38m - 10h4m
CNY 1,464.5/ 914.5
USD 206/ 129

Futian

G335, G335, G79, G81...
5 departures from 07:26 to 19:55
8h10m - 21h37m
CNY 1,564/ 474
USD 220/ 67

Hong Kong

G79 at 10:00
8h31m
CNY 1,888.5/ 1,179.5
USD 266/ 166

Wuhan

G511, G71, G485, G335...
33 departures from 06:20 to 18:00
3h48m - 6h10m
CNY 656/ 410
USD 92/ 58

Xi'an North

G651, G87, G653, G91...
21 departures from 06:35 to 19:00
4h11m - 5h58m
CNY 719.5/ 450.5
USD 101/ 63

Chengdu East

G87, G307, G387, G331...
5 departures from 07:00 to 15:00
7h31m - 11h17m
CNY 1,196/ 747.5
USD 168/ 105

Guilin

G421, G93 at 07:31 and 09:00
8h3m - 10h30m
CNY 1,379/ 861.5
USD 194/ 121

The above schedule is for reference only. For real-time schedule and ticket booking, please click the arrival stations.

Normal Speed Train Schedule
(Last Update on Aug 2, 2023)
To
Trains
Duration
Ticket Fare (CNY)
Soft/ Hard Sleeper

Chengdu

K817, Z49, K117, K545...
6 departures from 08:04 to 16:43
21h2m - 34h2m
CNY 656/ 428
USD 92/ 60

Xi'an

K545, K4237, K545, T55...
11 departures from 12:45 to 20:36
11h37m - 21h32m
CNY 415.5/ 272.5
USD 59/ 38

Guilin

K21, Z5, K157, Z335...
5 departures from 08:20 to 21:37
18h58m - 28h33m
CNY 656/ 428
USD 92/ 60

Lhasa

Z21 at 19:53
39h29m
CNY 1,193/ 769
USD 168/ 108

Notes:The above schedule is for reference only. For real-time schedule and ticket booking, please click the arrival stations.
| | |
| --- | --- |
| | Platform |
Station Plan
The station layout consists of a terminal building, a North Square and a South Square, interconnected by a 550-yard-long underground passage. Location of services is shown below:


2F: waiting hall, ticket office


1F: ticket office, platforms


-1F: transfer hall, subway for line 7 and line 9, taxi stand


-2F: ticket office, taxi stand


South Square: bus station, airport shuttle bus


North Square: bus station, taxi stand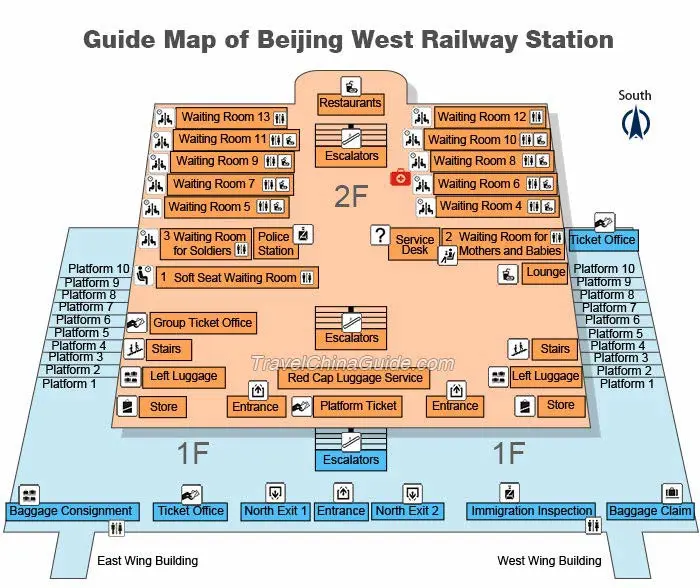 Map of Beijing West Railway Station, 1F and 2F Guide
How to get to West Train Station from downtown?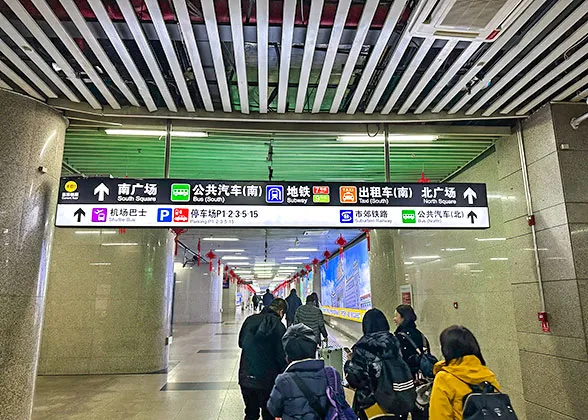 Inside the station, there are many
bilingual boards showing directions.

Arrival by bus:
At North Square: 3, 9, 21, 62, 67, 40, 50, 65, 89, 96, 129, 142, 143, 320, 339, 374, 394, 616, 387, 414, 663, 694, Night Line 14, 23, 5, & 8
At South Square: 890, 982, 53, 122, 616, 122, 309, 349, 410, 836, 919, Night Line 15 & 22

Arrival by subway
line 7
or
line 9
:
Subway passengers get off on -1F of the station, and follow the sign to the station either by stairs or escalators.

Arrival by taxi:
Passengers on taxis will get off at either the north or south square.
The sheet below are for reference only. It excludes delays caused by traffic jams and lights.
| From/ To | Duration (minute) | Cost (CNY) |
| --- | --- | --- |
| Tiananmen Square | 20 | 35 |
| South Station | 25 | 40 |
| Capital Airport | 50 | 130 |
| Daxing Airport | 55 | 180 |

Note: The information above is for reference only, as the duration may be prolonged by the traffic jam.
Ticket Check and Boarding
Many checkpoints are in the waiting hall. The ticket information tells you which checkpoint you should take. Each checkpoint has both automatic check channels and a manual check channel. Passengers boarding with passports should use the manual check channel. When boarding, both elderly and young passengers, should beware of elevated steps.
How to exit and leave West Station?
Upon arrival, all passengers will be directed to -1F transfer hall for exit from the station. At each exit, there is a LED screen showing live updates on the arrival time and the stopping platform to assist with meeting passengers and pick-ups. Follow bilingual direction signs to wait for buses, subway, capital airport shuttle buses, and taxis to further destinations.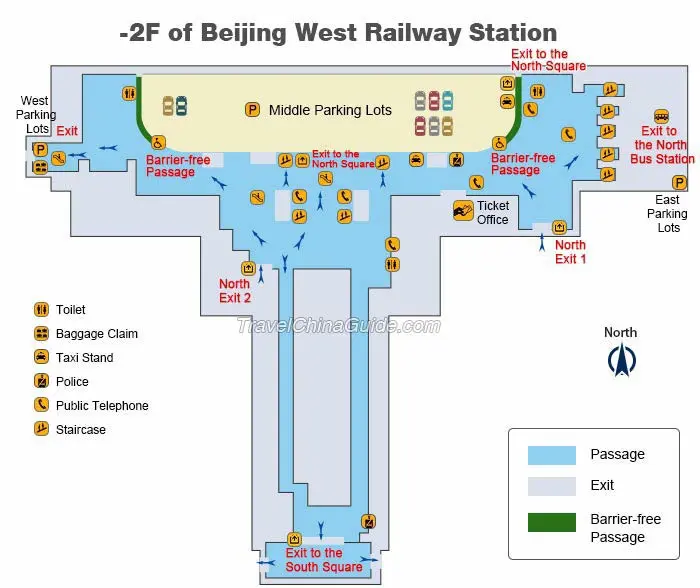 Guide Map of -2F

There are several bus stops on the east of North Square and east of South Square. The subway station is easily located by well-placed signs on -1F. Taxi stands are available in the station: one on the west side of -2F; one on the northeast side of -1F; one under the east spiral road of North Square; one on the northwest side of South Square.

| | |
| --- | --- |
| Subway Station on -1F | Taxi Stand on -2F |
Popular destinations from the station

Tiananmen Square: Take subway line 9 to Military Museum, change to line 1 to Tiananmen East, get off and walk;



Beijing Railway Station:
1. Take subway line 7 to Caishikou, then change to line 4 to Xuanwumen, and then transfer line 2 to the station;
2. Take bus no. 142 and get off at Front Street of Beijing Railway Station stop. Walk southward for a few minutes to the train station.



South Station: Take subway line 7 to Caishikou, and then change to line 4 to the station;



North Station: Take subway line 9 to National Library, change to line 4 to Xizhimen, get out through Exit A1 and walk to the station;



Badaling Great Wall: Take subway line 9 to National Library, transfer to line 4 to Xizhimen, and take line 13 to Qinghe Railway Station, then take a high speed train there to Badaling Great Wall Railway Station.



Capital International Airport:
1. Take Capital Airport shuttle bus Beijing West Railway Station line from the east side of South Square. The bus departs every hour from 6:00 - 20:00.
2. Take subway line 7 to Ciqikou, transfer to line 5 and get off at Beixinqiao, then take the Airport Express Line to the airport.



Daxing International Airport: Take subway line 9 to Liuliqiao, transfer to line 10 and get off Caoqiao, then transfer to Daxing Airport Express Line to the airport.

Bus / Subway Search
Facilities and Services at the Station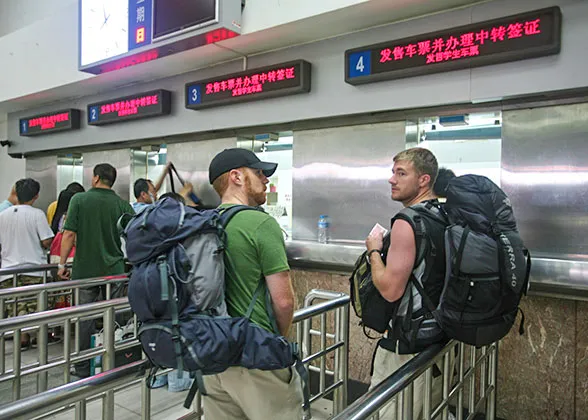 Ticket Office

Ticket Offices:
They are located on the east side of North Square, west side of South Square, east side of 2F and northeast corner of 1F. The office for transfer formalities is located on the west side -2F where ticket refunds are also processed.



Waiting Hall:
There are 13 waiting rooms in the waiting hall on the second floor. The waiting hall is equipped with restaurants, snack stands, hot drinking water, and toilets.

036 Loving Services in the waiting hall provides special service for the elderly, the disabled, the pregnant and children. Also, there are staff willing to help you with the boarding if you need it.



Left Luggage:
Electronic cabinets are distributed along the east and west sides of the waiting hall, as well as inside the waiting rooms for passengers' convenience. It charges by luggage size and storage time metered. Left luggage can be picked up within 24 hours.



"Red Cap" Luggage Service: It is based on the north side of 2F and North Exit 1. The service fee is CNY 10 per piece of luggage.



LED screens:
There are many LED screens showing the related information such as schedule, platform, time for arrivals and departures and waiting room.
| | |
| --- | --- |
| LED Screen in the Entrance Hall | LED Screen outside Waiting Room |

Information Desk:
Located on 2F, it is close to waiting room 2. Passengers can ask various questions concerning the station, bus routes, boarding, etc.
Print

- Last updated on Aug. 03, 2023 by Gabby Li -
Questions & Answers on Beijing West Railway Station
Asked by Ingram from INDIA | May. 06, 2020 17:40

Reply
Train Z19 from Beijing to Xi'an
Is this train cancelled? I cannot find it online anymore.
Answers (1)
Answered by TravelChinaGuide | May. 08, 2020 19:02

0

0

Reply
Thank you for your inquiry.

This overnight sleeper train is not in service in recent date. Train schedule was adjusted due to the influence of Covid-19. You may consider Z43 instead. Sorry about the inconvenience.

Asked by yan from MALAYSIA | Jan. 16, 2020 22:24

Reply
From xian - beijing - inner mongolia
Hi may i know, does the beijing west railway is same with Qinghe station? Because i bought a ticket from xian - beijing drop at beijing west and later i want go to inner monggolia from qinghe station.
Answers (1)
Answered by Katrina | Jan. 17, 2020 02:02

0

0

Reply
No, they are not the same station. So you need to transfer to Qinghe station first and then take the second train. I think it need around 1 hour by metro.
Asked by Artem from RUSSIA | Jul. 08, 2019 05:58

Reply
24hour stores or cafe near beijing west
Hello. Im coming to Beijing West from PEK around 3 a.m. where can i get some food and drinks fir the further train ride? Is it better to buy food at PEK airport?

Answers (1)
Answered by Conner from DENMARK | Jul. 10, 2019 04:12

0

0

Reply
I think this station works 24 hours and the KFC and Mcdonald's works 24 hours too.
Asked by susi from INDONESIA | May. 16, 2019 23:44

Reply
Left Luggage in West Station
Dear all

Please advice where can i left luggage for 2 days? i plan to go to datong at the day when i arrive beijing west railway. but i dont want to bring all my luggage, because i will be back beijing 2 days later.
Or anypne know where should i left my luggage?

Thank you

Regards
Susi
Answers (1)
Answered by Sage | May. 17, 2019 03:45

0

0

Reply
There are many left luggage points there like in the waiting room on 2F etc, but I am not sure if you can reach the departure floor without a ticket for that day. But anyway, on both South and North Square there are also points as well as -1F. They work 24 hours, but if for 2 days, I do not know how the cost counts
Asked by Sherwood from USA | Feb. 28, 2019 02:08

Reply
Please kindly guide me the way to go from West Station to Huangtudian.
I want to visiting Badaling Great Wall for one day and back on same day. There is any left luggage in Badaling?
Answers (1)
Answered by Simms from USA | Feb. 28, 2019 18:15

0

0

Reply
You can take metro line 9 to National library first and then change to line 4 to Xizhimen. Finally change to line 13 to Huoying, exit A. Huangtudian station is about 350m away. It takes around 1 hour.